Fall Family Fun
Fall is the perfect time of year to unwind, unplug and reconnect with family and friends.
---
Exchange the blue light of your phone screens for some golden-lit mountainsides and get some old-fashioned face time with the family this fall. Spend your days exploring glittering aspen groves and rolling, golden hills. Spend your nights snuggled up around a crackling fireplace in your own, cozy cabin. With backdrops this stunning, you might even be able to bribe the fam into taking some new holiday card-worthy family photos. Whether you bring your entire crew, invite grandma and grandpa or just the people that feel like family, fall foliage in the Pikes Peak region will help you reconnect.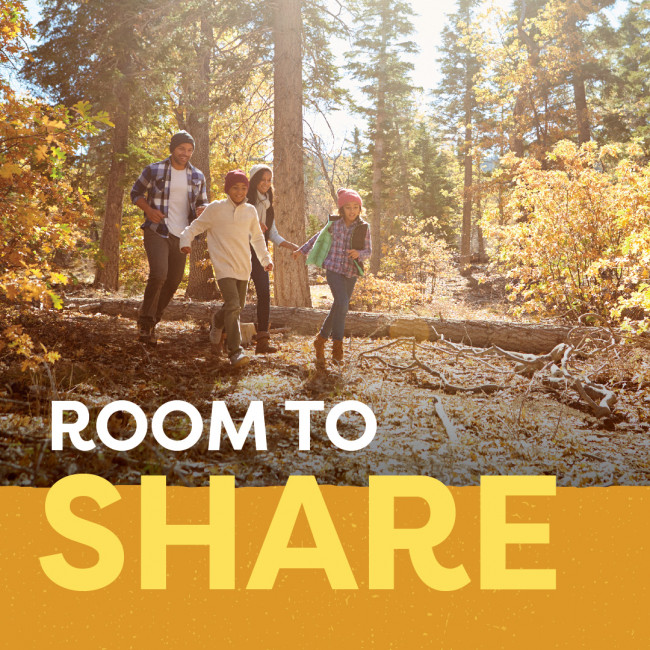 Fall Foliage Hikes
There's nothing like a hike in the Rocky Mountains, surrounded by quaking aspen trees and rustling, technicolor leaves. Check out these top hikes that really sparkle in the fall.
Start your adventure at the Visitor Center and grab a map before you head out and explore the 55 miles of winding trails. Spend the day venturing through aspen groves and keep an eye out for wildlife that like to graze in the meadows.
Hike along babbling brooks and enjoy trekking through rustling leaves on this easy, 2½-mile trail just outside Rampart Reservoir. The densely wooded forest opens up to the glistening reservoir, making it a great location to kick back and play by the water.
There's gold in them hills– in more ways than one! Discover a series of trails that weave in and around the historic gold mining district that put Cripple Creek and Victor on the map. Enjoy stunning panoramic views of golden hills beneath the Sangre de Cristo Mountains that frame the old-time, once-working mines.
HIKING TIPS
Even in the fall, weather can be a bit unpredictable in the Pikes Peak region. Avoid afternoon showers by setting out in the cool of the morning.
Be sure to bring along plenty of water and sunscreen to protect against higher elevations and the bright autumn sunshine.
Some trails require entrance passes that help maintain the beauty and preservation of the land, so be sure you bring some cash. Leave no trace behind by packing out all trash and avoiding the temptation to pick wildflowers or disturb the rocks.
Find more great hiking trails here >>
---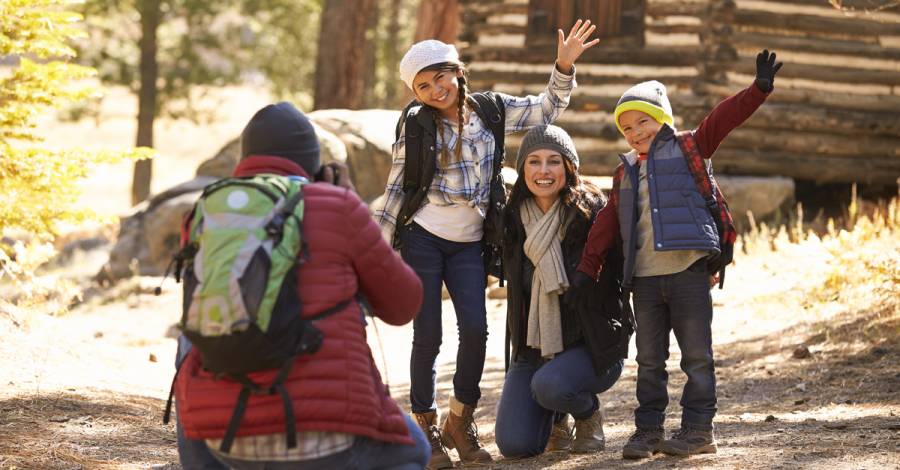 Best Fall Photo Backdrops
Autumn in the Pikes Peak region means it's golden hour for aspiring and professional photographers alike. Glittering leaves, rolling yellow and orange hills and jaw-dropping overlooks make the perfect backdrop to capture your next family photo, baby announcement, engagement pics or even photo-worthy pups.
Nothing frames up a great photo like the Sangre de Cristo Mountains. A backdrop of endless rolling hills look like they've been dusted in gold. Time it just right and you may even get a shot with the Cripple Creek & Victor Railroad in the background.
This iconic backdrop brings in an element of grandeur to any photoshoot. The addition of fall colors to the landscape is breathtaking. Whether you're sprucing up for this year's Christmas card, snapping shots to announce a new baby or even a new pup, it's difficult to take a bad photo here.
Between the glistening water, changing leaves and towering mountain range, it won't be hard to find a good spot to capture some candid shots of your family enjoying the great outdoors. Make a day of it by renting some kayaks to take out on the lake or casting a line after your shoot.
PHOTO TIPS & TRICKS
Although staged shots in a line or cluster can make for a great photo, capturing candid shots brings warmth and helps express your loved ones' unique personalities. Try doing an activity, telling a joke or just having a conversation with each other while the camera snaps away.
When it comes to lighting, timing is everything. They don't call it golden hour for nothin'! Waking up early to get those sunrise shots or embarking right before it starts to set will give you the best lighting and most vibrant colors for those warm fall photos.
You don't have to hire a professional photographer to capture stunning photos. If you have access to a good camera, a tripod and a timing device you have everything you need to get that perfect shot. Nowadays, many phones have cameras that are so good, you don't even need a fancy, digital one.
Click here for more scenic suggestions and photo tips >>
---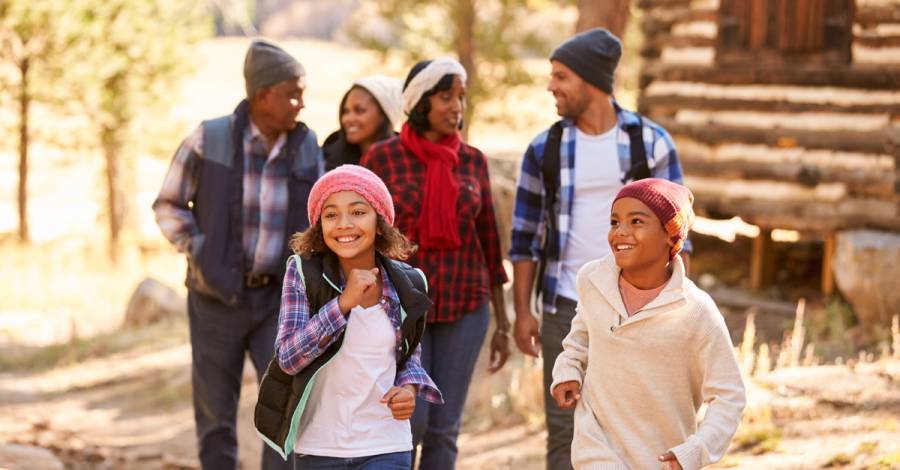 Cozy Cabins
After a day exploring countless winding trails and finding adventure together, kick back, relax and enjoy each other's company in your own, comfy cabin. Nothing feels quite as cozy as playing card games and laughing while snuggled up next to a crackling fireplace. Forget the noise of the city and let the sounds of the mountains serenade you in one of our serene cabins.
14 miles north of Woodland Park, this is an excellent location to unwind with a spectacular view of the surrounding mountains, changing leaves and stargazing on a clear night. Choose from one of our 1, 2 or 3 bedroom vacation homes that will sleep between 2 to 8 people.
Take glamping to a whole new level at the luxurious ranch-style cabins in Cañon City. With modern, rustic décor and top-of-the-line amenities, these properties leave nothing to be desired. Cuddle up around the indoor/outdoor gas fireplace on your own private patio while you bask in the scenic views.
Stay in an authentic mountain cabin on a forested private property. Although it's just minutes from Garden of the Gods Park, this secluded cabin feels miles away from the everyday hustle and bustle of the city. Enjoy tranquility and comfort right next to beautiful trails and access to Pikes National Forest.
---
Discover more great things to do with the family in the Pikes Peak Region.