Weather & How to Pack
Colorado Springs experiences all four seasons, with abundant sunshine, low humidity and endless blue skies.
---
Weather
Our altitude and proximity to the mountains provides for a year-round, mild climate. Classified as an alpine desert, we enjoy an average of 300 days of deep blue skies, abundant sunshine and low humidity. The region's climate is often as pleasant in the winter months as it is during the rest of the year. We receive 15-16 inches of precipitation annually and get less snow than Denver, Salt Lake City or Minneapolis. The weather in Colorado Springs is a key element in the region's appeal, giving you ample opportunity to enjoy all that we have to offer.
In the cooler months, layers are also recommended for maximum comfort. The low humidity keeps out the bone-chilling cold found in other destinations. Bring a warm coat, but think about throwing in a T-shirt and shorts just in case you are here during one of our sunny and relatively warm winter days. Snow may be in the forecast, but it melts and evaporates quickly, giving you plenty of opportunities to enjoy Colorado Springs year-round.
How to Pack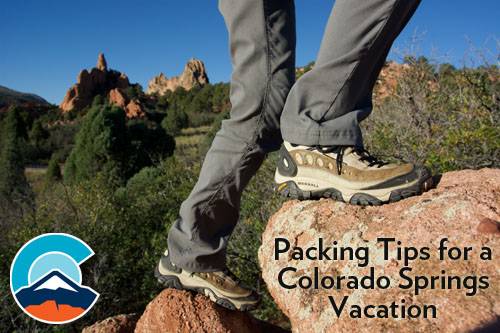 The best advice to prepare for the summer weather in Colorado Springs is to dress in layers. Mornings and evenings are refreshingly cool, especially after a gentle afternoon shower. Midday can bring warmer temperatures, but the low humidity will keep you comfortable. Be sure to pack comfortable shoes since you never know when you'll want to hop out of the car and take in the sites.
Essentials:
Lip balm
Moisturizer
High SPF sunscreen
Hat
Sunglasses
Coat, sweater and/or hoodie
Camera
Sturdy walking shoes or hiking sandals
Explore all the things to see and do on your trip to Colorado Springs and order your FREE Visitor Guide!