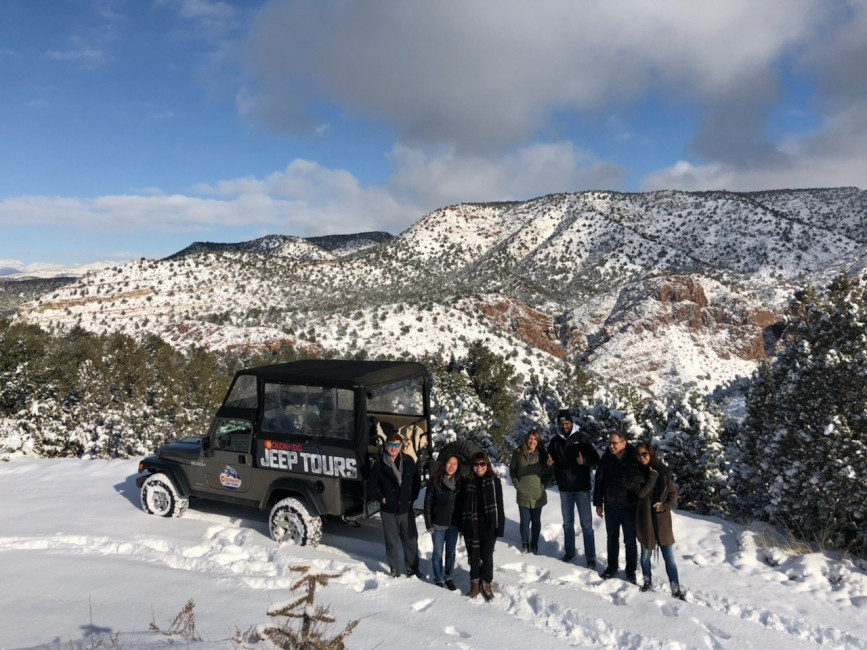 Winter is no match for these enclosed, heated Jeeps. Navigate the vibrant formations of Red Rock Park while learning the rich history of Fremont County. Chose form half- and full-day trips that include iconic stops like the Royal Gorge Bridge and Skyline Drive. Well behaved pups are welcome.
---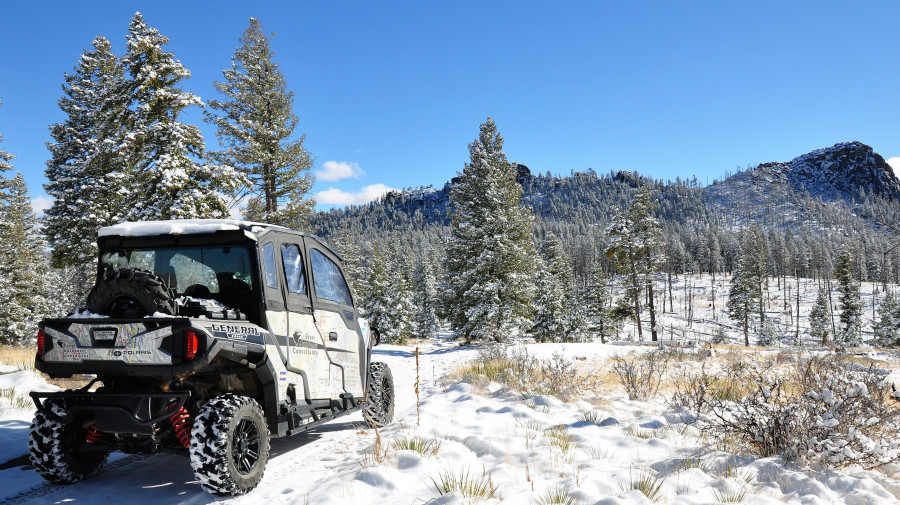 Explore the hidden gems of Pike National Forest inside a heated Polaris General side-by-side off-road vehicle. Capture some of the most scenic overlooks and take turns driving these backroads. Even your pup is welcome, and if you don't have your own, enjoy the company of ambassador dog Fischer, who often accompanies when he can. The company also has fat bikes for rent that tackle the snow with ease.
---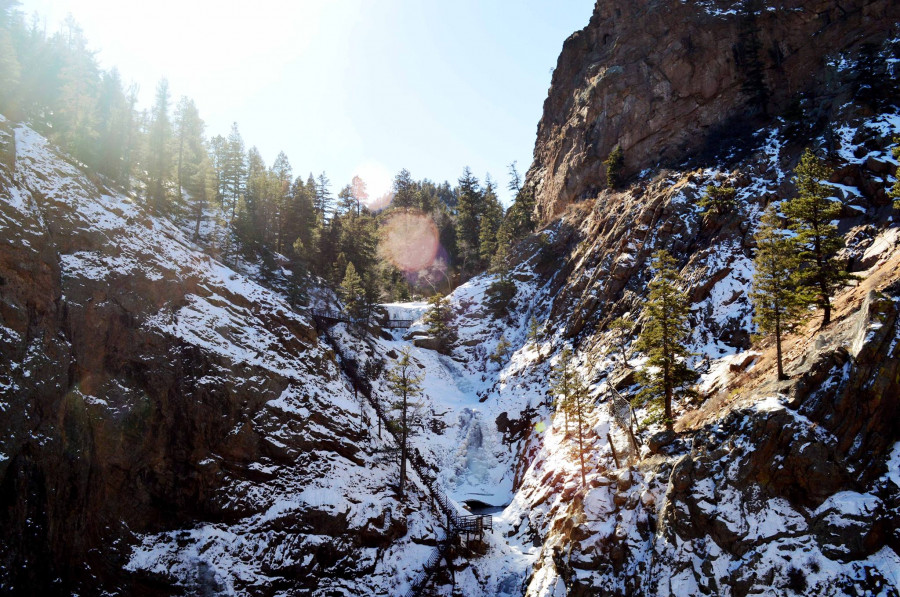 Nestled in a South Cheyenne Canon, these frozen falls are quite a sight in the cooler months. Grab a shuttle or take in the scenery with a short hike to the base of the falls. Ride the mountain elevator to the Eagle's Nest overlook for a better view and warm up with a delicious meal inside Restaurant 1858.
---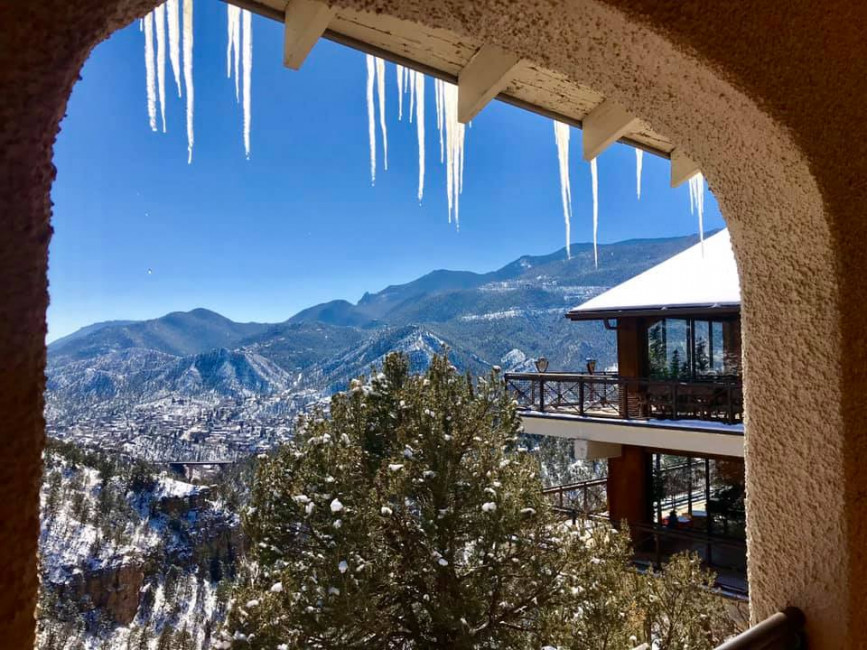 A constant 54-degrees Fahrenheit, these Manitou Springs show caves can be explored through a variety of tours that range from spelunking 101 to the spookier lantern-lit excursion. Experience true cave darkness and listen closely for a bat, or two.
---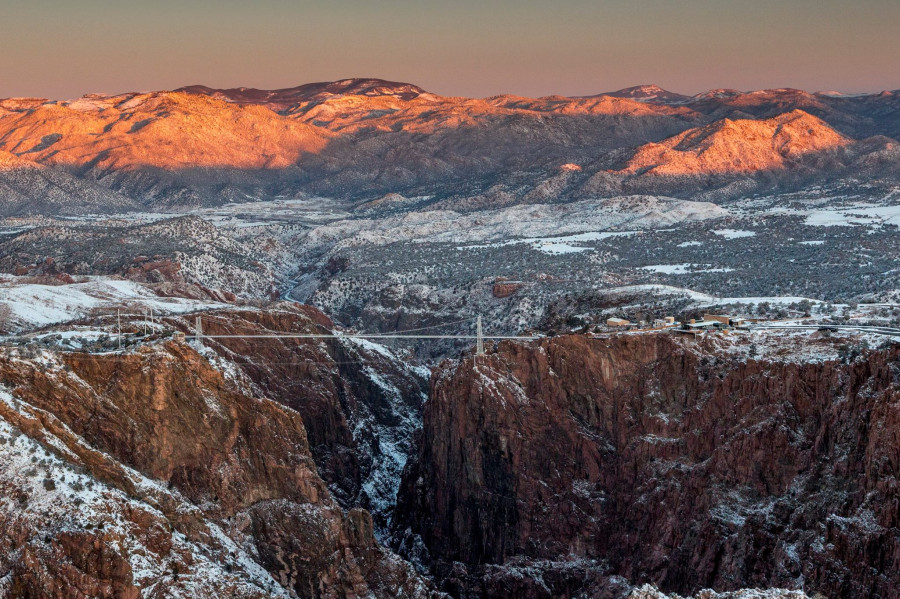 Walk the wooden planks of America's highest suspension bridge. Built in 1929 as a private attraction, this architectural wonder sits perched 956 feet above the roaring waters of the Arkansas River below. Ride the aerial gondolas, enjoy the movie in the Plaza Theater and dine in Café 1230 before picking up a trinket or two in the gift shop. The thrill rides run on weekends through January weather depending.
---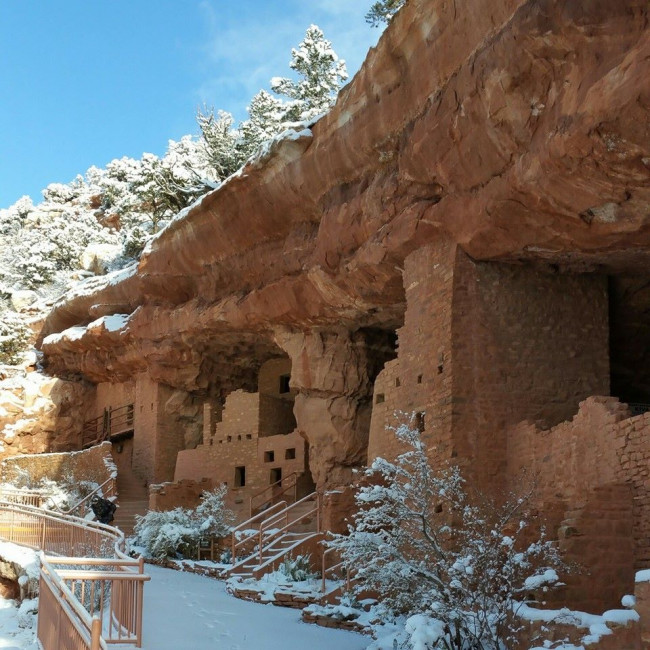 Explore the intricate rooms of this outdoor/indoor museum that pays tribute to the ancient Puebloan people. Duck inside caverns and experience the site's ancient history inside the Pueblo and Cave museums. It's easy to have fun while learning something new at this hands-on attraction.
---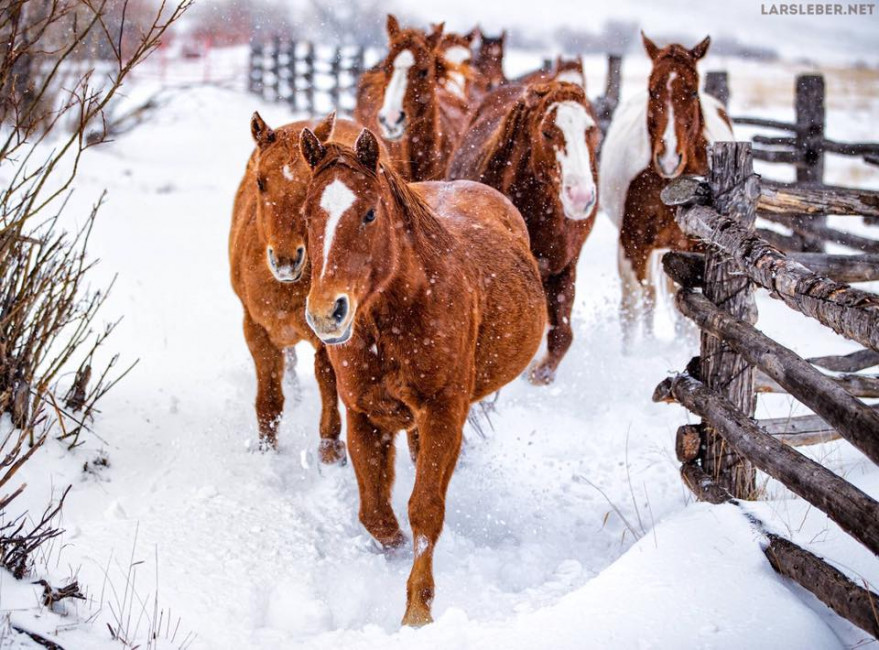 There's nothing more Colorado than climbing in a saddle and discovering places like Garden of the Gods and Pike National Forest just as our settlers did. Book a one- or two-hour tour through snow-dusted scenery with Academy Riding Stables to see the country's #1 rated park by Trip Advisor users.
---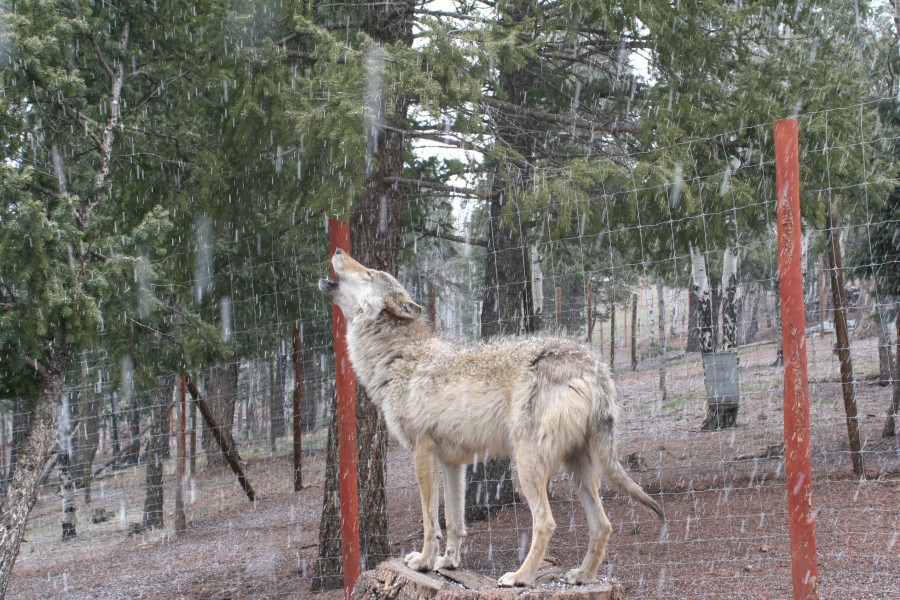 Located in the evergreens of Divide, this sanctuary is home to beautiful creatures like coyotes, red foxes, wolves and wolf-hybrids. Open all year, winter is a wonderful time to visit since the animals are much more active in the cooler months. A variety of different tours are offered to learn a little more about each species. The best part? You get to howl with the entire pack.
---
Book a winter excursion with Front Range Climbing Company. Their private ice wall is the ideal place to learn a new outdoor skill. Book a half-day tour at every level and enjoy the beauty of places like Camp Alexander and frosty Silver Cascade Falls.
---
Perched at an elevation of 6,400 feet above sea level, Texas Creek is one of Colorado's top All-Terrain Vehicle driving destinations. Adventure-seekers of all levels will enjoy unique views of the Rocky Mountains. A variety of family-friendly tours range from two- to four-hours and children aged five and under ride for free.
---
11. Scenic Snowshoeing
Mueller State Park offers year-round recreation on 5,000 acres of land. Enjoy the short snow season with several snowshoe hikes for beginners or experienced snowshoers. Learn how to hike safely and easily. Other winter activities include cross-country skiing and sledding. Make it an entire weekend by booking an onsite cabin complete with roaring fireplaces. Looking for a winter hike closer to Downtown? Garden of the Gods Park offers numerous trails and views perfect for snowshoes or hiking boots.
---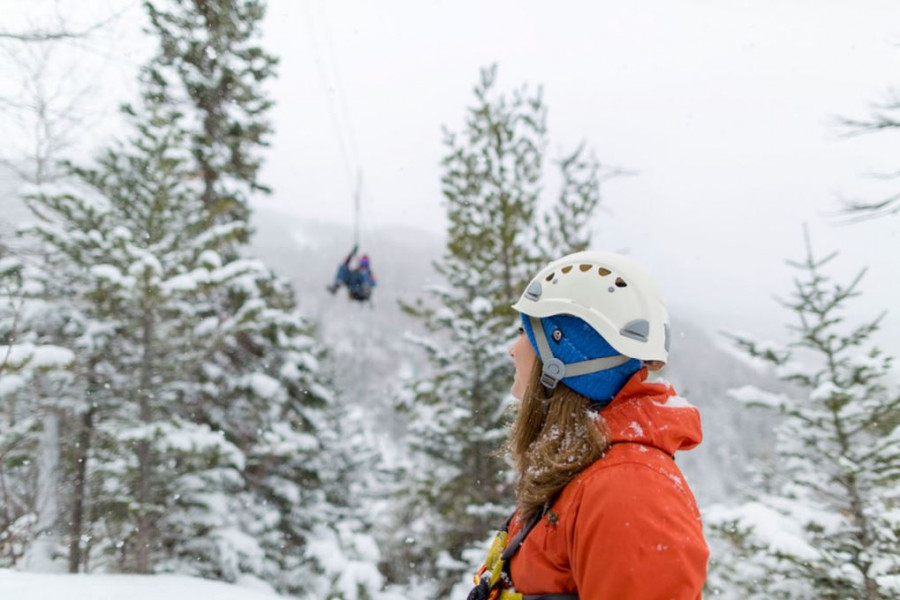 12. Ziplining
What better way to take in postcard-worthy winter scenes than soaring overtop snow-dusted pine trees? Bundle up and strap into a harness for a thrilling adventure through a winter wonderland with one of these awesome local outfitters:
---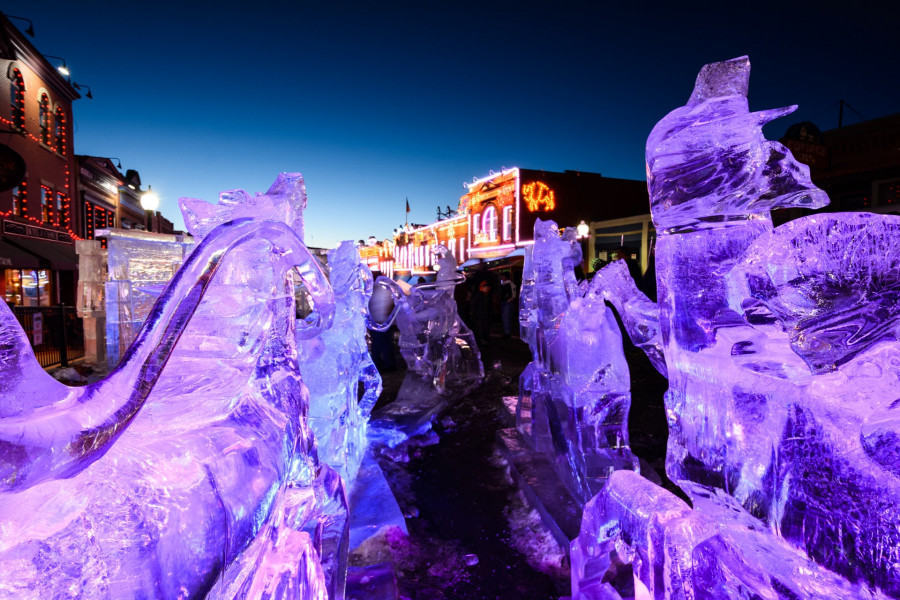 *Please note - the 2022 event has been canceled due to safety concerns with COVID-19*
Watch sculptors carve ice into beautiful works of art at the Cripple Creek Ice Festival. Stroll the charming main street and enjoy different vendors who have just the perfect thing to bring home as a memento of your visit there. Make sure to hit the ice bar and liquor luge for a refreshing beverage.