This Thanksgiving weekend, let the Broadmoor host a grand array of food and fun designed to satisfy even the most discerning tastes. They have an exquisite fare, family events and activities for everyone.
When: Thanksgiving 2019
Cost: Rates start at $310 based on double occupancy.
Where: Colorado Springs, CO
In 1947, a tradition began at Seven Falls to promote the canyon at night when alternating colored and white lights illuminated the waters, much to the delight of locals and visitors worldwide. On Saturday, November 18, the much-loved, multi-colored display returns for the holiday season as Seven Falls celebrates the third annual Winter Lights event. More than 100,000 individual lights will line the path leading to the Falls, and colored lights will also adorn the cliff faces of the Pillars of Hercules, making for not only a festive atmosphere but also a photographer's dream locale for holiday family photos.
Date: 2019 dates tbd
Cost: $14
Where: Colorado Springs, CO
Swing by Stargazer's Theatre for a Thanksgiving tradition. If you were in a local band in the 70's and 80's the place to play was The Hungry Farmer. This lively event includes nearly 10 musicians from the Pikes Peak region who get together to jam. The one prerequisite? Musicians must have played at The Hungry Farmer.
When: Nov 27, 2019
Where: Colorado Springs, CO
Be a part of feeding the wolf, coyote and fox families at Colorado Wolf and Wildlife Center's Annual Turkey Toss! Limited space, reservations are required by calling 719.687.9742.
When: November 28, 2019
Where: Divide, CO
Cost: 12 and older - $35, 11 & under - $15
Whether you have family in town or need to get out of the house, the museum is a wonderful, FREE activity during the holidays. Explore their regional history exhibits, complete a family-friendly scavenger hunt, and check out the "Trade at Bent's Fort" interactive children's gallery. Looking to learn more? Join one a free guided tour at 11:00 am or 1:00 pm both days. No RSVP necessary.
When: November 26-27, 2019
Where: Colorado Springs Pioneers Museum
Cost: Free
Visit Miramont Castle to enjoy an elegant Christmas High Tea in the Queen's Parlour Tearoom. Traditional Victorian or fancy dress suggested, but not required, Reservations Needed.
Date: November 29-30, December 1, 2019
Location: Manitou Springs, CO
Cost: 37.50
Experience Thanksgiving brunch prepared by Hotel Eleganté's award-winning chef. There will be breakfast items, a carving station, salads, a raw bar, a dessert station and SO much more!
Date: November 28, 2019
Location: Hotel Eleganté Conference & Event Center
Cost: $43.95 per person, children 6-12 - $18.95, children under 5 eat free
Please note Pikes Peak - America's Mountain will be closed on Thanksgiving Day. Thanks!
The Fall Family Fun Days will feature a reading of "Tractor Mac Harvest Time" by Billy Steers, exploring the history of farming in the Pikes Peak region and creating fall suncatchers!
Date: Tuesday, November 26 & Wednesday, November 27, 2019
Location: Colorado Springs Pioneers Museum
Cost: FREE
Enjoy some quality time with family and friends at The Avenue! The Bed and Breakfast is offering a Thanksgiving special from Nov 24-30:
Stay 3 nights and receive 50% off your 3rd night
Delight in an amazing Thanksgiving Mimosa gourmet breakfast
Shop small for Black Friday and Smal Business Saturday from fantastic shops in the downtown location
Date: Nov 24 - 30, 2019
Location: Avenue Hotel
Cost: Varies
Front Range Barbeque All-You-Can-Eat Feast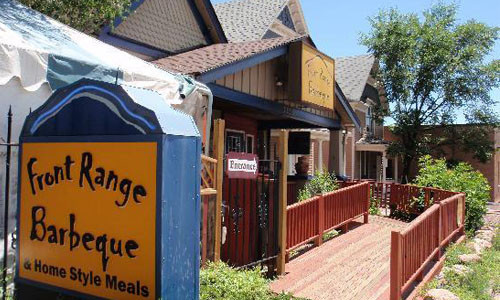 Join Front Range Barbeque in a Thanksgiving all-you-can-eat feast on November 28 from 12:00-6:00pm!
Date: November 28, 2019
Location: Front Range Barbeque
Cost: TBD
Turkey, ham and all the fixins'. Don't miss out on this delicious meal!
Date: November 29, 2019
Location: M Lazy C Guest Ranch
Cost: TBD
Enjoy a classic Thanksgiving meal without having to do any of the hard work! Reservations highly recommended.
Date: November 28, 2019
Time: 11 a.m. - 8 p.m
Location: Flatirons American Grill
Cost: $29.95, Children 11-12 years: $12.95, Children 10 years and younger: $8.95
The annual Turkey Skate at the Broadmoor World Arena is back again on Wednesday, November 27! Enjoy a live DJ, local mascots and fun on the rink.
Date: November 27, 2019
Time: 11:00am - 3:00pm
Location: Broadmoor World Arena
Cost: $5 entry fee, $3 skate rentals. For State Farm members, admission is only $1 with membership card.
Crisp, cool nights mean that Autumn has arrived and that calls for darker, maltier and more complex beers to help warm you up. Come enjoy a fall-inspired guided walking beer tour of the quaint mountain town of Manitou Springs,
Date: Every Thursday, except Thanksgiving, & Saturday in November
Time: 3:00pm - 5:00pm
Location: Manitou Springs
Cost: $39
Please note - Pikes Peak will be closed on Thanksgiving.
Date: November 26, 2020
Location: Pikes Peak - America's Mountain