TOP 25 HIKING & BIKING TRAILS
1. Garden of the Gods Park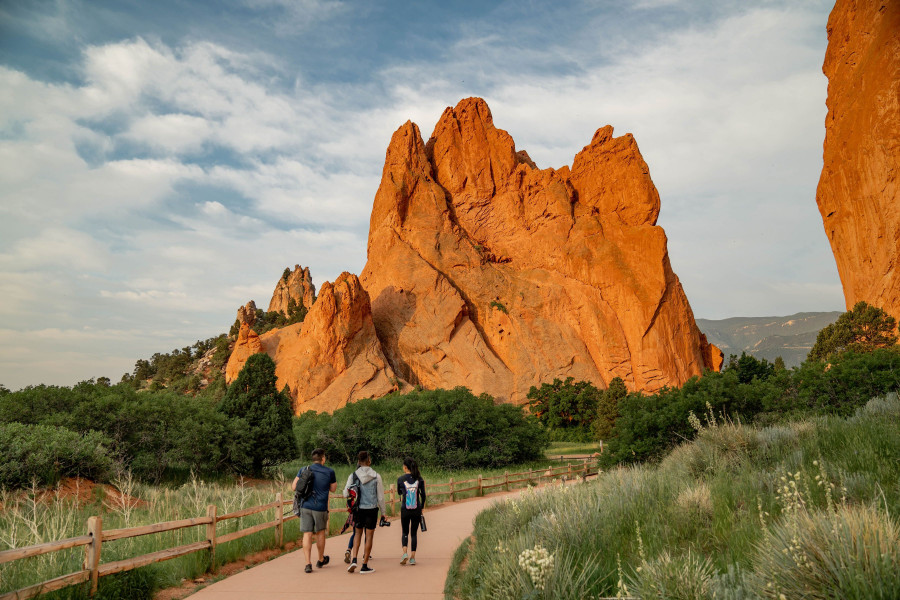 Rated the #1 U.S. park by TripAdvisor, you'll find both paved and natural trails that wind through magnificent red rock formations and offer stunning views of Pikes Peak at Garden of the Gods Park. The Garden of the Gods trail map offers a good overview of your options. There is an off-leash dog area between Rock Ledge Ranch & 30th St but dogs in the park must be leashed. Easy.
2. Red Rock Canyon Open Space
Red Rock Canyon Open Space offers a variety of trails that wind along the canyons and ridges of red rock and provide great views of the Garden of the Gods. These trails connect to many other hiking trails in the area. There are two off-leash dog loops and a free-ride bike park. Easy/Moderate.
3. Cheyenne Mountain State Park
Just south of Colorado Springs, you can explore nature's diversity on 2,700 acres with prairie-to-peak ecosystems on 20 miles of hiking and biking trails at Cheyenne Mountain State Park. Entrance fee. Easy/Moderate.
4. Palmer Park
This 737-acre park offers hiking and biking on a mesa overlooking the city. Enclosed off-leash dog park as well as a separate off-leash area with incredible views. Dogs must be leashed in all other areas. Easy/Moderate.
5. Austin Bluffs Open Space
This area is known for its unique rock formations created by the most recent geological uplift. The 585 acres can be accessed via two trailheads. Easy/Moderate.
6. Bear Creek Dog Park
Located near the foothills, this 25-acre off-leash park provides dogs and their owners with a variety of hiking options; great amenities such as shade, creek, small-dog area, agility course, and restrooms. Named a top-10 US dog park and considered to be among the region's finest. Easy.
7. Fountain Creek Park
View wildlife, marshes, streams, and ponds as you hike these gentle and shaded trails at Fountain Creek Park. Easy.
8. Midland Trail
This 5-mile trail runs from the town of Manitou Springs to America the Beautiful Park in Colorado Springs; some parts of the trail are on streets. Easy
9. Barr Trail
This is a 12-mile (one-way) hike gaining 7,800 vertical feet from Manitou Springs to the 14,115-foot summit of Pikes Peak - America's Mountain. Parking: Enjoy the great outdoors and support your local business by parking at Iron Springs Chateau during the day. Parking revenue will help pay their bills while they are closed and help them to open their dinner and show as soon as COVID restrictions are lifted. Difficult.
10. Palmer Loop Trail (AKA Red Rock Palmer Loop Trail)
A 6-mile loop hike of moderate difficulty among the pine forest with spectacular views, shade, and a small waterfall. Moderate.
11. Intemann Trail
This new 3-mile trail (round-trip) is part of the Intemann Trail and provides access to a summit that was only recently open to the public. Moderate.
12. Manitou Incline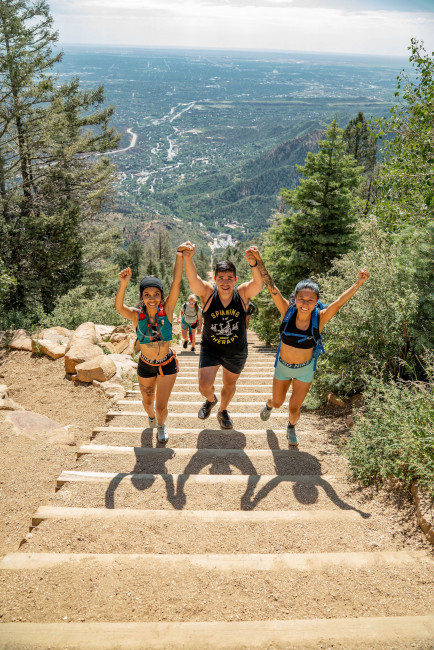 ** Please note: The Manitou Incline has reopened with new regulations & restrictions. Incline users must make a free online reservation before hiking. Learn details here.
For the ultimate workout, tackle the 1-mile, 2,000-ft. vertical rise trail made from the track of a historic rail car line at the Manitou Incline. Descend on lower 4 miles of Barr Trail. Difficult.
13. Royal Gorge Park
Stare 1,000 feet into the famed Royal Gorge at Royal George Park. Outdoor enthusiasts of all abilities will find plenty of options for overlooks, winding trails, and mountain biking. Easy/Moderate.
14. Helen Hunt Falls (AKA Silver Cascade Trail)
This short trail offers a pleasant hike through the forest alongside a cascading stream and waterfall. Moderate.
15. Seven Bridges
This is an easy to moderate trail as there is a constant gain in elevation as you cross 7 bridges after hiking a portion of the old Midland Railroad line. Moderate.
16. Catamount Trail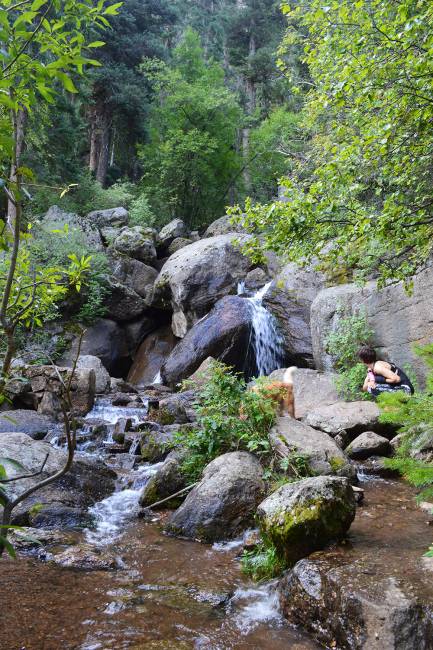 A 6-mile round trip hike of moderate difficulty that starts in Green Mountain Falls and ends at South Catamount Reservoir. Moderate/Difficult.
17. Tunnel Drive
This historic section of the Arkansas Riverwalk Trail enters three separate tunnels and offers stunning views of the Arkansas River Gorge. Easy.
18. Mt. Hermann Trail
A 4-mile out-and-back trail rated as moderate with great views of Monument, Colorado Springs, and the mountains. Moderate.
19. Paint Mines Interpretive Park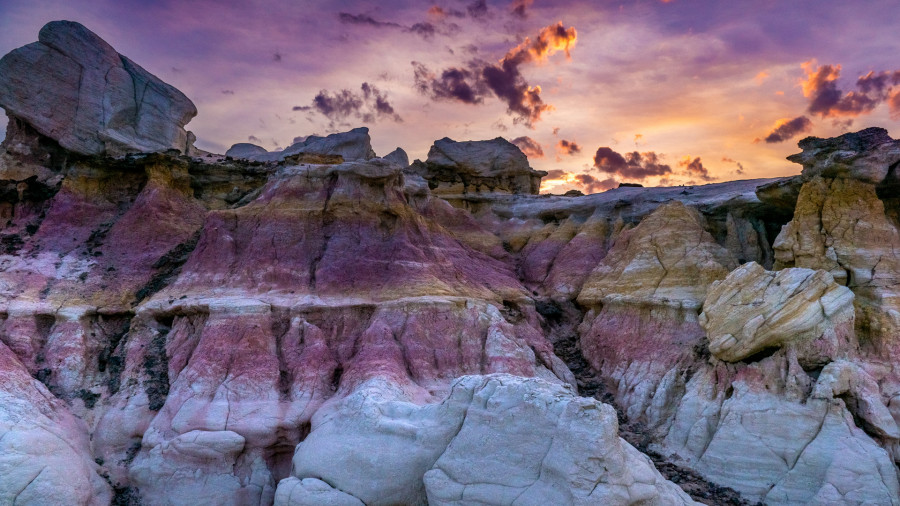 Rich in both animal and plant life, the park's gentle trails take you by overhangs, spires, hoodoos, carved walls, and chasms that are in beautiful colors such as golden yellow, rose pink, snowy white, and mauve. No dogs. Easy.
20. Mt. Cutler
This one-way trail parallels N. Cheyenne Canon Road and heads up to the summit. Along the way, you'll see great views of Stratton Open Space, Seven Falls, and Will Rogers Shrine. Easy.
21. Lovell Gulch Trail
This loop trail takes you on a pleasant 5-mile hike near Woodland Park. Once at the ridge you'll have a great view of the north face of Pikes Peak. Moderate.
22. The Crags Trail
A wonderful 4.2-mile hike in Pike National Forest that is great for families and dogs. If you want a more intense hike, you can go all the way to the summit of Pikes Peak. Moderate/Difficult.
23. Mueller State Park
Scenic wildlife viewing of elk, bighorn sheep, and birds on 5,511 acres of land with 55 miles of hiking & biking trails. No dogs. Entrance fee. Easy/Moderate.
24. Pancake Rocks Trail
A 5.5 mile out and back trail located near Woodland Park, rated as difficult. Great for hiking and mountain biking from May to October. Difficult.
25. South Cañon Trails
Both beginning and advanced mountain bikers will enjoy this 10-mile trail system. Climb technical singletrack to Great Escape for views of the south side of the Royal Gorge. Easy-Advanced.
Please remember to respect your fellow hiking and biking enthusiast and take a few minutes to learn how to keep our natural wonders wonderful for years to come.
Click on the images to enlarge