Summer Camps (May - August)
Find your adventure in the great outdoors with these action-packed summer camps.
---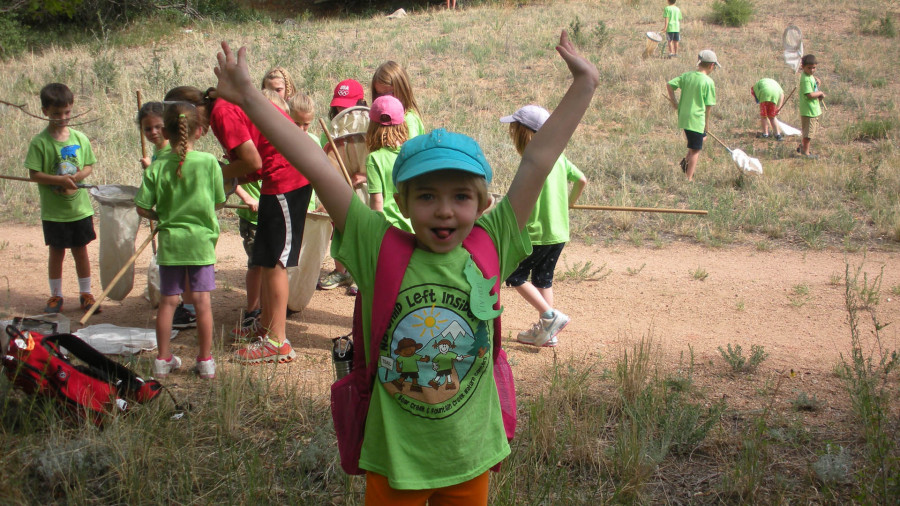 Summer is here! Spend your time at one of the many amazing summer camps that Colorado Springs has to offer.
Space Foundation - Summer of Discovery: Better Living Through Space
Better Living Through Space is an interactive exhibit that explores the technological impacts of space exploration on our lives here on Earth through the lens of sports, medicine, and more! Learning labs will be held each Saturday starting June 27, 2020 to August 22, 2020. Dates and Sessions will vary for each lab.
Date: Each Saturday starting June 27, 2020
Time: Varies
Cost: Included in regular Discovery Center admission.
More information
Air Force Sports Camps
**2020 event cancelled
This summer will once again be packed with great opportunities for athletes of all ages to hone their skills in their sport of choice. The Air Force will offer sports camps in the following sports: baseball, basketball, cheerleading, cross country, diving, fencing, golf, gymnastics, hockey, lacrosse, soccer, swimming, tennis, track and field, volleyball and wrestling. They will also offer elite camps in certain sports. The camps are open to children ages 9-18 and are led by AFA head coaches.
Date:
Session 1: N/A
Session 2: N/A
Session 3: N/A
Time: Varies
Cost: Varies
More information
CityROCK Indoor Camps
Don't miss the opportunity to let your children experience the fun of Indoor Camps at CityROCK. Adventurous campers will learn the basics of rock climbing and explore CityROCK's unique subterranean artificial cave. Campers stay physically and mentally active, make new friends, boost their confidence and create lasting memories.
Date - Weeks in June: 1-5, 8-12, 15-19, 22-26, Weeks in July: 6-10, 13-17, 20-24, 27-31
Time: ​Varies
Cost:
half day: $61/daily
full day: $84/daily (discounts available for multi-day registration)
full week - half day: $285/week
full week - full day: $385/week
UCCS RecKids Camp
UCCS RecKids Camp program offers children a variety of activities each day assuring you that your child(ren) will have fun while developing relationships with other campers as well as the Campus Recreation Monitors, as they experience and discover the world around them.
Date:
Mountain Lion Camp (ages 6-12) June 1-5 & 15-19, 2020
Splish 'N Splash Swim Camp (ages 6-12) July 20-24, 2020
Outdoor Adventure Camp (OAC) (ages 8-14) July 13-16, 2020
Time: 8:00am - 5:00pm
Cost: Varies
More information
UCCS Sports Camps
Learn from UCCS head coaches and student-athletes and develop your skills in the top athletic facilities in the Rocky Mountain Athletic Conference at the Mountain Lion summer camps. From beginner to elite camps, there are multiple date options and prices to take your game to the next level.
Date: June 3-July 15
Time: Varies
Cost: Varies
More information
UCCS Summer Camp
Join UCCS for an outstanding Summer Camp program chock-full of field trips, outdoor experiences, classroom projects in a supportive and friendly community. For elementary children, ages 6-10.
Date: June 9-12 & July 21-24, 2020
Time: Varies
Cost: Varies
More information
STEAM Camp Week
Looking for ways to keep your kids engaged this summer break? Western Museum of Mining & Industry has the perfect opportunity! Activities are focused on science, technology, math, engineering and art and are offered to children grades 3rd-7th.
Date: 2020 dates TBD
Time: 9:00am-3:30pm
Cost: $45/day, $175/full week
More information
Colorado Springs Fine Art Center - Theatre School
The Fine Arts Center Theatre Company offers innovative and comprehensive professional theatre training programs for students ages 5-adult. Musical theatre, design, acting, play analysis, dancing, stand-up comedy and the collaborative process are just a sampling of the rich curriculum offered by their award-winning professional staff of instructors.
Date:
Budding Thespians Summer Session (Ages 5-7) June 8-12
Emerging Artists Summer Sessions (Ages 8-13) June 15-26 & Jul 27–August 7
Youth Rep Ensemble Summer Session (Ages 14-18) Summer 2020 dates TBD
Time: Varies
Cost: Varies
More information
Colorado College - Gifted and Talented Plus
A three-week summer program in June for students entering grades 1 through 9 in the fall.
Date: **2020 dates canceled
Time: 8:45 am - 11:45 am
Cost: Varies
Colorado College - Whiz Bang
A two-week multidisciplinary program of fun activities through the lens of science. For students entering grades 1 through 9 in the fall.
Date: **2020 dates canceled
Time: 8:45 am - 11:45 am
Cost: Varies
YMCA - Summer Day Camp
Summer Day Camps offer enriching weekly camp theme activities where friends are made through group games, sports & fitness, hands-on science activities, arts & crafts, music and swimming!
Date: May 26, 2020
Time: Varies
Cost: Varies
Bear Trap Ranch - Family Camp
Family Camp is a time to step out of regular routines and be nourished spiritually as a family. Bear Trap Ranch's vision for Family Camp is to create space and time apart for families of all ages and kinds to draw near to each other and to the Lord, and to build friendships with others.
Date: 2020 dates TBD
Cost:
Adults $499.00
Children (9-18) $389.00
Children (3-8) $329.00
Children (Birth-2) $180.00.
Price includes all meals, snacks, recreation, housing, programming, and linens.
More information
Nature Camps at Bear Creek and Fountain Creek Nature Center
It may look like just fun and games, but deep connections to the environment are made minute by minute at Nature Center Nature Camps. Through daily outdoor activities, songs, games, crafts, hikes, and embracing children's universal passions to build forts, sneak, and play unstructured in the woods, nature campers connect to the outdoors, and science naturally comes along for the ride. Camps are designed for children entering 1st-5th grades and a special middle school camp at Fountain Creek Nature Center for students entering 6-8th grades.
Date: Varies depending on the camp
Time: Varies
Cost: Varies
More information
Cheyenne Mountain Zoo - Summer Camps
Cheyenne Mountain Zoo offers summer camp adventures that share the wonders of wildlife and wild places in fun and exciting ways. Campers meet animals up-close, explore the outdoors, interact with zookeepers, make treats for the animals, design cool crafts and more!
Date: May-August, 2019
Time: Varies
Cost: Varies
More information
Catamount Institute - Summer Camp
Summer camp with Catamount Institute is the perfect combination of science and adventure. What could be better than a summer of exploring the outdoors, learning about science, making new friends, and having an adventure?
Date: Varies depending on the camp
Time: Varies
Cost: Varies
More information
---