Plan For Vacation Day (January)
January 25 is 2022's National Plan For Vacation Day - make plans now to visit Colorado Springs and the Pikes Peak region!
---
Plan For Vacation Day is January 25, 2022!
More than two-thirds of American workers feel at least moderately burned out. And with the increase in remote working, 61% now find it more difficult to unplug from work. Just one-quarter of Americans used ALL of their earned time off in 2021.
Sometimes, planning is the hardest part of actually using your vacation. Planners actually do travel more than non-planners. More than half, 56%, of Americans who typically planned their time off took an overnight vacation in 2021 compared to 33% of non-planners. Those that plan for vacations are happier in general - with everything from their personal relationships to their work/life balance, health and well-being. So break free from burnout and use National Plan for Vacation Day to prioritize time off.
Looking to visit Colorado Springs in 2022? There's a little something for everyone:
1. Booking a trip to relax and unwind? Colorado Springs is a fantastic wellness destination, with a rich history of medical tourism and healing. Check out Sunwater Spa or Yeden Hemp Spa for all your relaxation needs.
2. Catch a game in the City for Champions! Weidner Field and Robson Arena are both officially open and the best places in town to showcase your Colorado Springs spirit!
3. If delicious food and cold drinks are what you're looking for, you've found it. With an ever-growing food and beverage scene, you're bound to find something Insta-worthy. Check out CO.A.T.I. on the southern end of Downtown for a wide variety of good eats.
4. Take a journey into the great outdoors just a few steps from your hotel room! Explore North Cheyenne Cañon Park for hikes of all difficulties and lengths.
The best part is, you can fly directly into the Colorado Springs Airport! Avoid the traffic and commute from the big city - you'll be downtown in no time.
Here just a few ways taking your paid time off helps make you a better employee, person and economic contributor: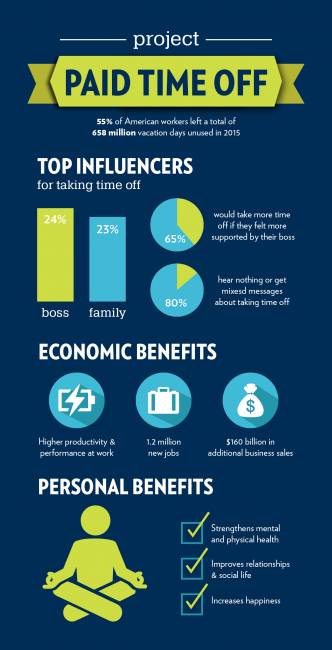 ---