Colorado Classic: Aug 10-13, 2017
The inaugural Colorado Classic rolls through Colorado Springs, Breckenridge and Denver for four exciting and entertaining days this summer, Aug 10-13
---
From Aug. 10-13, a world-class and international field of professional, men cyclists will race more than 300 miles in multiple, fan-friendly circuits, combining the exciting elements of each day's start and finish into the same location. The Colorado Classic will also feature two days of professional women's cycling, beginning in Colorado Springs on Aug. 10 and concluding the following night with a women's only event under the lights in Denver.
Each day of the Colorado Classic will showcase an interactive start/finish area, and the daily routes will combine downtown circuits of each city with the beauty of Colorado's legendary terrain and landmarks.
The inaugural Colorado Classic, designated a 2.HC race by Union Cycliste Internationale (Aigle, Switzerland), will host 18 world-class, domestic and international teams, comprised of 6-riders each. The women's field expects some of the top professional cyclists in the U.S. The Denver portions of the race will feature a companion festival of national music acts, a marketplace and much more. Details on those plans will be released in the coming weeks.
Four-day stage race schedule:
Aug. 10 — Stage One: Colorado Springs (men and women)
Aug. 11 — Stage Two: Breckenridge (men)
Aug. 11 — Denver circuit race (women)
Aug. 12 — Stage Three: Denver, start and finish RiNo Art District (men)
Aug. 13 — Stage Four: Denver, start and finish RiNo Art District (men) and closing festivities
Find full Colorado Classic race and Velorama concert details at VeloramaColorado.com.
---
Stage 1 Course Map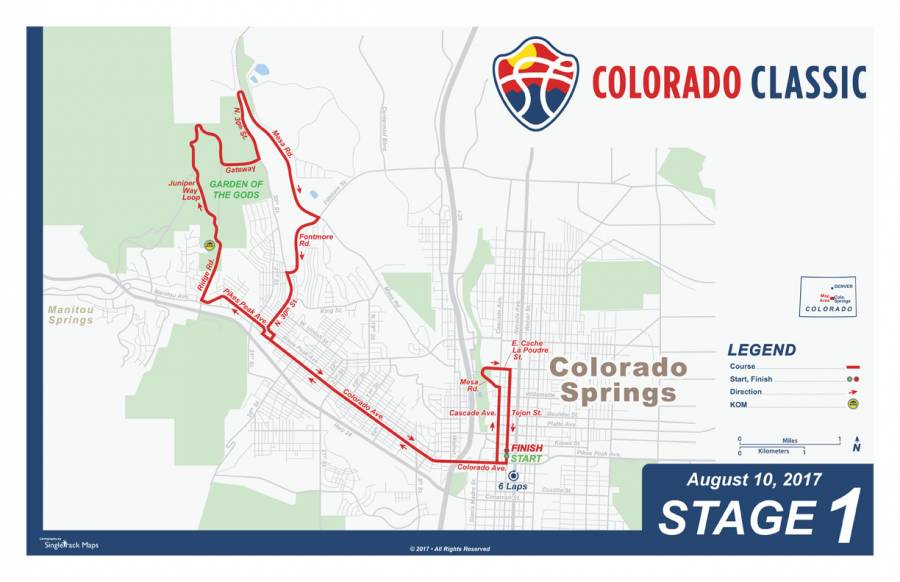 Stage 1 Schedule
Colorado Classic Women's Professional Cycling Race - 10:00 - 11:30 am (estimated)
Approximately 72 of the world's top professional women cyclists
Start - 10:00 am
Finish - 11:30 am (estimated)
Course Map (interactive)
Colorado Classic Men's Professional Cycling Race - 1:10 - 4:45 pm (estimated)
Approximately 96 of the world's top professional male cyclists
Start - 1:10 pm
Course Map (interactive)
---