More than 1 million people navigate the twists and turns of the winding Pikes Peak Highway to see the spectacular panorama each year. While climbers should absolutely take advantage of the perfection of America's Mountain, hikers can also trek to the top of these five lesser-known but still miraculously beautiful mountaintops when visiting Colorado Springs.
1. Almagre Mountain (12,367 feet/3,770 meters)
Almagre Mountain, nicknamed "Mt. Baldy," is the second-highest peak in the Colorado Springs skyline. Despite having one of the tallest summits, Almagre does not attract much attention from visitors or even many locals. This may be because the top of this mountain showcases a more gentle, flatter peak than you may see on mountains such as Pikes Peak or Cheyenne Mountain.
The 6.5-mile trail is an easier climb than most and is rarely crowded, unlike some of Colorado's more popular hikes. The views from the top of Almagre Mountain are incredible. Not only will you get an exceptional view of Colorado Springs, but you will also get a birds-eye-view of Mt. Rosa and other mountains that you may have only seen from the ground up.
2. Blodgett Peak (9,423 feet/2,872 meters)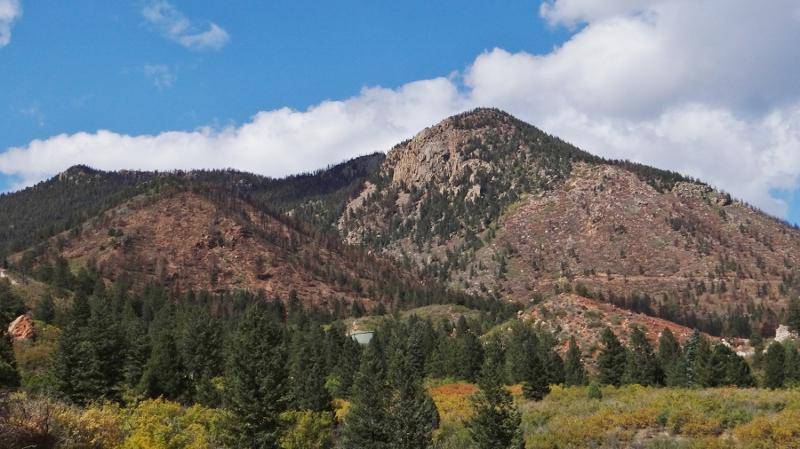 Blodgett Peak is one of the most accessible mountains in Colorado Springs. It is located in the northwest section of town. This peak sees more foot traffic than Almagre but is still a hidden gem. The lower part of the mountain, known as Blodgett Peak Open Space, boasts 167 acres of open space, trails, and wildlife. The main route on Blodgett is a good workout for those looking to get in shape, as it climbs roughly 2500 feet along the 3.5-mile trail. From the height of Blodgett Peak, you will gain unbelievable views of Rampart Reservoir and Colorado Springs.
3. Raspberry Mountain (10,605 feet/3,232 meters)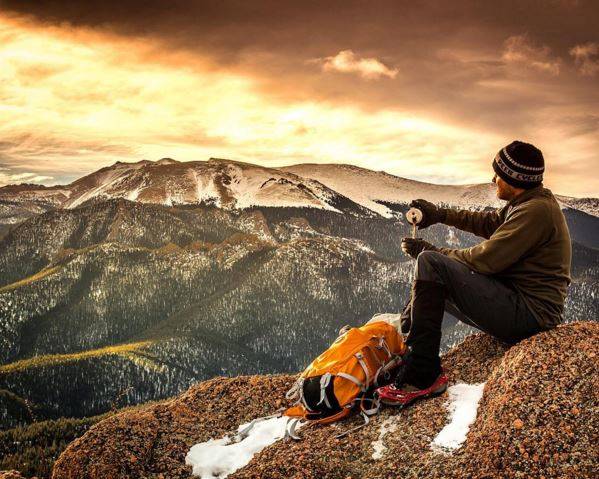 Credit: Instagram BrianLewisMedia
This fairly easy climb starts in Divide, CO, and faces the northwest slope of Pikes Peak. The total 6.4-mile trail is perfect for runners and bikers in the warmer months and great for snowshoeing or skiing in the winter. Climbers will find a wonderful payoff of 360-degree views of the Sawatch Range, Sangre de Cristo Mountains, Pikes Peak, and Catamount Reservoirs.
This is a perfect mountain for beginners or more casual climbers, and if you have a furry friend, Raspberry Mountain is also fairly popular for hikers with dogs. For more places to go in and around Colorado Springs with your pup, click here.
4. Mount Herman (9,063 feet/2,762 meters)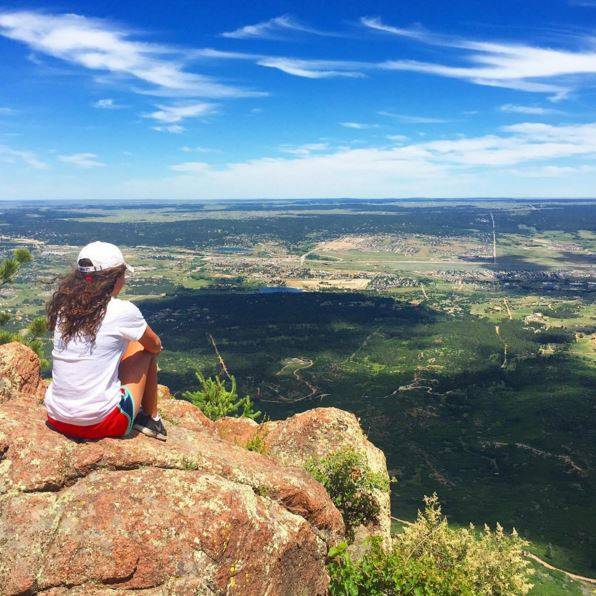 Credit: Instagram shay.morgan_
Mount Herman sits between Denver and Colorado Springs, along the Rampart Range of the Front Range. Totaling 2.2 miles, this is one of the easiest routes in the area. It is a relatively steep Class 1 trail with an elevation gain of about 1,000 feet. The peak attracts a small number of people (and dogs) on the weekends but is still quite underrated. Mt. Herman sits in Monument, CO, which is just north of Colorado Springs and is a historic town that takes a lot of pride in this charming peak. Summit views include Pikes Peak, Longs Peak, both the Colorado Springs and Denver skylines, Palmer Lake, and even the Air Force Academy.
5. Red Mountain (7,375 feet/2,248 meters)
Red Mountain is a short hike that offers views of Manitou Springs, which is just west of Colorado Springs, and Williams Canyon. Red Mountain and the Manitou Springs area are rich in history. The summit features the ruins of an early 20th-century incline named the Red Mountain Incline and a dancehall. The mountain was also a favorite of the famous Emma Crawford, who was actually buried at the summit in 1891, and when her coffin washed down the mountain with torrential rains, it inspired the town's annual Emma Crawford Coffin Races.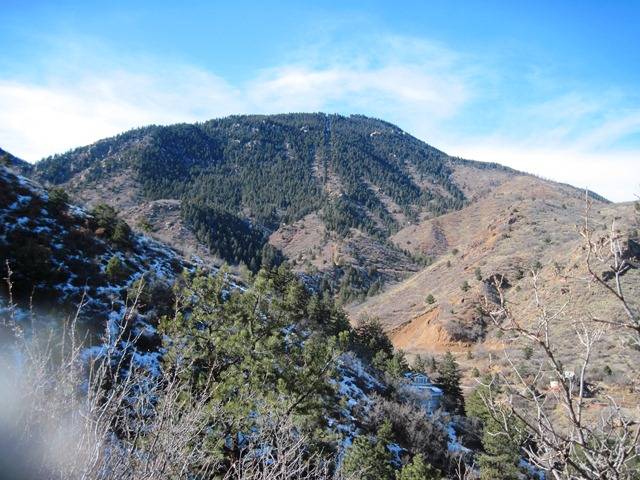 Credit: Matt Payne Photography
​To discover more mountaintops, parks, & trails near Colorado Springs, click here.