USAFA Gateway Visitor Center
Transforming the visitor experience
---
The United States Air Force Academy (USAFA) equips servicemen and women who protect and defend our democracy, and truly makes Colorado Springs a City for Champions. More than a half-century ago, rigorous efforts from the community brought the Air Force Academy to Colorado Springs. Today, the historic legacy of the Academy continues to instill a sense of patriotism in those who visit.
The Academy was once one of the state's top tourist destinations. After September 11, 2001, Academy visitors decreased dramatically, from 700,000 annually to a mere 200,000, as necessary security for the campus became a priority over visitor access.
The Gateway Visitor Center will transform the visitor experience by relocating and expanding the Center's exhibit offerings for an engaging experience and provide a way for visitors to honor the contributions of Cadets to the US Air Force and our country.
Clearly visible and easily accessible from I-25, the 32,000 SF Gateway Visitor Center will include:
Ground Breaking: Early 2020
Scheduled Opening: The project is scheduled to be completed in 2022
Venue Details:
Clearly visible and easily accessible from Interstate 25
32,000 square-foot facility with 7.800 square feet of exhibit space
250-seat theater
Virtual and augmented reality opportunities so visitors can "tour" USAFA
Glass-enclosed atrium
iFly that will service the Air Force's Wings of Blue, Fort Carson's jump crew, as well as the public
Triple-height space for welcoming and group events
Retail and restaurant offerings
Polaris Plaza, a covered, but open-air space of 15,000 square feet linking various components of the Gateway Visitor Center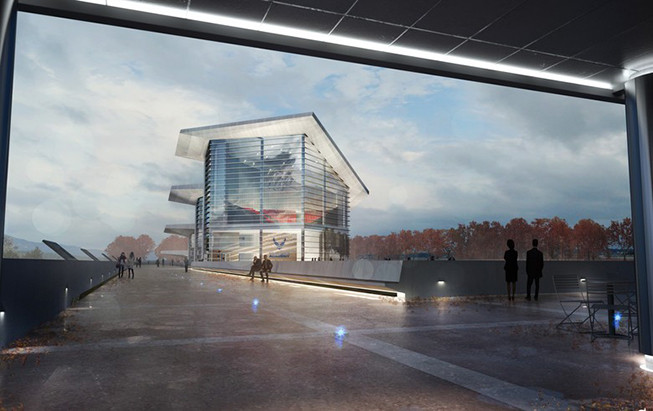 The new USAFA Visitor Center is part of a 51-acre development that includes a 375-room, full-service hotel and conference center, as well as a 180,000-square-foot defense office complex.
The architecture design envisions four wings taking off for flight to the south. It respects USAFA's mid-century modern aesthetic, while also adding an updated look to the campus skyline from I-25. COVID-19-related economic fallout impacted the project's bonds, pushing an anticipated construction start from April to October of 2020.
---