USAFA Gateway Visitor Center
Transforming the visitor experience
---
The United States Air Force Academy (USAFA) equips servicemen and women who protect and defend our democracy, and truly makes Colorado Springs a City for Champions. More than a half-century ago, rigorous efforts from the community brought the Air Force Academy to Colorado Springs. Today, the historic legacy of the Academy continues to instill a sense of patriotism in those who visit.
The Academy was once one of the state's top tourist destinations. After September 11, 2001, Academy visitors decreased dramatically from 700,000 annually to a mere 200,000, as necessary security for the campus became a priority over visitor access.
The U.S. Air Force Academy Gateway Visitor Center will transform the visitor experience to honor the contributions of cadets to the U.S. Air Force and the country. Located adjacent to I25, just outside the North Gate security entrance, space will allow for a major expansion of exhibits and improved audio-visual for a museum-quality experience. The 35,000 sq.-ft. centerpiece is a soaring white structure with four wing-like roofs, each pitched higher than the last, giving the impression the structure is taking flight. Progress has been slowed throughout 2020 due to the pandemic, and the groundbreaking is expected by the end of 2021.
Ground Breaking: Early 2020
Scheduled Opening: The project is scheduled to be completed in 2022
Venue Details:
Clearly visible and easily accessible from Interstate 25
32,000 square-foot facility with 7.800 square feet of exhibit space
250-seat theater
Virtual and augmented reality opportunities so visitors can "tour" USAFA
Glass-enclosed atrium
iFly that will service the Air Force's Wings of Blue, Fort Carson's jump crew, as well as the public
Triple-height space for welcoming and group events
Retail and restaurant offerings
Polaris Plaza, a covered, but open-air space of 15,000 square feet linking various components of the Gateway Visitor Center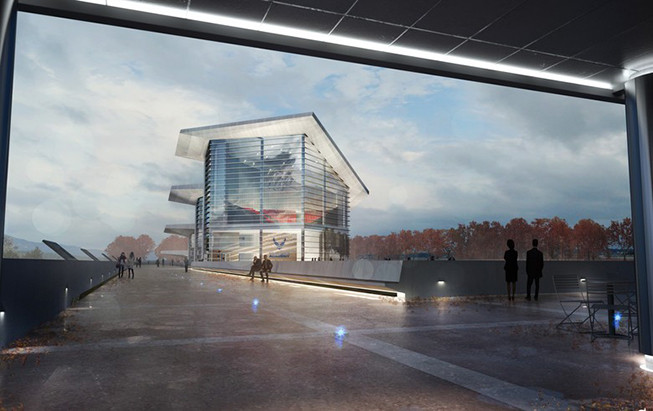 The new USAFA Visitor Center is part of a 51-acre development that includes a 375-room, full-service hotel and conference center, as well as a 180,000-square-foot defense office complex.
The architecture design envisions four wings taking off for flight to the south. It respects USAFA's mid-century modern aesthetic, while also adding an updated look to the campus skyline from I-25. COVID-19-related economic fallout impacted the project's bonds, pushing an anticipated construction start from April to October of 2020.
---