Savory Colorado Springs
Colorado Springs, CO has a bursting culinary scene whether sipping on one of the area's craft brews, hopping on a party bus or enjoying Food Network-worthy plates – it is the ideal location to savor flavor.
---
Natural awe-inspiring scenery like Pikes Peak-America's Mountain and Garden of the Gods Park also help set the scene for a food-filled escape.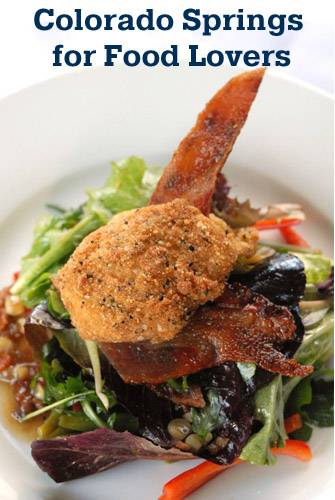 Day 1
Morning
Start the day at IvyWild School. This local community marketplace offers hungry visitors a variety of options. Enjoy flavored coffees and adult beverages made with fresh juices at The Principal's Office, house-made sausages and cured cuts at The Meat Locker, local produce at Hunt or Gather and a sweet ending at Old School Bakery. It's also home of Bristol Brewery, the oldest and largest brewery in the area. The lower level features ModboCo, an art workshop and craft-brew facility.
Afternoon
Learn some history and get great eats with Rocky Mountain Food Tours. The Delicous Downtown Food Tour allows you to dine and dash at five unique downtown restaurants with craft beer, cocktail and wine pairings at each location.
Evening
Colorado Springs' craft brewery scene is overflowing. There are so many choices on tap including IPA's, lagers, red ales, stouts and wheat beers. Phantom Canyon, Colorado Mountain Brewery, Bierwerks, Great Storm Brewing and Pikes Peak Brewing are all popular options.
Day 2
Morning
Farmers Markets and fresh produce are scattered all over the city from June through December. Find fresh produce and hand-made goods at small pop-ups or full-on working gardens like Colon Orchards or Venetucci Farm. Fall is a wonderful time to visit and pick pumpkins, navigate corn mazes and pick apples.
Afternoon
Make the trip to the summit of Pikes Peak-America's Mountain. Ascend this Colorado "fourteener" by car, foot, bicycle or cog railway. Also featured on Food Network, are the warm and cakey donuts found at The Summit House. Another famous baked food, the Cronut, can be found at The Broadmoor's Espressos.
Evening
Hop aboard the Local Motive Party Bus for themed tours of breweries, distilleries, craft cocktail crawls, culinary nights and more. Please note Local Motive Party Bus only operates on Fridays and Saturdays.
Day 3
Morning
Find pure goodness at King's Chef Diner, featured on Food Network's Diners, Drive-Ins and Dives, this local haunt is known for its super-sized portions and green chile. Finish an entire meal and become an elite member of the "clean plate club."
Afternoon
Taste the natural Manitou Springs mineral springs. When visitors ask about where the springs are in Colorado Springs, the answer is Manitou Springs. There are 8 springs open to the public, each with its own distinctive flavor and effervescence. Centuries ago, the great tribes of the plains and the Mountain Utes paid homage to the healing and spiritual powers of the mineral springs and believed the medicinal waters were a gift from the Great Spirit Manitou. Wear comfortable walking shoes and bring a cup to sample the springs. Stop in the Visitor Center at 354 Manitou Avenue for free tasting cups and a brochure with a map and mineral content for each spring.
Evening
Savor Coquette's Bistro & Bakery's 100% gluten-free menu for dinner. From house-made gluten-free bread and bakery items to offering locally-sourced libations, Coquette's is a not-to-miss stop for any foodie.
Other note-worthy establishments include:
Carlos' Bistro is the #6 restaurant in the country by Zagat's
Urbanspoon names Urban Egg, as the #11 restaurant on its list of 101 Great Breakfasts in the United States.
OpenTable calls The Penrose Room and Briarhurst Manor Estate among the most romantic restaurants in the country.
---