---
---
Apply for the Meeting and Events Incentive Program
The Colorado Meeting & Events Incentive Program provides pre-approved applicants with a 10 percent rebate between $3,500 and $100,000 against the eligible hard costs of hosting meetings and events. The program supports the attraction of new events and the retention of events like business meetings, conferences, conventions, exhibitions, trade shows, consumer shows, festivals and weddings in danger of cancellation, postponement or relocation to other states.
The Colorado Tourism Office is partnering with the Metropolitan State University of Denver to administer the program. Interested applicants should visit the OEDIT website for all program information and instructions for application.
If you have any questions about the program, please contact Elizabeth O'Rear.
---
COVID-19 Regulations and Restrictions: UPDATED 7/14/21
There are no current restrictions on indoor or outdoor events. Colorado Springs and the Pikes Peak Region is committed to the health and safety of our visitors, guests and residents. For more information on COVID-19 guidelines and regulations, click here.
Guidance and Best Practices:
Collect the contact information of guests or attendees through tactics like taking reservations, requiring RSVPs, or having sign-in sheets, and times of arrival and departure to help with potential exposure notification whenever possible.
Provide generous and flexible cancellation policies so that if guests start experiencing symptoms, they can cancel.
Encourage 6 feet or more distancing between all employees, customers, contractors and visitors. Venues may calculate capacity using the Social Distancing Space Calculator.
Create a queue at entrances that allow for 6 feet of physical distancing between individuals and pace entry to prevent congestion.
Give reminders to observe 6 feet physical distancing before, during, and after events.
Post signage with easy to interpret graphics in commonly used languages reminding everyone to maintain 6 feet of distance, wear masks if unvaccinated, wash hands, etc.
Establish single-direction traffic flow in and out of venue and seating areas. Consider separate entrances and exits.
If the event is catered, do not allow for self-service stations or buffets.
Enhance cleaning and disinfection of common touchpoints (doors, stairwell handles, light switch, elevator switch, etc.). (CDC cleaning guidance)
Ensure ventilation at the venue is in line with or exceeds OSHA guidance.
Install touchless hand sanitizing stations at entrances and in high-traffic areas.​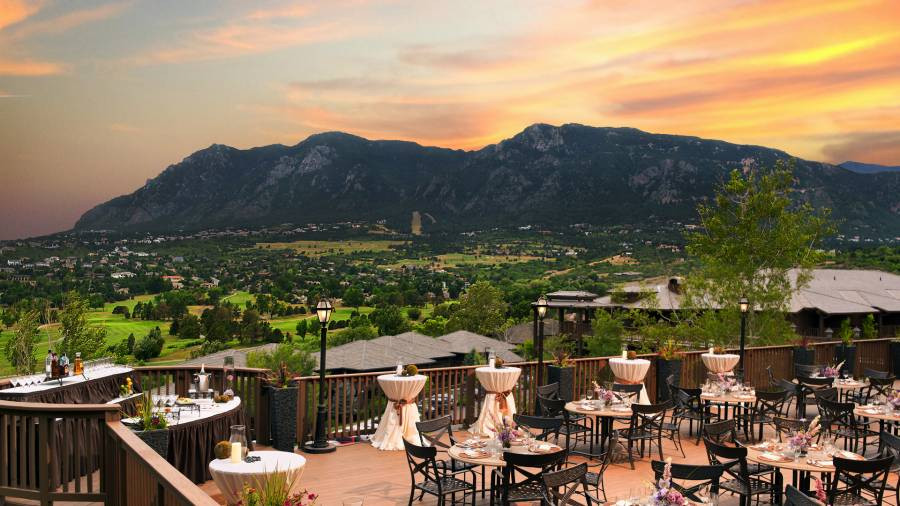 Make planning your Colorado Springs meetings easy. Our staff can help make your event the best attended yet, with great accommodations, facilities, service and stunning scenery. Let our award-winning Convention Sales and Servicing staff help make your conference and meeting planning a success and an experience to remember.
Submit RFP // Digital Meeting Planner Guide
---
For more information about planning your next Colorado Springs meetings or events, please contact our award-winning staff: