Whether you're looking to hit the road for a weekend trip or get out of the house for a few hours, the Pikes Peak region is the perfect place to "take the scenic route." Below are a few options to explore – all tested and verified by our own Visit Colorado Springs staff.
Read through each option, or click below to navigate to an individual route:
1. Royal Gorge to Phantom Canyon Loop
This route will take you from Denver/Colorado Springs to Cañon City with a special detour on the way back. It's not as spooky as it sounds, though there will be some thrills along the way.
First Stop: Royal Gorge Bridge & Park
Cost: Depends on activity – entrance into the park itself is $29/person or $24/child
Drive Time: Approx. 1 hr from Colorado Springs and 2 hrs from Denver
Getting There: From Denver/Colorado Springs, head south on I-25. Take exit 140 for Tejon St. toward CO-115. Continue on CO-115 S until merging onto US-50 W toward Cañon City/Royal Gorge. Take a left onto County Rd 3A into the park.
The first stop of this loop is the Royal Gorge Bridge & Park. You have plenty of options to enjoy the park, such as exploring the suspension bridge, riding the gondola or Skycoaster, ziplining and braving the Via Ferrata – a gorge-side, horizontal climbing path comprised of steel cables. You can also capture amazing views of the gorge on hikes like the Royal Gorge Rim Trail or others in the area.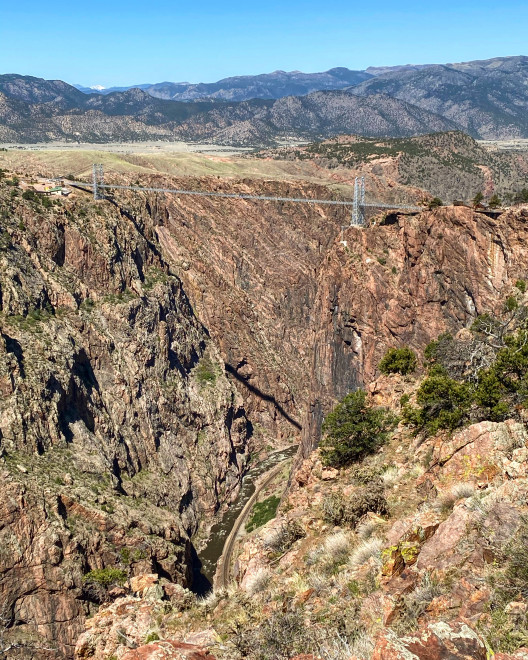 Pit Stop Recommendation – The Winery at Holy Cross Abbey: Stop by the local winery on the grounds of the historic Holy Cross Abbey. Check out the tasting room and bring a bottle or two home with you from the gift shop.
Second stop: Skyline Drive
Cost: Free
Drive Time: Approx. 20 min from Royal Gorge Bridge & Park
Getting There: From Royal Gorge Bridge & Park, head north on County Road 3A. Turn right onto US-50 E. Turn left onto Skyline Dr.
After exploring the Royal Gorge, experience a little thrill on Skyline Drive. With sweeping views of Cañon City, it's an unbeatable adventure – but be ready for cliff drops on both sides of the road! It's like riding a rollercoaster that's weaved into the mountains.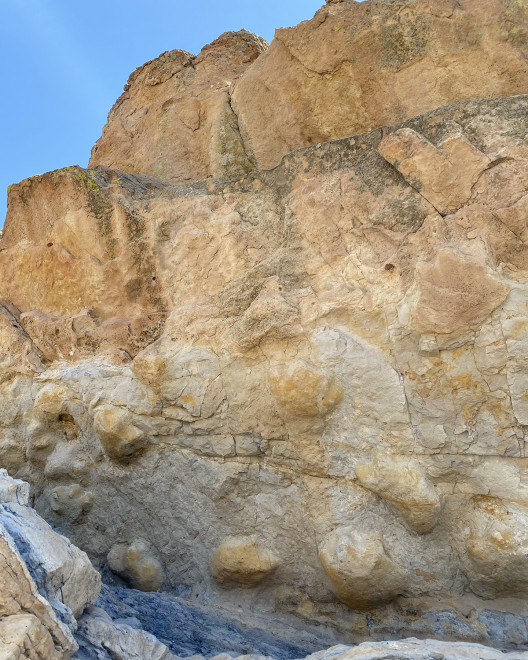 Fun Fact: Skyline Drive is lined with fossils of dinosaur prints. Check out the interpretive display toward the top of the road to help you identify the prints.
Third Stop: Phantom Canyon Road
Cost: Free
Drive Time: Approx. 15 min to get on road from Skyline Drive
Getting There: From Skyline Drive, turn left onto US-50 E/Royal Gorge Blvd. Turn left onto Fremont County Rd 123. Turn left onto Phantom Canyon Rd.
Historic Phantom Canyon Road will take adventurers on a scenic route all the way to Victor where they can hop on CO-67 and then take US-24 E back to I-25. The gravel road follows the route of the Florence and Cripple Creek Railroad built in 1894 and features tunnels and unique bridges.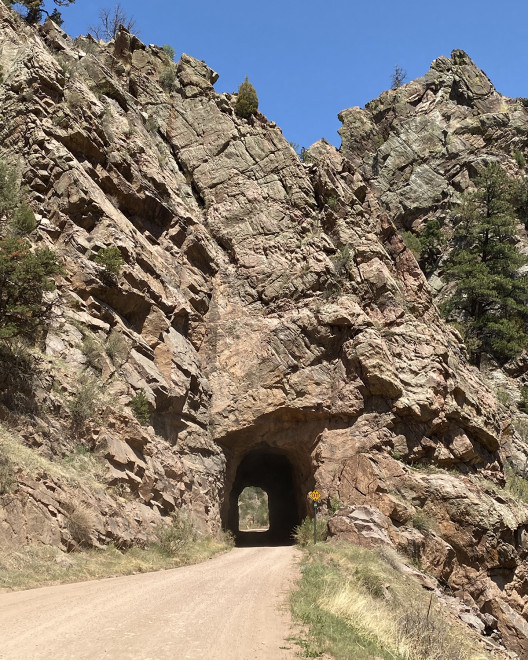 Fun Fact: Phantom Canyon Road not only has stories of being haunted, but it also is lined with remnants of ghost towns of years past that add to its mysterious reputation. You'll pass signs for towns like Wilbur, Adelaide and Glenbrook that were washed away in flashfloods or dissipated as a result of the slowing economy after the railroad closed in 1912.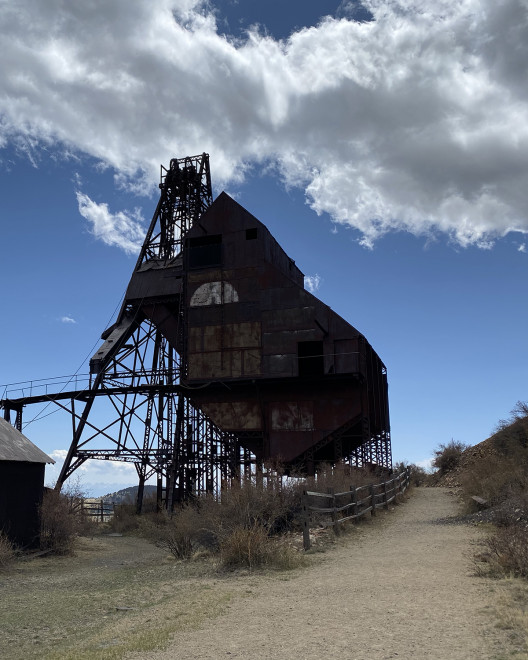 Pit Stop Recommendation – historic gold mines: Once you make it to Victor, there is plenty to do in the area if you have time before heading home. Check out Vindicator Valley Trail, an interpretive trail that takes you past abandoned 1890s gold mines.
---
2. Gold Camp Road to Old Stage Road
This route is easily accessible from Colorado Springs along the front range. It follows a former railroad from Colorado Springs to Cripple Creek. Enjoy beautiful mountain views and peaceful, calm vibes along the way.
First Stop: Gold Camp Road
Cost: Free
Drive Time: Approx. 20 min from Colorado Springs and 1hr 20 min from Denver
Getting There: From Denver/Colorado Springs, head south on I-25. Follow I-25 to S 21st St. in Colorado Springs (Cimarron Exit 141). Turn left on 21st St. Turn right on Lower Gold Camp Rd. Follow Gold Camp Rd. up through Bear Canyon until it comes to a crossroads and turns into a dirt road.
Once through Bear Canyon and on Gold Camp Road, it will wind up the switchbacks past some residential housing and overviews of downtown Colorado Springs. The road will take you through two tunnels heading into North Cheyenne Cañon Park and turning into Cheyenne Cañon Road. The views along the way are spectacular, and you'll pass plenty of options for hiking in the park. Keep your eye out for views of Helen Hunt falls on the way down!
Fun Fact: Gold Camp Road's tunnels are said to be haunted. The road opened in the 1920s and was a car toll road. In 1988, the third tunnel collapsed and was never repaired. Legend says a school bus collided with it, killing the driver and those aboard. Nearby hikers claim to hear laughter in the area, as well as other eerie experiences.
Pit Stop Recommendation – Mt. Cutler Trail: If you're looking to go on a short, rewarding hike and take a break from the car, Mt. Cutler is a great option. On the way down Gold Camp Road and through North Cheyenne Cañon Park, you'll see the trailhead for Mt. Cutler on your right. Rated as an easier trail, it's a little under 2 miles roundtrip. Along the way, you'll see great views of the Stratton Open Space, The Broadmoor Seven Falls and Will Rogers Shrine of the Sun.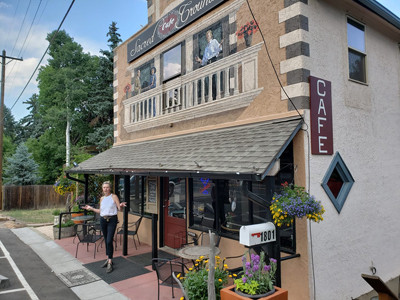 Pit Stop Recommendation – Sacred Ground Café: Need a bite to eat or caffeine booster once you exit North Cheyenne Cañon Park? Sacred Ground Café is located right along Cheyenne Blvd and nestled into the mountains. You'll see it on your right as you head out.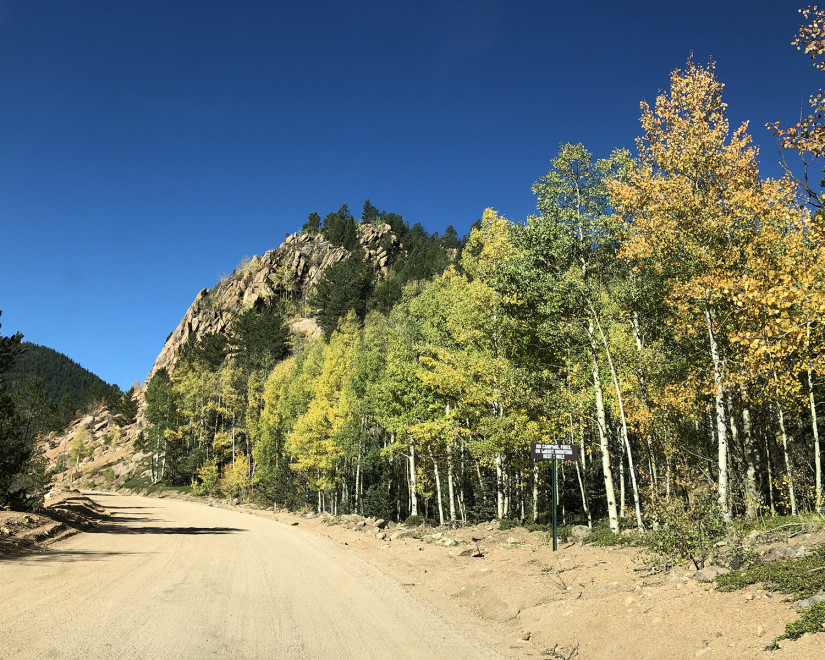 Second Stop: Old Stage Road (Forest Service Road 368) to Cripple Creek (best with a 4-wheel drive vehicle)
Cost: Free
Drive Time: Approx. 10 min from North Cheyenne Cañon Park, then approx. 1hr 23 min into Cripple Creek
Getting There: From North Cheyenne Cañon Park, head east down Cheyenne Blvd. as you exit the park. Turn right onto Cresta Rd. Follow the signs for Cheyenne Mountain Zoo, taking you around The Broadmoor. Take a right onto Mesa Ave. Take a left onto Penrose Blvd. Keep your eye out for the next crossroad and take a right onto Old Stage Rd.
One on Old Stage Road, it will wind up past some residential housing and turn into a dirt road. You'll almost instantly be high enough to see an overview of Colorado Springs. The road will wind into the mountains, passing hiking trails, shooting ranges, reservoirs and more. A well-known, challenging hike along the way is Mt. Rosa. You can reach it via Forest Road 379, which intersects with Old Stage Road (368). If you decide to continue on Old Stage Road, it will eventually connect back with Gold Camp Road and take you all the way into Cripple Creek.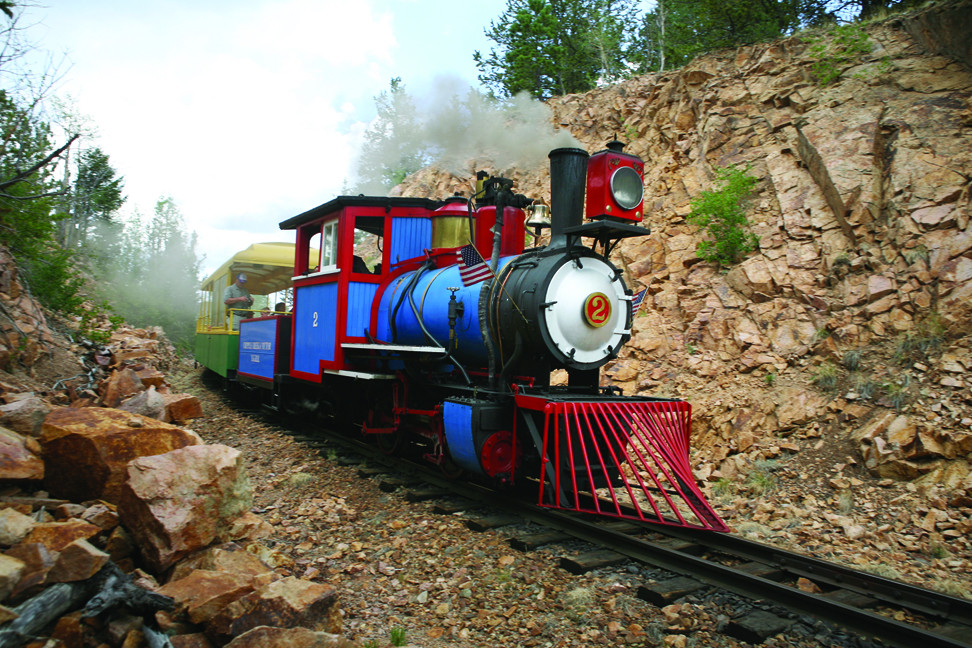 Pit Stop Recommendation – Historic Cripple Creek: If you make it all the way to Cripple Creek, there are plenty of activities to do once there. From the Cripple Creek and Victor Narrow Gauge Railway, to Cripple Creek District Museum and Jail Museum, you'll be kept busy (double check with these attractions for reopening plans before venturing out). Don't forget to keep your eye out for the famous Cripple Creek donkey herd downtown!
From Cripple Creek, you can take US-24 E back to I-25.
---
3. Pikes Peak Highway to Pikes Peak Summit
Enjoy breathtaking views, animal sightings like Rocky Mountain Bighorn Sheep and marmots and more as you drive 19 miles up one of Colorado's majestic 14ers, sitting at 14,115 feet.
Destination: Pikes Peak Summit*

*Please note that weather conditions determine if the Pikes Peak summit is open. Call 719-385-7325 to check for road conditions.

Cost: $15 Adult, $5 child (6-15), $50 carload (5 passengers)
Drive Time: Approx. 2-3 hours roundtrip to the summit
Getting There: From Denver/Colorado Springs, head south on I-25. Exit onto 141 for US-24 W/W Cimarron St. Keep right at the fork, follow signs for Manitou Springs/Pikes Peak/Woodland Park. Turn left onto Fountain Ave, then take a slight left onto Pikes Peak Hwy.
The ride up Pikes Peak is an experience unlike any other. Through mid-October, at Mile 14 and 16, you'll find ample parking and free shuttles that depart from Devils Playground every five minutes to take visitors to the summit while the highly anticipated new Summit Complex is built. Masks are required. The current Summit House is open as of June 1, so when you get to the top, you can enjoy its world-famous hot and fresh donuts, hot coffee, fudge and gift shop. You may spot some explorers hiking or biking up the mountain!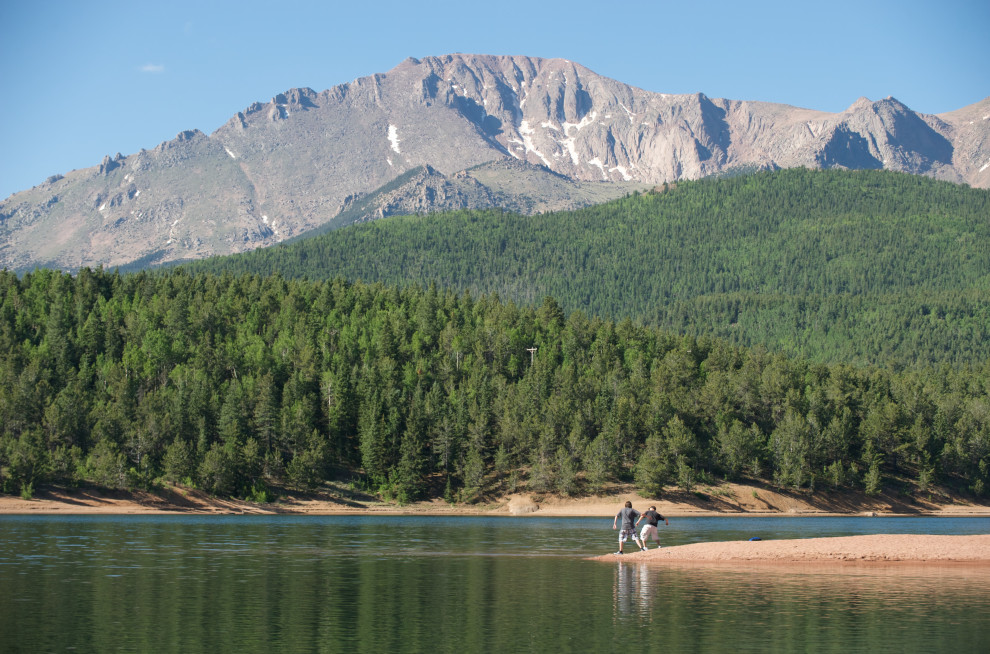 Pit Stop Recommendation – North Slope Recreation Area: In this area, licensed fishermen can fish in three different lakes from May to October, and adventurers can hike and bike on nearby trails. You'll also pass by Crystal Reservoir Gift Shop and the Historic Glen Cove Inn.
Fun Fact: On the clearest days, you can see five states (Colorado, Arizona, New Mexico, Utah and Kansas) and the curvature of the earth fading into the distance.
---
4. US-24 to Woodland Park
Leave your cares behind as you drive the winding Highway 24 to Woodland Park. This short, scenic drive packs a punch of gorgeous views in just 20 minutes.
Destination: Woodland Park, CO
Cost: Free
Drive Time: Approx. 20 minutes to Woodland Park from Manitou Springs
Getting There: From I-25, take exit 141. Travel west on US-24 approximately 17 miles to Woodland Park.
The vibrant red canyons of thick pine and oak guide you up the pass and open to lush rolling hills and mountain range that look like they came straight out of Jurassic Park. Though it's just a short drive up to the 8,465' City Above the Clouds, it's hard to choose a favorite between the journey up the pass and the quaint, welcoming destination of Woodland Park. This picturesque mountain town is full of local mom and pop shops, restaurants and trails to explore. Check out The Donut Mill in the heart of downtown and reward yourself with a donut or biscuits and gravy after a day of hiking and exploring.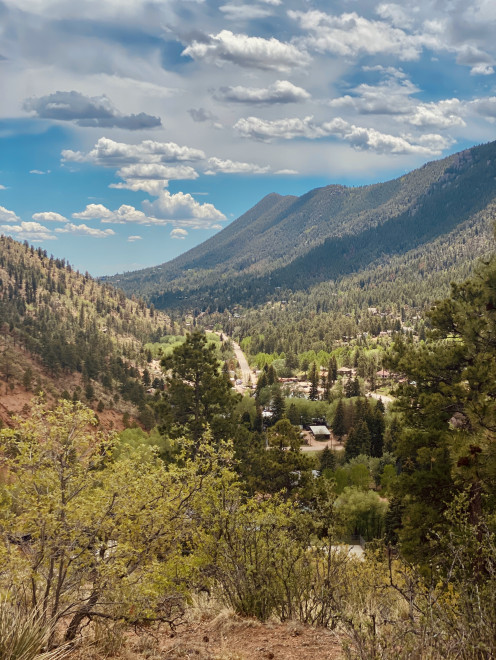 Pit Stop Recommendation – Wines of Colorado: Pop into the tasting room and enjoy a glass of wine on the creek-side patio. Be sure to grab a bottle of your favorite as a souvenir.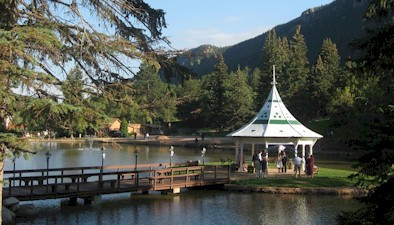 Pit Stop Recommendation – Gazebo Lake at Green Mountain Falls: Pack a lunch and enjoy a leisurely stroll around a picturesque lake before getting to Woodland Park.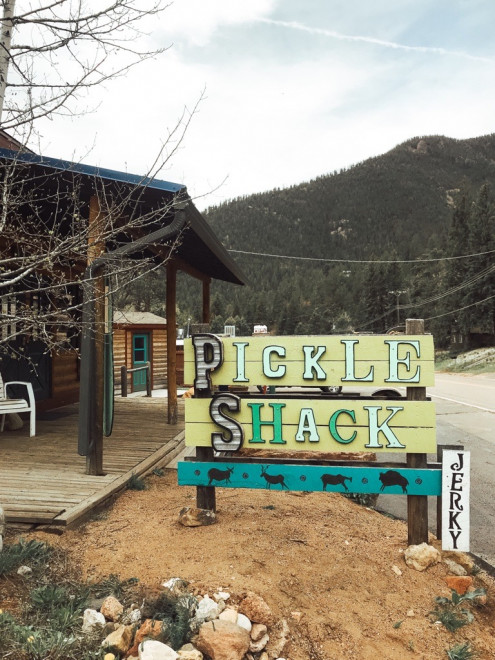 Pit Stop Recommendation – Pickle Shack: A MUST for all pickle enthusiasts. This rustic little shop is located at the base of Pikes Peak Highway and has over 40 varieties of delicious products.
Fun Fact: Woodland Park is nearby plenty of epic hiking trails and parks like Pancake Rocks, The Crags and Mueller State Park.
---
Not all Heroes Wear Capes - Some Wear Masks
Though we don't require masks, we ask that you please bring one along with you to wear when interacting with the businesses that do require them, when indoors where others are congregating or when outdoors in crowded spaces. For more information, please visit our COVID-19 updates page.