Places to SUP
The region is home to many sparkling reservoirs and pristine lakes.
---
Whether you have your own stand-up paddleboard or are renting equipment for the day, here's where you can get on the water to paddle and play.
Where to Go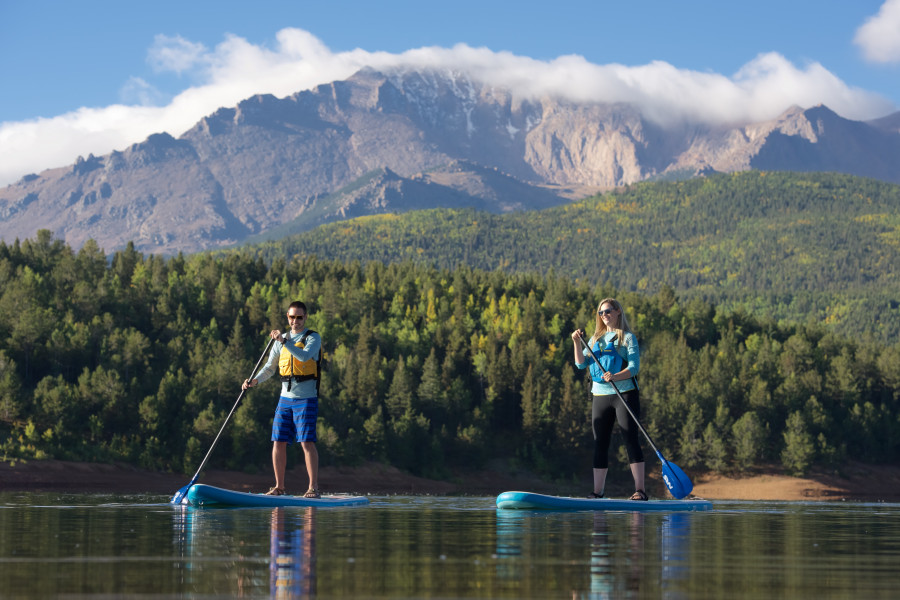 Prospect Lake – Enjoy amazing views of Pikes Peak and one of the area's only swimming beaches. Rent a board at the beach house or bring your own equipment. Please note, paddleboards do need a permit and daily passes are available at the boat launch kiosk for $5 per vessel. Season passes are available for $50 at the Sertich Ice Center.
Quail Lake – Pack a picnic and enjoy the views from this little city lake from sunrise to sunset. Please note, paddleboards do need a permit. Daily passes are available for $5 per vessel, or $50 per season pass, at the onsite kiosk.
Rampart Reservoir – Open from mid-May to October this reservoir is a local favorite for SUP activity. Located in Pike National Forest, reservoir sits on a granite plateau approximately 9,000 feet above sea level. A $6 fee will be charged upon arrival.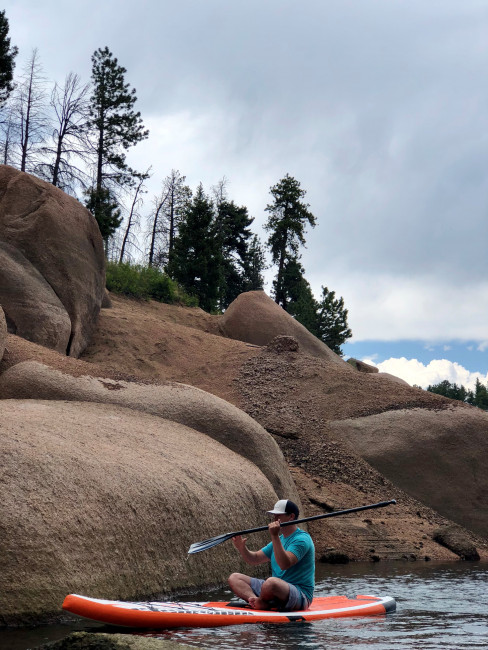 Catamount Reservoirs – Paddlobaords are allowed on both reservoirs. All access to the reservoirs is through the Pikes Peak Highway toll gate. Make sure to mention you'll only be paddleboarding for a discounted entry fee of $5 per adult. If you plan on making the trip to the summit, you will need to pay the full entry fee.
Manitou Lake – This five-acre reservoir allows non-watercraft from Memorial Day to the Tuesday after Labor Day. the site is easily accessible with a $7 per vehicle charge.
Monument Lake – Approximately five miles north of the Air Force Academy, the charming town of Monument and Monument Lake offer calm waters and free, year-round paddleboarding opportunities.
Palmer Lake – A popular and charming location for those who enjoy paddling under the beautiful blue Colorado sky. Enjoy free entry alongside views of Ben Lomand Mountian.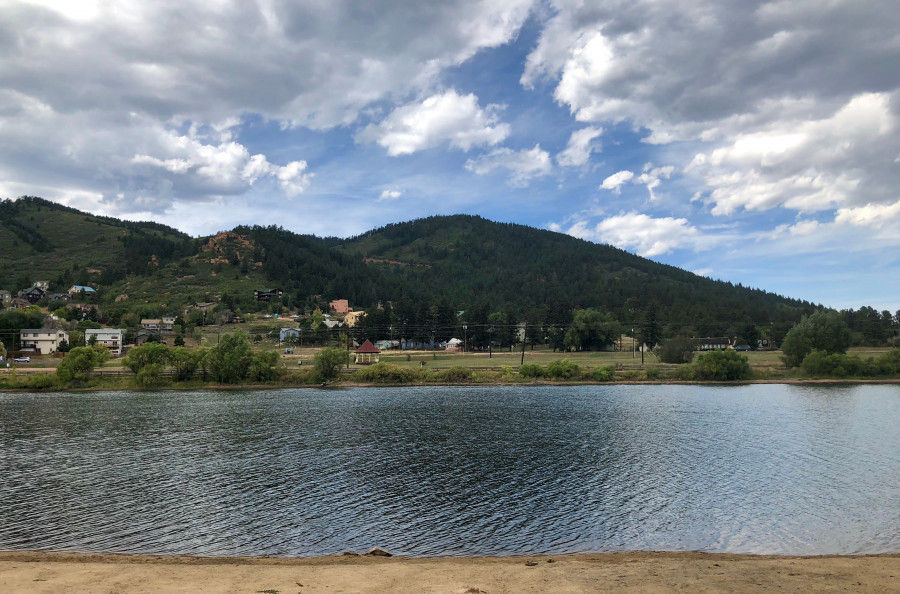 Big Stratton Reservoir – Located just southwest of the intersection of Lake Avenue and S. Nevada Avenue., Stratton Open Space offers 318 acres of open space, trails, and wildlife habitat for Colorado Springs. The site is free and open to the public.
Lake Pueblo State Park – Located just 40 minutes south of Colorado Springs, Lake Pueblo offers warm water, mild winds and 60 miles of shoreline for water activities. Access the park with a daily $8 pass or $80 season pass.
Please note - All fees, permits and information are subject to change.
Where to Take a Class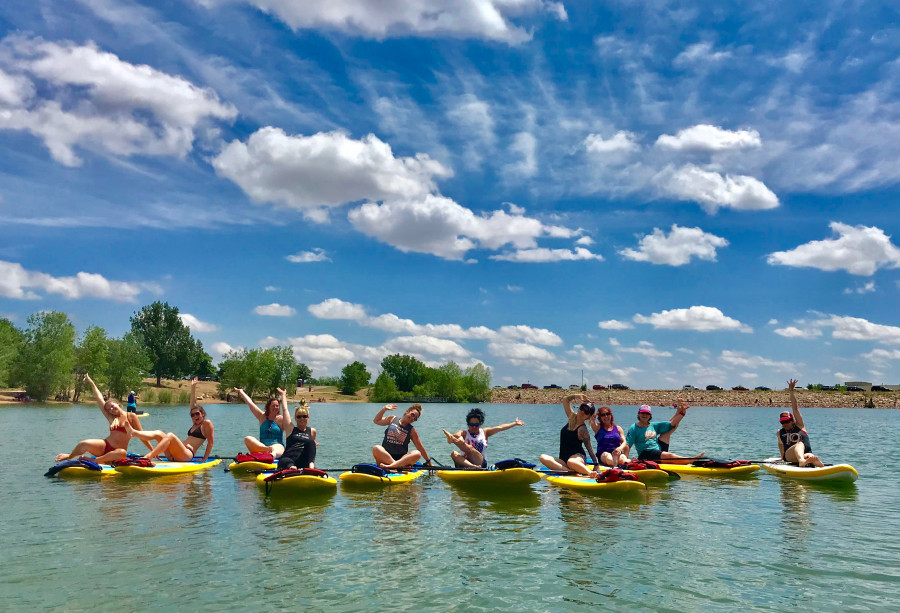 Dragonfly Paddle Yoga takes the art of balance to a whole new level with guided yoga classes on stand-up paddleboards. These classes take place year-round both indoors and out depending on the season. For even more fun, try out their Paddle GLOWGA classes for a colorfully illuminated sunset experience on the water.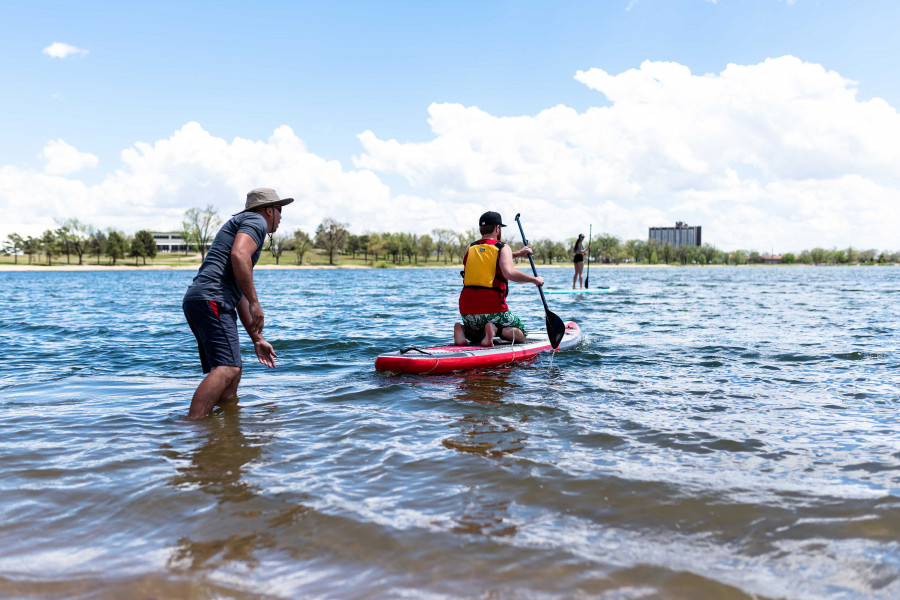 SUP Colorado Springs offers a basic lesson with each paddleboard rental and makes getting on the lake a breeze. Take a SUP yoga class Tuesdays, Thursdays, Saturdays and Sundays. The company is the only one working directly with the City of Colorado Springs and also donates a percentage of proceeds to local community programs.
UpaDowna hosts SUP programs that encourage participants to get off the couch and get on the board! Paddleboarding has been offered by UpaDowna since 2014 and is something that people of all ages and skill levels can participate in.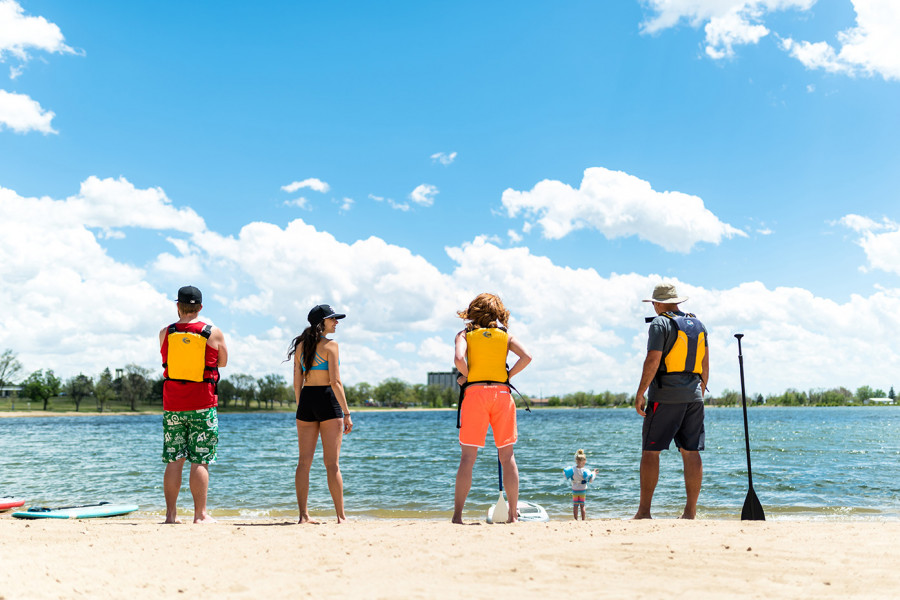 Where to Rent
---