Cheyenne Mountain Colorado Springs – Learn about Cheyenne Mountain NORAD
In 1956, General Earle E. Partridge, commander of the Continental Air Defense Command, proposed construction of a Cheyenne Mountain Colorado Springs complex.
---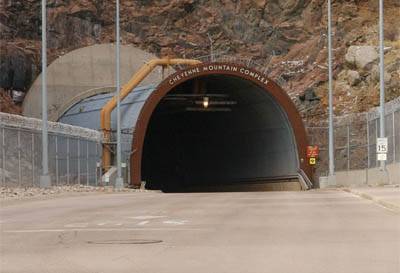 The vision was to construct an underground combat operations center to replace the vulnerable above-ground facility at Ent Air Force Base, Colorado (fun fact – click here to see what popular attraction is now located at Ent Air Force Base).
The complex would house NORAD, which originally was the abbreviation for North American Air Defense Command and now stands for North American Aerospace Defense Command.
The Cheyenne Mountain NORAD complex is literally located inside Cheyenne Mountain, in the southwest corner of Colorado Springs. The complex was excavated by the Army Corps of Engineers. It became fully operational on April 20, 1966.
Today, the Cheyenne Mountain Colorado Springs complex serves as the Alternate Command Center for NORAD and as a training site for crew qualification. As a result of ongoing operational and security requirements, Cheyenne Mountain NORAD is not open to the general public for tours.
The Pikes Peak region is home to the United States Air Force Academy – one of the area's major attractions – as well as Fort Carson, Schriever AFB, Peterson AFB and more.
Cheyenne Mountain is also home to Cheyenne Mountain State Park & the Cheyenne Mountain Zoo!
---