Push the boundaries of your Colorado Springs vacation with a day trip to The Winery at Holy Cross Abbey.
1. Explore More of the Pikes Peak Region
While Colorado Springs offers plenty of activities and fun things to do, there are also many unique destinations and sights to see when you push your vacation a step further. Nestled in a charming part of Cañon City, The Winery at Holy Cross Abbey sits less than an hour from Colorado Springs and is a popular stop among locals and visitors. Between the scenic drive to Cañon City and the picturesque atmosphere of The Winery itself, visitors will gain a fuller picture of the Pikes Peak Region and everything it has to offer. Those who visit in the warmer months can enjoy a striking outdoor garden setting and take in the beauty of luscious vineyards growing against a Rocky Mountains backdrop. In the wintertime, guests can unwind in our partially-enclosed heated porch, sip incredible wine, and enjoy the cozy ambiance The Winery provides its visitors. While many may not associate the Pikes Peak Region with exceptional wineries and vineyard adventures, guests will be sure to change their minds once they arrive. Wine culture and The Winery at Holy Cross Abbey play a large part in the area's community and character. This Cañon City staple brings together friends, families, and strangers while providing a space for people to connect and share a special moment.

2. Get a Taste of Fine Wine & Dine with Al Fresco
The Winery at Holy Cross Abbey offers high-end wine tastings of their award-winning Colorado wines, Al Fresco dining, and an excellent selection of bottles, books, and more. The Winery hosts wine tastings daily where a knowledgeable staff will guide visitors through a flight tasting of several multi-award-winning wines and answer any questions guests may have. Wine flights start at $8 with the option to upgrade. In the summertime, guests can participate in a VIP wine and cheese tasting for $35.00 per person. VIPs have access to private hosts, a sampling of all wines (including reserves), and can enjoy their wine tasting experience in the park or the tasting room terrace. The Winery also has a fine selection of artisan cheese, bread, fruit, and chocolate to accompany each wine. Reservations are recommended two weeks in advance but are required 24 hours in advance. To make the most out of the experience, guests should plan to join Dine Al Fresco at The Winery for some light fare. The menu includes cheese trays, fruit plates, protein platters, salads, wraps, sandwiches, and more. Made off-premises and delivered in twenty minutes, guests can order from the Dine Al Fresco menu Mondays through Saturdays from 11 am to 5 pm and Sundays from 12 pm to 4 pm. A limited menu is offered October through April Friday through Sunday.
3. Learn Something New
Whether people show up as total newbies to the wine scene or are self-proclaimed wine enthusiasts, there are plenty of new experiences to be had and things to learn at The Winery. Each winery and vineyard is different from the next, and The Winery at Holy Cross Abbey is no exception. Winemaking depends on many factors, including climate, grape variety, growing conditions, and timing, and each winemaker does things differently. Those who have not participated in an upscale wine tasting before might not be familiar with proper tasting etiquette, differentiating wine types, or understand the wine-making process, but The Winery's staff is eager to help and welcome guests to ask questions. With knowledgeable staff, high standards, and expansive grounds, you will be able to immerse yourself in wine culture and leave knowing more than you did when you arrived.
4. More to Love Each Visit
The Winery at Holy Cross Abbey is constantly evolving and enhancing its visitors' experiences. With a continually expanding wine list, seasonal flavors, and new dining options, there is always something new to try. While many attractions grow old after a visit or two, a visit to The Winery at Holy Cross Abbey is different each time. Both the time of year and the people you bring along make a vast difference in the experience. The Winery provides tastings fit for couples, friend groups, colleagues, and more. If you last visited The Winery at Holy Cross Abbey with a loved one, we recommend mixing things up and planning some team bonding with a wine tasting and dinner with coworkers. Or, if you previously visited in the wintertime, it might be time to plan a summer vacation and enjoy an outdoor tasting for breathtaking views of Colorado's landscapes and a cool glass of wine in the warm breeze.
5. Bring Home a Piece of Your Trip
The Winery at Holy Cross Abbey offers many celebrated wines, from traditional award-winning bottles to bold new flavors. Wine tastings are an excellent opportunity to figure out what flavors you prefer, but once you find a wine you love, you'll most likely want to bring it home. The Winery's gift shop contains a multitude of wines, wine accessories, cookbooks, and even locally made balsamic vinegar and olive oil. Bringing a few things home from The Winery's shop is a great way to remember your trip and extend your vacation. The Winery also provides an online version of its shop on its website so that guests can return for more no matter where they are in the world. The online shop is a great place to do your holiday shopping, supply your dinner parties, and stock your wine rack for the year. A bottle from The Winery at Holy Cross Abbey may even convince your friends and family to take a trip to Cañon City with you!
​ ​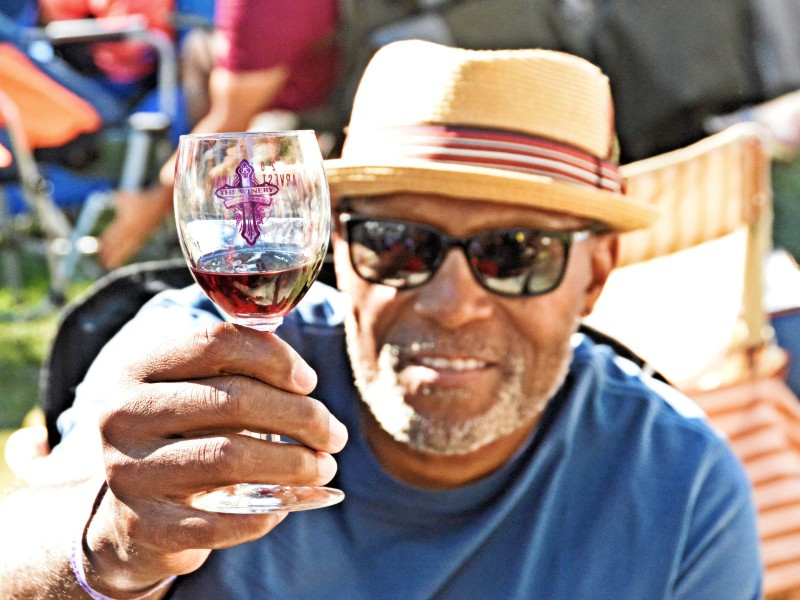 A trip from Colorado Springs to The Winery at Holy Cross Abbey is a great way for visitors to explore the Pikes Peak Region further and engage with the area's vibrant wine scene. To plan your trip, visit The Winery at Holy Cross Abbey's website and book your reservation.
*This blog post is sponsored by The Winery at Holy Cross Abbey.