We are physically separated, and our lives continue to be disrupted. This week is dedicated to supporting one another through the most difficult times and remembering that the Spirit of Travel cannot be broken. We can't wait to welcome visitors again soon. Until then, keep exploring through the stories of those who make our region so special.
Day 1 – Spirit of Olympic City USA
Michelle Dusserre Farrell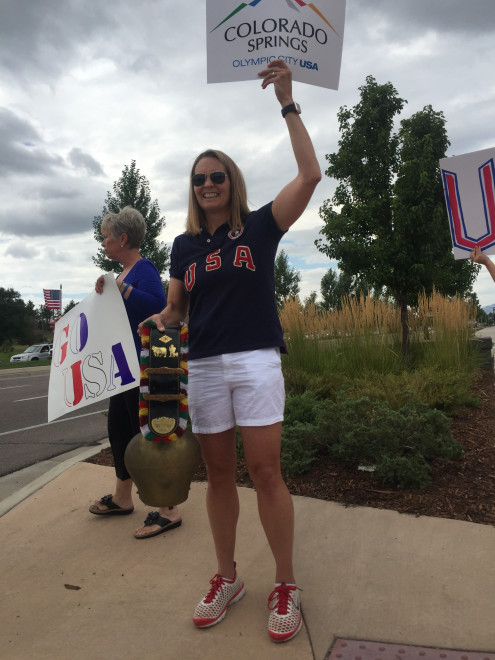 For the first day of Spirit of Travel week, we're diving into the Spirit of Olympic City USA. We spoke with Michelle Dusserre Farrell, a 1984 Olympic silver medalist in gymnastics and now VP of Athlete Engagement at the U.S. Olympic & Paralympic Museum.
About her journey to becoming an Olympian
"I became an Olympian at age 15 and competed in the 1984 Olympic Games in LA during the summer between my freshman and sophomore year in high school. My Olympic experience at such a young age had a major influence on me during my formative years. I felt a deep responsibility to continue living the Olympic ideals and serving the Olympic movement. When the opportunity to work with the Museum presented itself, it fit seamlessly with my experiences. It's an amazing honor to be a steward and take great care in sharing the stories and accomplishments of our athletes with visitors and Team USA fans."
To uncover something you may not have known
"One time when I was recovering from a serious injury and had to miss the rest of my competitive season, I was a stunt double in the movie American Anthem. I performed all the gymnastics stunts for Janet Jones (now Janet Gretzky). It was a great opportunity to regain my competitive skills while doing something really fun."
On what the Spirit of Olympic City USA and the Pikes Peak region means to her
"To me, the Spirit of Olympic City USA means we can be inspired by the stories and journeys that we witness in our athletes to fuel our own passions, goals and dreams. Athletes love to work hard and play hard, and the Pikes Peak region offers these same lifestyle attributes – work hard, expect excellence in everything you do and enjoy life! The region has the "Olympian next door" effect – you never know who you might run into on a trail, local business or soon here at the Museum. If you are up to the challenge, partaking in activities like the Incline could have you rubbing elbows with some of the world's greatest athletes. But what's so amazing about the region is that everyone embraces these opportunities – you don't have to be an Olympian or Paralympian to live like one."
Tyler Carter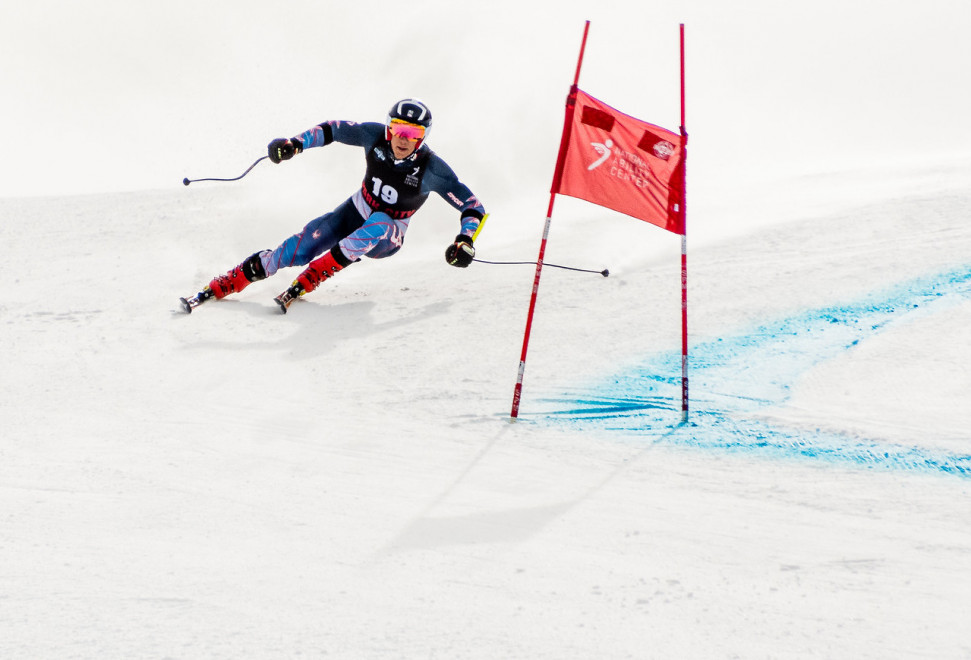 Continuing the Spirit of Olympic City USA, 2x Alpine Skiing Paralympian Tyler Carter shares his story.
About his journey falling in love with skiing
"When I was one, I had my right leg amputated below the knee due to being born without my fibula. My parents wanted me to experience as much as possible, so they enrolled me in activities like dance, swimming, basketball, karate and tennis. I found skiing at age eight when I went to Camelback Mountain in Tannersville, PA for a week-long camp run by the Pennsylvania Center for Adapted Sports. That's where I fell in love with skiing.
I was eventually recruited out to Colorado to train with the National Sports Center for the Disabled based out of Winter Park. However, my athletic fire really ignited eight years later in 2010 when I was given an opportunity to go to Vancouver to spectate the Paralympic Winter Games. It was an eye-opening experience that put me on track to pursue that goal for myself. With a ton of grit, perseverance and determination, I was named to the 2014 U.S. Paralympic Team to compete in the Sochi, Russia Games. It was a dream come true but was only the start. Since then, I have been to World Championships, World Cups and most recently the 2018 PyeongChang Paralympics. I'm currently in training for the 2022 Paralympic Winter Games in Beijing, China."
To reveal what he geeks out on
"I love ice cream (chocolate, of course), and I am a huge Star Wars and Marvel geek (Captain America is my favorite)."
On what the Spirit of Olympic City USA and the Pikes Peak region means to him
"To me, the Spirit of Olympic City USA means home. All of us athletes travel frequently and commonly live out of suitcases for extended periods of time. Having a place, and more importantly a city to call home, that supports and cheers you on shows the true spirit of the Olympics.
The city has been incredibly welcoming to the athletes who have made this home base to train and prepare to represent our country. It is so nice seeing the sign welcoming everyone to Olympic City USA as you drive in on I-25. Having the largest U.S. Olympic and Paralympic Training Center, U.S. Olympic and Paralympic Committee Headquarters, and the new U.S. Olympic and Paralympic Museum opening soon gives the Pikes Peak region a unique Olympic and Paralympic Spirit. Athletes will frequently use this region to train in a variety of ways from hiking the incline, biking through Garden of the Gods and much more that creates a special place to celebrate, prepare, and live the Olympic and Paralympic values and spirit.
Being an athlete and training for the Olympics or Paralympics is a full-time job with overwhelming obstacles at times. Having this amazing community and spirit makes it possible to take our dreams and turn them into reality."
---
Day 2 – Spirit of Western History
Michelle Rozell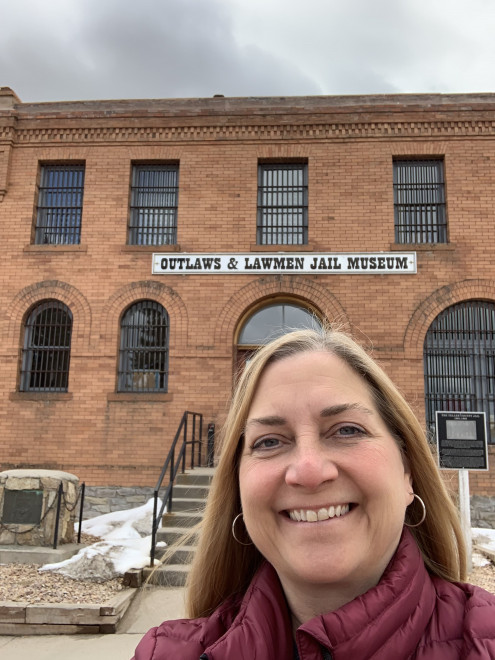 For the second day of Spirit of Travel week, we're celebrating our region's Spirit of Western History. Michelle Rozell, Heritage Tourism Manager at the City of Cripple Creek, shares her story.
About becoming Cripple Creek's Heritage Tourism Manager
"Initially, I was going into education but changed my mind my 3rd year into it. When I graduated, I was often asked 'So, what do you think you are going to do with a history degree?' I quipped, 'Maybe I will run a museum or something like that.' Two years later, I applied, interviewed and shockingly, was hired to manage the Outlaws and Lawmen Jail Museum.
I was drawn to the museum because my father, after retiring from the Air Force, had a second career with the Department of Corrections in Cañon City. Inmate history, especially of the average 'joe', is not very well represented. I thought perhaps I could change that. A year in, I requested to begin doing research on the facility in a more detailed fashion. I contacted the Teller County Sheriff's Department to see if they were interested in helping. They were not only willing, they have continued to be a massive participant in helping with gathering history, information and even donating artifacts. I also spend HOURS in the local library, which stores all the old newspapers on microfiche. Once I started finding out stories that matched some of the mugshots we had on file, I was HOOKED! Along the way, I was also given responsibility to run and maintain the Fire Station #3 Museum. I continued to run these two facilities until 2014. At that time, the city requested that I also take on the Cripple Creek Heritage Center and the Train Car Information Center due to the retirement of the current manager. I have been managing and maintaining the four facilities since that time. I will be celebrating 10 years of employment with the City of Cripple Creek on August 4, 2020."
To share what people may not know about her
"Most of the time, people do not realize that I run and maintain four facilities. I entered this field with absolutely no prior experience in how to run a museum. I am also on the board for the Old Homestead House Museum, the vice chair for the Coalition of Pikes Peak Historic Museums and the vice chair for the Gold Belt Historic and Scenic Byway. I didn't get my degree until I was 46 years old. As an Air Force brat, I don't really have a 'hometown' like most people do."
On what the Spirit of Western History and the Pikes Peak region means to her
"To me, the Spirit of Western History is not only keeping the history alive by storytelling and museums, but having places like the Rock Ledge Ranch, the Western Museum of Mining & Industry, Garden of the Gods, Seven Falls and the Royal Gorge Bridge where there are true experiences that you can only find here in our part of the Colorado West.
We have visitors from around the world coming to Cripple Creek.  Many Europeans are fascinated by the genuine Western history that is unique to this region of the country. Cripple Creek has embraced this history, and you can see it in the building structures throughout the district. We have made great efforts in maintaining the old western fronts to the buildings and many of our museums are housed in actual structures that were used back in the 1890's and early 1900's. You can't get more authentic than that! We also make the connection with the Pikes Peak region, educating folks on the important role that Cripple Creek took in building Colorado Springs and the connection of Cripple Creek and the Pikes Peak Region's famous names like, Penrose, Tutt and Stratton. Many local visitors know the Broadmoor, the Cheyenne Mountain Zoo, the Myron Stratton Home, but they have no idea the financial connection that Cripple Creek had with these well-known sites.
I will be partial in saying that Cripple Creek really has the ultimate history experience. Here you can experience a ride on a narrow gauge train with views of abandoned mines from the early 1900's, go 1,000 feet down into a historic mine, pan for gold, visit several museums housed in authentic buildings, visit a ghost town just minutes away in Victor and even see Pikes Peak –America's Mountain from here."
---
Day 3 – Spirit of Spirits
Casey Ross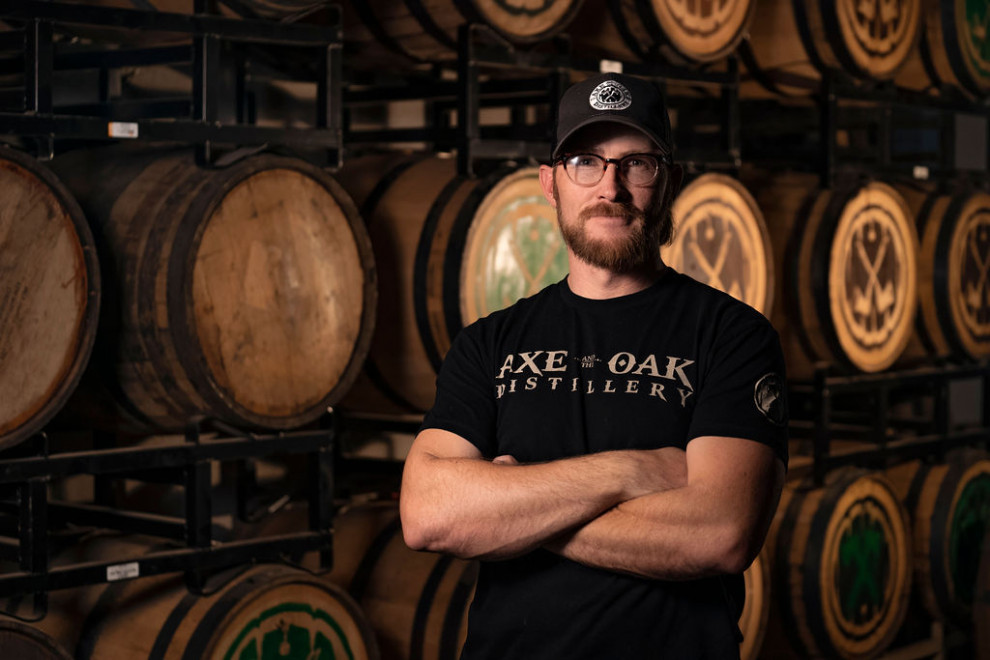 For the third day of Spirit of Travel Week, we're raising our glasses to Axe and the Oak Owner Casey Ross in honor of the Spirit of Spirits. Here's his story.
About breaking into the world of whiskey
"I've been blessed with an incredible family, the best of friends and an amazing wife and son. My mom and Dad worked their tails off to take care of us kids. I always admired their work ethic, and I have them to thank for my drive. I got my start in automotive when I was 16. I have always loved working with my hands, so I fared pretty well when fabricating and building cars. I then got into the entertainment industry where I traveled the world with theatre and rock and roll. Always learning new skills and leading teams. In 2013, I had the opportunity to start a distillery with a group of old friends, and it was an opportunity I couldn't refuse. Axe and the Oak was a dream we had while sipping whiskey, and now we are a team of 26 that I have the honor of leading and supporting. We are crafting award-winning spirits and making some pretty fantastic memories."
To reveal his love for adrenaline
"I love to go fast! Whether it's on a mountain bike, car or motorcycle. I just really enjoy the feeling. I'm currently building a race car for the Bonneville Salt Flats."
On what the Spirit of Spirits and the Pikes Peak region means to him
"To me, the Spirit of Spirits means hard work, pride in product, team and community. When I have the privilege of meeting and visiting with out-of-towners for the first time, it is simply the best. I love our city, and I love the opportunity to shine a light on all we have to offer. I enjoy providing smaller tours and tastings where I can build a relationship over a glass of whiskey and great conversation.
As we all know, the food and beverage industry is hard. Our friends make it unique! Our community is very passionate about their craft. So much so that they take huge risks to bring the Pikes Peak region something special every day. It's been fun to watch the growth over the last five years, and I can't wait to see what's in store for this mighty city in the next five years."
---
Day 4 – Spirit of America
Jim Mundle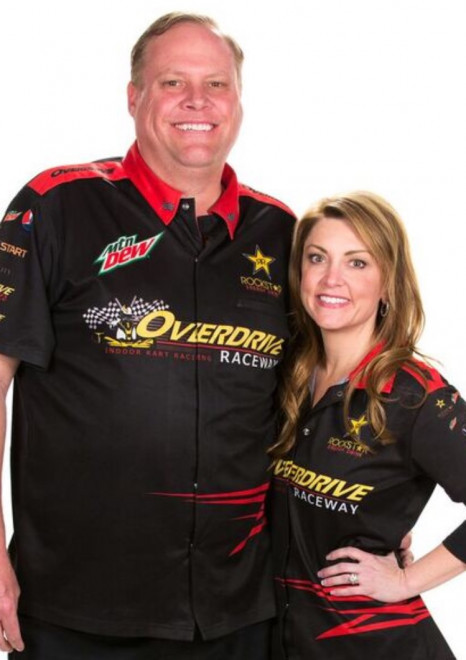 Day 4 of Spirit of Travel week is all about the Spirit of America. We spoke with Overdrive Raceway Owner Jim Mundle about his journey of entrepreneurship and inclusivity. Here's his story.
About going from Disney World to the racetrack
"I was a prep chef at the Polynesian Resort at Walt Disney World in Florida, and I also owned a media company. I always had a desire to serve my community. Creating Overdrive Raceway was a lifelong dream come true. My past employment gave me the tools I needed to create an experience that's truly one of a kind. I am a type 1 diabetic, and my father is a retired Lt. Commander in the Navy. I have lost both of my legs due to diabetes. Most days I walk between 10 and 15 thousand steps and live a normal life. I've been able to connect with diabetics and disabled military over the years. My wife and I have a passion for these groups, and we want to provide the thrill of racing to everyone of all abilities."
To ensuring Overdrive Raceway is inclusive and empowering to all
"Overdrive Raceway is the country's first two-story indoor electric go kart facility. It features high-performance electric karts imported from Italy. Our karts can achieve speeds approaching 50mph. We also have hand-controlled karts to serve our guests with disabilities. Amputees and paraplegics can compete with our able-bodied guests with no restrictions. The U.S. Paralympians and disabled military soldiers are frequent users of these karts. We also have an arcade, sports bar and Lamborghini Murcielago driving experience."
On what the Spirit of America and the Pikes Peak region means to him
"To me, the Spirit of America is people helping people. This is something we have seen not only in small businesses here in Colorado Springs, but our entire industry nationwide. Assisting your friends, partners and even those you don't know helps everyone. If everyone would follow those principles, then everyone would be taken care of. We strive every day to reach out to our fellow local businesses and other business owners of indoor go-karting facilities across the country. In our experience, we have received the same notion in return from the same people making sure we are doing well and asking if there's something they can help us with.
Our region has a vast range of opportunities to get out of the house and do something fun, whether that's hiking outdoors, getting great pictures of Pikes Peak or enjoying some good old-fashioned indoor entertainment. But when it comes to entertainment, there isn't anything like driving around the track at 45 mph."
---
Day 5 – Spirit of Community
Claire Swinford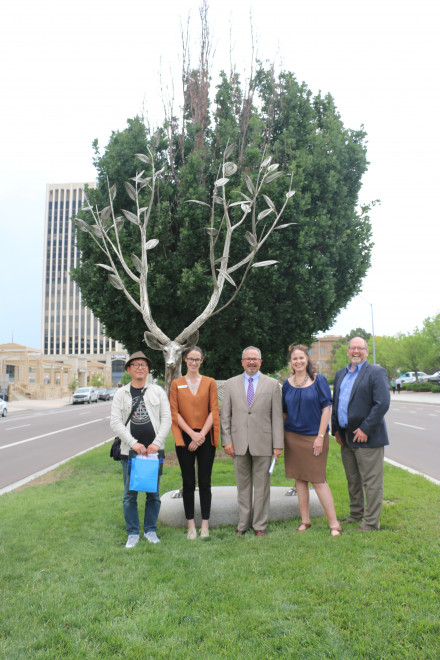 For Day 5 of Spirit of Travel week, Claire Swinford, Director of Urban Engagement at Downtown Partnership, shares her perspective of how the Spirit of Community takes deep roots in the Pikes Peak region. Here's her story.
About how an eclectic career path led her to the arts
"My career path has been eclectic. I have degrees in French literature and mass communications, and I've worked as a middle school teacher, an arts journalist, a fundraising campaign director, a community engagement specialist for an arts nonprofit and a historical reenactor. What those jobs have in common is a need for flexibility and resourcefulness, being detail oriented and careful planning, while still being able to be spontaneous and build consensus within wildly disparate groups of people. As the Director of Urban Engagement for Downtown Partnership, I use those skillsets to serve the whole community through creative means. Whether it's public art, booster programs for arts entrepreneurs, or special events that celebrate local culture, we're using the Downtown district as a venue to give more people a meaningful connection to the things that make our community special. That's a mission close to my heart, as I was raised in Colorado Springs from the time I was ten years old. I always expected to leave Southern Colorado, but (like many people) I was surprised by the cultural richness of this community and the creative passion of the people who live here. Our galleries, art schools, performing arts venues, and yes, breweries and local food hubs are ample reason to stick around and invest in making Colorado Springs a better place, and I'm proud that my work gives people a point of entry to that experience of embracing and being embraced by the arts."
To share a new perspective on artists
"If you've only ever seen artists portrayed on TV, you might think of them as ethereal aesthetes who spend a lot of time smoking cigarettes and having big feelings. The reality is my job involves welding, hammer drills and engineering diagrams just as often as it involves color palettes and discussions about artistic intent. The joke is that being an artist is a blue-collar job just as much as it is an intellectual exercise. We spend way more time with sore muscles and grit under our fingernails than we do swilling wine at gallery openings. So next time you're tempted to say 'I'm just not that good at drawing' or 'my kindergartener could have made that painting,' I'd challenge you to give it a shot and recognize how many years of training, practice and effort go into the creation of a work of art. Even if you don't like the style, you have to admire the level of technical skill."
On what the Spirit of Community and the Pikes Peak region means to her
"To me, the Spirit of Community is expressed in shared experiences that are rooted in the appreciation of authentic expression. I feel most connected to my community when I'm alongside others enjoying an outdoor sculpture, food truck, film festival or street corner band. There's something very special about engaging in a heartfelt and beautiful cultural experience and then getting to look to your right and left and see others doing the same thing. The thing that's truly awesome about this is the fact that each person has their own perspective, interpretation and takeaways from their experience engaging in culture. What you see in a work of art might not be what I see, but we can share our perceptions with one another and feel connected. I'm so thankful that even under stay-at-home orders, we're seeing this kind of interaction take place online. People are posting videos of themselves playing guitar, making bread, doing sewing projects, or putting art in their front yards, and other people get the chance to enjoy and comment on what they're doing. Sharing creative experiences makes quarantine feel a lot less lonely. I think as a community we're reconnecting with the idea that art really is for everyone. Humans make and enjoy art in all sorts of ways, but we all do it – it's a trait that unites us.
Pikes Peak region residents have always enjoyed making and sharing art, and it contributes enormously to our sense of community identity and pride. That endures and evolves generation after generation. People living here recognize that art takes many forms and is welcoming to all – you can be an arts patron no matter your age, your language, your abilities or your means. The strong sense of welcome I found in the arts community is what convinced me to stay in Colorado Springs. I often encourage people who are new to town to seek out arts events as a way to get connected and find where they belong. Sometimes people are skeptical of showing up without an invitation, wondering if they'll get funny looks or find anyone to talk to. They're always surprised at how easy it is to connect with others at an event like First Friday or Summer Symphony. I think it's a special combination of Colorado hospitality and the power of the arts, and I think the Pikes Peak Region possesses it in a greater quantity than many communities I've visited. The arts make the Pikes Peak region special, but the Pikes Peak region also brings a special approach to the arts that is incredibly powerful."
Lauren McKenzie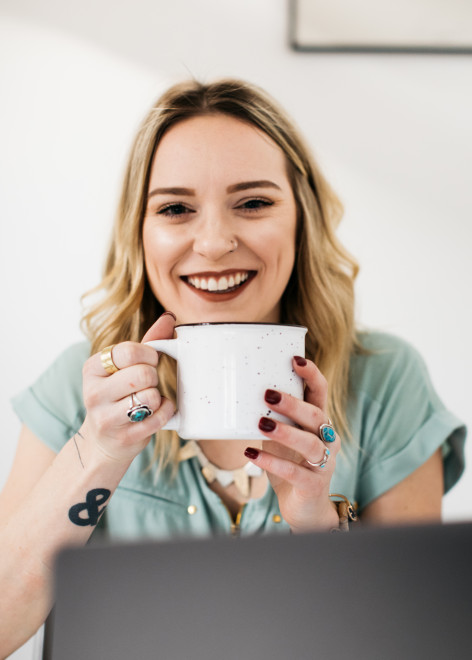 Continuing the Spirit of Community, Lauren McKenzie, owner of local design & marketing agency REN Creativ and creator of "Support the Springs," shares how she found her home within the Pikes Peak community. Here's her story.
About building her business and finding her home in Colorado Springs
"I grew up in Southern California and Arizona and moved to Colorado Springs in 2012 after attending college in Central Texas. I moved to the Springs having never visited before and instantly learned to adapt to cold weather and unfamiliar territory. This year I celebrate my 8-year anniversary living in Colorado Springs. It has been the most wonderful and unexpected ride of my life, and growing to learn and love this community has been the most fulfilling experience I have ever had. Had it not been for the amazing people this city holds, I may have never decided to start my own business. Deep down I knew that if there was ever a time or a community that would support my entrepreneurial endeavors, it would be here in the Springs."
To share a fresh take on who she is
"I always joke that you should never judge a book by a cover, but let's be honest, we all do it anyway. Based on appearance alone, I definitely fit the mold of a quirky, creative type. However, don't let appearances deceive you, as I'm also a former pig farmer and two-time rodeo queen who can rock a blue corduroy FFA jacket with the best of them. There's no doubt that my work ethic can be traced back to my agricultural upbringing."
On what the Spirit of Community and Pikes Peak region means to her
"A strong sense of community to me is necessary to maintaining a rich and fulfilling life. How we embrace the Spirit of Community looks different for every individual; however, for me it's the little things like waving hello to your neighbor, remembering an acquaintance's name, getting to know your waitstaff, your uber driver or a small business owner. It means helping when we can and showing empathy when we cannot offer more. It means giving back to those who picked us up when we were once down, it means showing up, remaining present and choosing kindness even in times of turmoil. It's hard to even imagine what my life might have looked like if this community hadn't welcomed me with open arms. Who knows where I might have ended up, I'm just grateful it was here. Colorado Springs is such an amazing place to call home. The many sights and breathtaking scenery provide quite the draw; however, for me, the community is what makes me call the Springs my home.
I created 'Support the Springs' to serve as a centralized platform of resources for our residents and local businesses to utilize through the COVID-19 pandemic as an effort to unite and become a stronger community. The group of inspired, motivated, and creative individuals that came together to create 'Support the Springs' believe in the Colorado Springs community and align with the notion that we're stronger when we work together. The impact this initiative has had on the Pikes Peak Region is something we quite humbly didn't expect, we are thrilled to see people coming together and stepping up in their own right to support the greater good of our community during this time of crisis."
---
Day 6 – Spirit of Adventure
Andy Neinas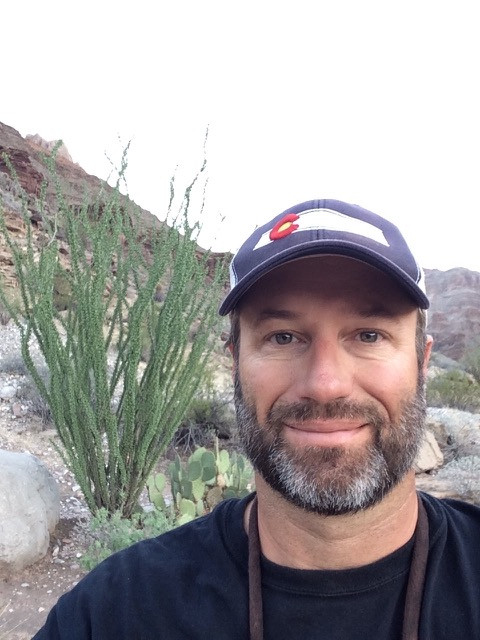 Day 6 of Spirit of Travel week brings us to a value of the Pikes Peak region we all have come to know – the Spirit of Adventure. We spoke with the owner of Echo Canyon Rafting, Andy Neinas, who hasn't missed a season on the Arkansas River since starting as a rafting guide in 1987. Here's his story.
About becoming a rafting guide and never looking back
"I have no title. My preferred title is 'troublemaker.' I am somewhat embarrased to say this is my 34th consecutive year in this industry. I've been in the field of outdoor recreation my entire adult life. I started as a first-year raft guide out of high school. I haven't missed a season on the Arkansas since 1987. What draws me most is the beauty of being on the river. The river is like the canvas the picture is painted on. The ever-present sensation of being on or around the water is that canvas and the people are what gives it color. People of different languages, religions, perspectives and ways of looking at things. We get all walks of life on the river. What I like the most is being able to chat with new people and learn about their experiences."
To share how adventure is at the core of who he is
"I really do live like I'm half my age. I have to keep up with the 25-year-olds and beat them at their own game. I try to live my life physically and actively like I'm half my age. I've skied over 70 days this season. My back, however, is 51 and likes to remind me of it."
On what the Spirit of Adventure and the Pikes Peak region means to him
"'Let's go drop a 30-footer at Breckenridge!' Is that the Spirit of Adventure? No, it's just one person's example. The spirit of adventure is sometimes taken hostage by people like me, who think we're here to tell you what it is. That if you're not hanging 150 feet off the ground by two fingers, then you don't have the Spirit of Adventure. That's not true. It's different for everyone, and we do people a disservice by telling them what adventure should look like. I would encourage people to paint a picture in their minds of what they think our region is like, and then come experience your Spirit of Adventure for yourself.
Our region has every activity you can possibly think of – the epitome of outdoor adventure. The Spirit of Adventure relies on being conservation-minded so we can still have our Colorado experiences 50 years from now. We need to make sure the opportunities you're enjoying with your family today are still here for your kids and their families to enjoy tomorrow."
Becky Leinweber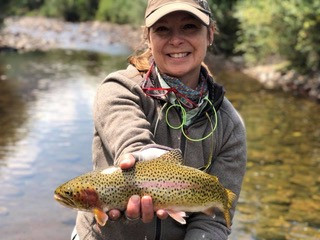 Continuing the Spirit of Adventure, Becky Leinweber of the Pikes Peak Outdoor Recreation Alliance and Co-Owner of Angler's Covey shares her story.
About growing up in the outdoors
"I'm a Colorado native who grew up with a dad in the National Park Service. Every summer we went to a national park where dad worked, and we played in the outdoors. I've led backpack trips, climbed fourteeners, hiked and camped throughout Colorado, was a whitewater rafting guide, and now teach and guide fly fishing through the business I co-own with my husband, Angler's Covey. Sharing my love of the outdoors and being passionate that people can continue to have amazing experiences in the natural world are driving forces that have led me to my position as Executive Director for the Pikes Peak Outdoor Recreation Alliance."
To reveal how a birthday gift once saved her life
"I was once given a birthday gift that saved my life. My husband gave me an ice axe, and when we were caught in a storm at the summit of one of Colorado's fourteeners Kit Carson, we had to descend quickly. Down the glaciers we went, and my ice axe allowed me to self-arrest and 'slow my roll' on the way down!"
On what the Spirit of Adventure and the Pikes Peak region means to her
"Adventure is all about attitude: being willing to embrace something new, whether that's an experience, skill or perspective. People with a Spirit of Adventure are lifelong learners, willing to take some risk, open themselves up to the unknown and explore.
We are blessed to live in one of the most beautiful places in the world, and the natural beauty beckons us to come explore and find our "Ahhhhh" in the "awe" of Pikes Peak, Garden of the Gods, Royal Gorge, and so many other regional draws. We follow in the footsteps of those who came before us in this region – we have a rich history of explorers, visionaries and entrepreneurs."
---
Day 7 – Spirit of Champions
Dr. Sara Saporta-Keating and Shannon Rowe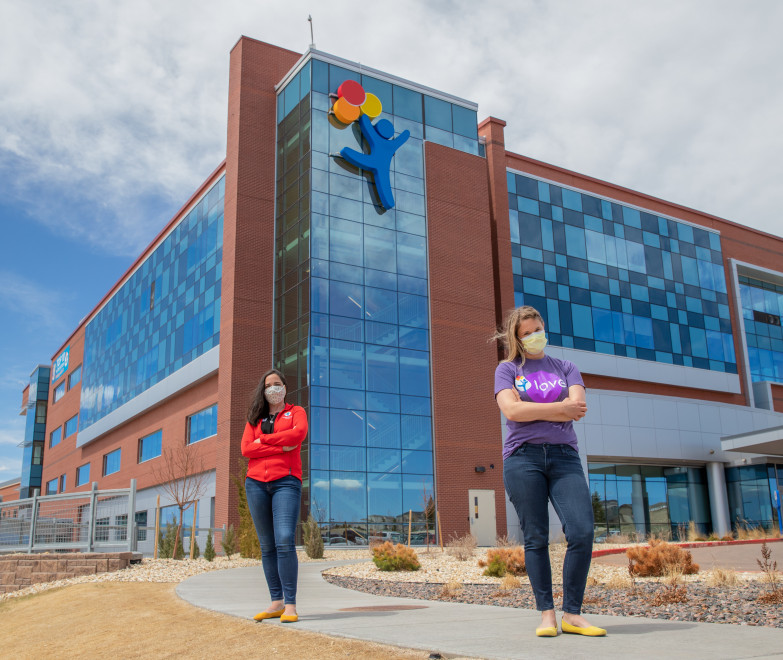 For the last day of Spirit of Travel week, we are celebrating our region's Spirit of Champions. To honor the difficult time we have been experiencing, we spoke with two of our local healthcare heroes. Dr. Sara Saporta-Keating and Shannon Rowe, infectious disease experts who make up the epidemiology team at Children's Hospital Colorado, Colorado Springs, shared their perspective of fighting on the frontlines of the pandemic. Here are their stories.
About what led them to the Children's Colorado epidemiology team
Sara – "During my Pediatric Infectious Diseases fellowship at Children's Colorado, I worked with the Epidemiology/Infection Control group on numerous occasions, participating in exposure/outbreak investigations, helping develop policies and understanding all that goes into protecting our patients and team members throughout our system. I enjoyed the work that I was doing so much that I joined the Epidemiology/Infection Control group after finishing my fellowship and joined the team in Colorado Springs when it opened."
Shannon – "I've lived in El Paso County for the past 13 years. My husband and I put down our roots in this community and are raising our two children here. Prior to coming to Children's Colorado, I worked as an epidemiologist for El Paso County Public Health. I was involved in multiple outbreak responses and the H1N1 influenza pandemic response. These experiences and my desire to protect the community we love has helped to better prepare me for our COVID-19 response."
To share their expertise on dinosaurs and wine
Sara – "I've gotten really good at drawing dinosaurs out of chalk on our driveway at the request of my two-and-a-half-year-old son. He knows them all by name: Compsognathus, Apatosaurus, and of course T-Rex."
Shannon – "I enjoy cooking and pairing wines with food. My family and friends call me a junior sommelier."
On what the Spirit of Champions and the Pikes Peak region mean to them
Sara – "For me, the Spirit of Champions means unrelenting efforts to ensure the safety of our patients, team members and our community. We have countless team members who have been working tirelessly from the time we first started hearing about COVID-19, and even more who have joined since then. It is remarkable to look back and see the effort that every team member has put into protecting our patients, team members and our community."
Shannon – "Having been through several natural disasters in this community (Waldo Canyon Fire, Ute Pass Floods, Black Forest Fire), I have witnessed first-hand how this community doesn't quit. It has been no surprise to me how much we have come together to support each other by helping local businesses, buying food and goods to-go, making masks and other items to protect healthcare workers and vulnerable community members. Even just sending positive well wishes to us through sidewalk chalk and anonymous signs as we walk into the hospital."