Manitou Springs Hiking Trails
Manitou Springs hiking is a great way to take in the beautiful scenery at this quaint mountain town nestled at the foot of Pikes Peak. The difficult Manitou Incline and Barr Trail are tough workouts and great ways to take in the refreshing mountain air and achieve a great sense of accomplishment.
---
Barr Trail is the 12+ mile (one-way) hike gaining 7,800 vertical feet from Manitou Springs to the 14,115-foot summit of Pikes Peak-America's Mountain.
Manitou Incline, located in west Manitou Springs, is a difficult hike up what used to be cable car ties. With a gain of almost 2,000 feet of elevation in about one mile, this hiking trail is one tough workout. *Please Note* The Manitou Incline will be closed for repairs from Aug. 20 until Dec. 2, 2016. Please check back for updates.
Catamount Trail is located west of Manitou Springs off Highway 24 in a town called Green Mountain Falls. It's a six mile round-trip hike that is moderately difficult.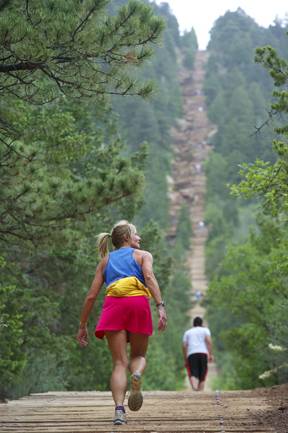 If you're visiting or new to the area and plan on attempting any Manitou Springs hiking trails, please read our tips on high altitude first.
Find other area parks and trails.
Don't forget to order the Colorado Springs area FREE Visitor Guide!
---