Labor Day
Labor Day Weekend may signal the end of summer, but not the end of the fun in Colorado Springs and the Pikes Peak region!
---
2017 dates and locations will be posted soon. Take a look at the 2016 events and specials below to get a taste of what's in store for this year.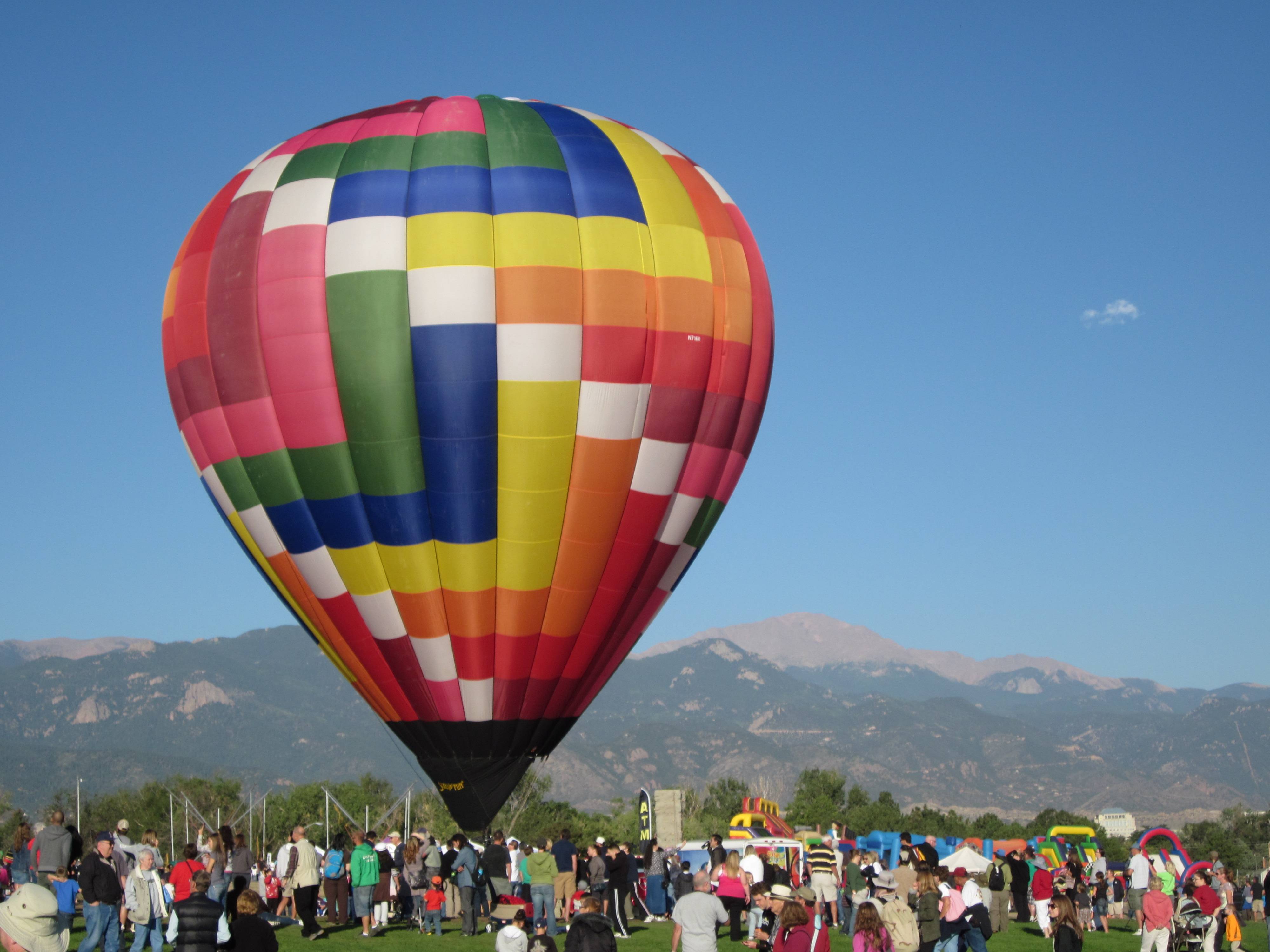 This Labor Day Weekend, watch balloons soar above Colorado Springs, check out the arts and craft fairs, and so much more. There are numerous ways to enjoy this 3-day weekend in Colorado Springs and the Pikes Peak Region.
2016 Labor Day Weekend Event
Celebrate the 39th year of a balloon festival at Memorial Park this Labor Day weekend. Start your morning off with the mass balloon ascension, then stick around to see the Wings of Blue parachutists, a wakeboarding exhibition, and of course check out the fabulous food vendors and concessionaires. Come back in the evening to hear live entertainment from Suga Bear and the Show Time Band before the Balloon Glow. Continue or start this Colorado Springs family tradition this year.
When: September 3-5, 2016
Where: Memorial Park in Colorado Springs
Cost: FREE admission
Commonwheel Artists Co-op celebrates their 42nd annual Labor Day Weekend Art Festival in Manitou Springs. Art patrons will find over 100 juried art & craft booths with high quality, yet affordable artwork. There will be live entertainment, prizes, Bristol Beer/Wine Garden, food booths, and kids art & craft activities. Free admission and free shuttles. Don't miss this extraordinary event.
When: September 3-5, 2016
Where: Memorial Park in Manitou Springs; 502 Manitou Ave.
Cost: FREE admission
The 17th Annual En Plein Air Artists Competition will be held Labor Day Weekend in Victor, Colorado. Artists from around the country gather to paint on location in this historic town. Judging is done by an established and respected professional Colorado artist. More than 20 awards will be presented with total cash prizes of nearly $4,000.
When: September 3-4, 2016
Where: Victor, CO
Cost: FREE
Cheer loudly at our annual vintage baseball match between the Camp Creek Cloud Busters (your home team) and the Colorado Territorial All-Stars from Denver. The Cloud Busters is no "farm team," but needs your support to cheer them on to another victory! The first pitch will be at 1:00 pm.
The rules are different; no one wears a mitt or glove (except the catcher), and "cranks" (that's you, the spectators) can influence the umpire's call in your team's favor!
Picnics are welcome, but don't miss the opportunity to sip a cold cream soda or root bear available for purchase at the Heritage Shop. Vendors will be here to supply hotdogs, popcorn and ice cream as well. It may be the end of summer, but not the fun!.
When: September 5, 2016; 10am-3pm
Where: Rock Ledge Ranch
Cost: Regular park admission
Get ready to stock your pantry with fresh foods from numerous locations, including the Downtown Sunday Market in Acacia Park, Woodland Park Farmer's Market, and Old Colorado City. Featuring fresh, local produce and other edible treats from local artisans, food producers, and urban homesteaders, there will also be music, entertainment, and more for the whole family to enjoy. Farmer's Markets are held throughout the week at various locations. View our Farmer's Markets page for more details.
When: September 2-4, 2016; Various times per location
Where: Please visit each website for locations
Cost: Varies
The First Saturdays Car Show is in the style of a "Cars N Coffee" event where fellow car lovers gather to see cars from all makes, models and ages. In addition to all the local automative beauties we will also feature a host club each month. From Fords, to Porsche, to Chevrolet we welcome everyone. The September show is hosted by the Alpine Mountain Region of Porsche Car Club.
When: September 3, 2016; 8-10am
Where: Dick's Sporting Goods west parking lot
Cost: FREE Admission
Most produce at this amazing market is grown organically and many of the prepared foods are made by local residents start-ups. Held at the Margarita at Pine Creek, the Margarita serves food from 9am-1pm.
When: September 3, 2016; 9am-1pm
Where: Margarita at Pine Creek; 7350 Pine Creek Rd.
Cost: FREE Admission
This exhibit is based on the British children's book, George Saves the World by Lunchtime written by Jo Readman and illustrated by Ley Honor Roberts. George Saves the World by Lunchtime features an ordinary family, who in the course of their day save the world simply by making responsible choices. George, Flora and Grandpa demonstrate that by taking simple steps, families can become eco-friendly superheroes in their own communities.
Super Kids Save the World is presented locally by Pikes Peak Children's Museum and featured at the Space Foundation Discovery Center.
When: September 4, 2016; 10am-4pm
Where: Space Foundation Discovery Center; 4225 Arrowswest Dr.
Cost: Normal admission rates
A 90-minute walking tour of historic Woodland Park begins at the History Park Museum Center. History Park consists of 5 historic buildings and the Museum Center/Gift Shop. On display are documents and artifacts related to the development of the Ute Pass area.
When: September 3, 2016; 10 am
Where: 231 E. Henrietta Ave, Woodland Park
Cost: FREE but donations are gratefully accepted
Go back in time, around 1910, and learn the geology and history of the area, and hear the funny stories and experiences of "Prairie Dog" and the people he's met, including Katharine Lee Bates, Sgt. John Timothy O'Keefe, "Soapy" Smith, Will Rogers and more! Advanced Reservations Only - call 719-505-2151.
When: September 3 and 5, 2016; 7-9pm
Where: Inside Garden of the Gods Park, North Parking Lot
Cost: $21 per person; Advanced reservation only
In this hilarious farce, introvert Charlie Baker is forced by a friend to take a vacation in rural Georgia. To avoid having to interact with the other guests, Charlie adopts the persona of a foreigner who doesn't understand English. But when others begin to speak freely around him, he not only overhears their secrets and schemes, but also discovers an adventurer in himself. This presentation by the Thin Air Company out of the butte Theater in Cripple Creek is not to be missed.
When: September 2-24, 2016; 1pm and 7pm show times
Where: 139 E. Bennett Ave.; Cripple Creek
Cost: Please see website; cost varies
The Cripple Creek & Victor Gold Mine conducts guided tours of their operations Memorial Day-Labor Day. Tours originate at the Victor Lowell Thomas Museum, in Victor, CO. All proceeds from the tours are donated to the museum. Your tour will take you into an active mining area and around large equipment, this is not an underground tour. Elevations and temperatures will vary. Driving and walking surfaces will be rocky, please dress for cold, windy weather and wear appropriate walking shoes - NO open toed shoes (sandals), are allowed; full length pants are required - no shorts are allowed. Tours are about 2 hours in length.
When: September 3-5, 2016; 10am and 1pm
Where: Victor Lowell Museum; 3rd & Victor Ave, Victor, CO
Cost: $7.50 per person
The Colorado Springs Switchbacks are a professional soccer club. As an expansion team for the United Soccer League Pro league, they began to play in 2015. Stop by this Labor Day weekend to cheer on the team and watch fireworks after the show.
For more information email or call 719-368-8480.
When: September 3, 2016; 7pm
Where: 6303 Barnes Rd.
Cost: Please see website; cost varies
Enjoy a beautiful walk around Manitou Springs and taste test the water that brought Native Americans and early settlers here for centuries. Learn about each spring's mineral content and history, when people would come to Manitou Springs to "Take the Cure". to "Take the Cure". Make sure to dress for the weather, wear comfortable walking shoes, sunscreen, and bring a bottle of water.
Sampling cups are available and provided by the tour guide. If you would like more information on this tour please contact 719-685-5089.
When: September 3, 2016; 9 am
Where: 7 Minute Spring Park, located at El Paso Blvd and Lovers Lane; Manitou Springs
Cost: FREE but donations gratefully accepted.
The 2016 Xfinity Speed Skating Events is presented by Skate City and the Colorado Springs Sports Corporation. This three-day event will feature road, velodrome, and flat track racing. Competitors will be vying for the $30,000 prize purse, with winners of the pro road race going home with $10,000.
For more information or to register please visit our website.
When: September 3-5, 2016; 9 am
Where: Memorial Park, Colorado Springs; 1605 E. Pikes Peak Ave.
Cost: FREE to view; Entry fees vary
Enjoy spending the day with your family being creative and let us ignite your imagination with new adventures in art-making. Explore the Circus Spectacle theme with art materials and new techniques. The class is led by teaching artists.
A parking permit is not required for the Bemis lot during Family Adventure Day hours.
When: September 3, 2016; 10 am - 1pm
Where: Fine Arts Center Bemis School of Art; 818 Pelham Pl.
Cost: FREE
Cheer on the Air Force Academy Falcons Football team as they begin their 2016 season against Abilene Christian. For more information or to purchase tickets, please call 719-472-1895 or visit us online. Parking is $10 cash at the gate.
When: September 3, 2016; 12:00 pm game time; Gates open at 8 am
Where: Falcon Stadium; US Air Force Academy
Cost: $25-$50; Group and Military Discounts Available
There's nothing like an end of summer stroll through the streets and shops of Downtown Colorado Springs and Old Colorado City admiring the amazing local art. Hundreds of art pieces may be viewed for purchase in dozens of art galleries and studios. Colorado Springs' largest concentration of galleries is found within three city blocks in Old Colorado City along West Colorado Avenue, between 23rd and 27th Streets. In Downtown Colorado Springs, take a free one-hour guided tour of a selection of downtown galleries. Be sure to stop by the Colorado Springs Fine Arts Center and take in their First Friday Art Party featuring artist Betty Ross.
When: September 2, 2016; 5 pm
Where: Downtown Colorado Springs and Old Colorado City
Cost: FREE walks
Nature and Raptor Center Director, Diana Miller, will give a presentation featuring live birds - many of which can be found at the park. To top off the presentation, a rehabilitated red tail hawk will be released back into the wild.
One lucky person will be chosen by raffle to release the bird. Raffle tickets will be available for $2 each, and the winner will be drawn during the presentation. You must be present to win.
Tickets go on sale at 1 p.m. and can be purchased up until the drawing. This is a unique and rare opportunity to hold a hawk and send it on its way back to where it belongs.
The release will only take place if weather permits. Proceeds from the release raffle will go directly to continuing the raptor center's work in rehabilitating birds of prey.
Following the release, the public is invited to stick around and take part in other bird-related fun.
When: September 4, 2016; 2:00 pm
Where: Cheyenne Mountain State Park; Prairie Skipper group picnic area
Cost: Free to attend
Labor Day Family Celebration Two Night Package includes:
Classic accommodations for two nights with upgrade options available
-One $100 dining credit
-One time admission to Seven Falls for each person
-One hour horseback trail ride or one Garden of the Gods Jeep Tour
-Discount on the adult ticket price at the Cheyenne Mountain Zoo
-25% discount on published suite rates.
Offer is based on space availability for limited select dates.
Three and four night packages also available.
When: September 3-5, 2016
Where: 1 Lake Ave.
Cost: Starting at $540 per person, based on double occupancy