Glen Eyrie Castle in Colorado Springs
---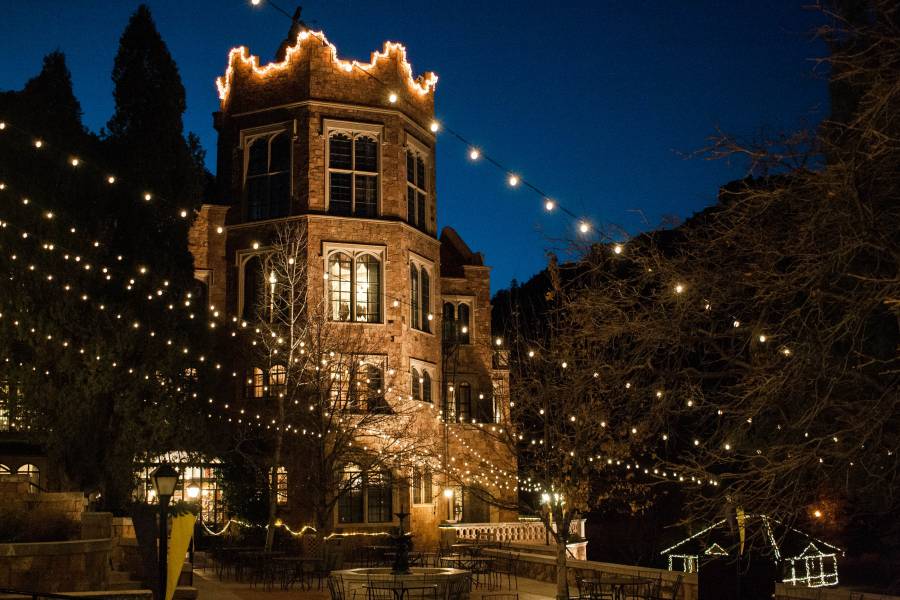 Glen Eyrie Castle is a 67-room English Tudor-style castle built by General William Jackson Palmer, the founder of Colorado Springs. This house was his dream home and is in the northwest foothills north of the Garden of the Gods Park. After building a large carriage house, where the family lived for a time, Palmer and his wife Mary (Queen) Mellen built a 22-room frame house on the 800-acre estate. This house was remodeled in 1881 to include a tower, 24 fireplaces and additional rooms and made to resemble a stone castle, reminiscent of those native to England – where Mrs. Palmer lived at the end her life.
Glen Eyrie Castle is now owned by The Navigators, a Christian organization headquartered in Colorado Springs. The general public is allowed on its grounds Monday through Thursday from 9 a.m. – 4 p.m. to visit the bookstore, located at the Carriage House. Tours of Glen Eyrie Castle are available to the public and require an advance reservation. HIKERS: Due to the destruction of the Waldo Canyon Fire, the danger to hikers at Glen Eyrie is too great to allow the public on our trails. NO PUBLIC HIKING will be permitted on Glen Eyrie property until further notice. We apologize for the inconvenience.

Glen Eyrie Castle is also a conference and retreat center that puts on many Christian conferences and programs. The property in the enclosed valley is also available for use by groups for meetings, receptions and retreats. Herds of bighorn sheep, deer and wild turkey may often be found grazing on the grounds.

From the rich heritage of General Palmer, our city's founder, to the deep spiritual legacy of The Navigators, our guided Historical Tour will take you on a journey filled with stories of rival turn-of-the century railroad wars and oil tycoons to what is now the soul-stirring property of Glen Eyrie.
Schedule:
Monday-Sunday: 1:00pm daily
Public Castle Tour: $9 per person
Join us in the Castle Music Room for tasty treats from our hand-crafted menu, flavorful cups of tea, and heartwarming conversations. With seasonal flavors and amiable hospitality, you will have experience new delicacies at the seasons change.
Schedule: Monday-Sunday: 11am and 2:30pm daily

Create your own mini-retreat or a romantic getaway with an overnight stay! Glen Eyrie offers a variety of unique yet affordable guest rooms to fit your needs. Room options range from exclusive and historic Premier and Deluxe rooms in The Castle and the Pink House to recently renovated Standard rooms in our lodges.
Are you looking for the perfect venue to bring your group? Glen Eyrie provides the breathtaking property and one-of-a-kind service that creates the space for you and your group to draw closer to the things that matter.
You and your event guests will enjoy soul-stirring views of our historic property from your meeting space and unmatched hospitality. Whether you have a small group or large group, are planning a day meeting, overnight conference, wedding, or family reunion, our dedicated Sales Team and in-house Event Planners will create a personalized event that will exceed your expectations!
---