Glen Eyrie Castle in Colorado Springs
---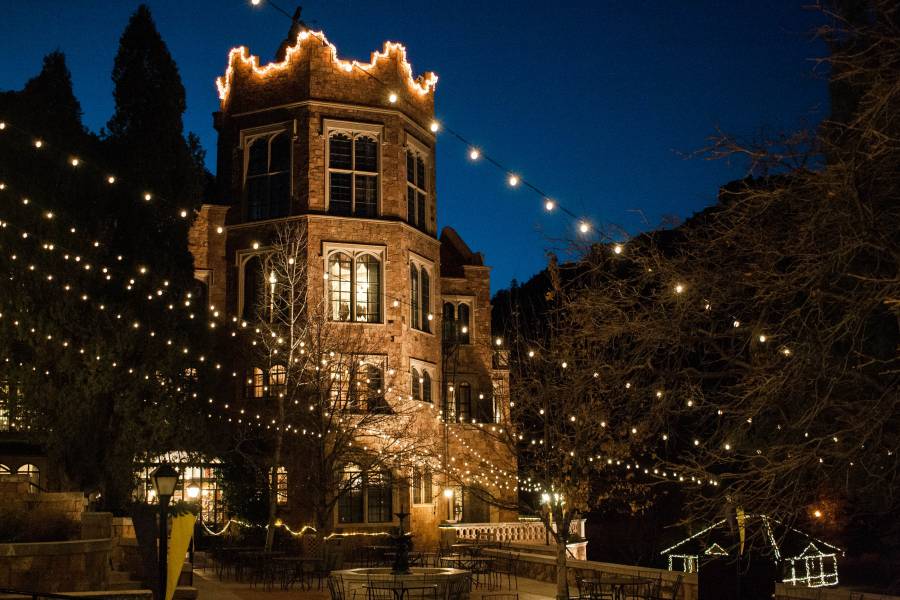 Glen Eyrie Castle is a 67-room English Tudor-style castle built by General William Jackson Palmer, the founder of Colorado Springs. This house was his dream home and is in the northwest foothills north of the Garden of the Gods Park. After building a large carriage house, where the family lived for a time, Palmer and his wife Mary (Queen) Mellen built a 22-room frame house on the 800-acre estate. This house was remodeled in 1881 to include a tower, 24 fireplaces and additional rooms and made to resemble a stone castle, reminiscent of those native to England – where Mrs. Palmer lived at the end her life.
Glen Eyrie Castle is now owned by The Navigators, a Christian organization headquartered in Colorado Springs. The general public is allowed on its grounds Monday through Thursday from 9 a.m. – 4 p.m. to visit the bookstore, located at the Carriage House. Tours of Glen Eyrie Castle are available to the public and require an advance reservation. HIKERS: Due to the destruction of the Waldo Canyon Fire, the danger to hikers at Glen Eyrie is too great to allow the public on our trails. NO PUBLIC HIKING will be permitted on Glen Eyrie property until further notice. We apologize for the inconvenience.

Glen Eyrie Castle is also a conference and retreat center that puts on many Christian conferences and programs. The property in the enclosed valley is also available for use by groups for meetings, receptions and retreats. Herds of bighorn sheep, deer and wild turkey may often be found grazing on the grounds.

Castle Tours
Castle Tours (90 minutes) include a brief historical video and a guided tour through the Glen Eyrie Castle.
Afternoon Tours are offered 7 days per week at 1:00 pm.
Prices: $8 per person, free for children 5 and under

Make it an extra special trip to Glen Eyrie Castle and stay for a tea! More information on teas here.
Call 1-800-944-4536 or 719-265-7050 to reserve your tea or tour!
---