---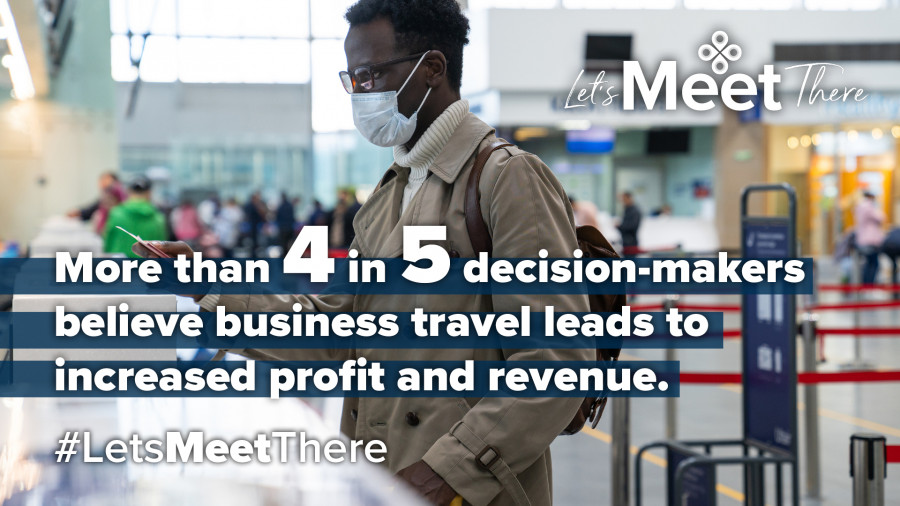 Let's Meet There
After more than a year of Zoom, FaceTime and virtual meetings, it is more apparent than ever that in-person connections are highly valuable. While some meetings can be conducted virtually, the value of face-to-face meetings is simply irreplaceable. Face-to-face meetings deliver additional benefits for both the employee and employer. An essential component to build relationships, convert and retain customers, network and learn about the latest products, technologies and competitive offerings, it should not be surprising that more than four in five decision-makers believe business travel leads to increased profit and revenue.
Top 5 benefits of in-person meetings
Broadens cultural understanding
Advances professional growth
Reinvigorates employee engagement
Creates valuable and meaningful business relationships
Gain and share new ideas and best practices
Face-to-face meetings offer competitive advantages through relationship building and knowledge transfer that cannot occur during virtual meetings. Don't get left behind. It's time to get back to business. Learn more at LetsMeetThere.travel.
---

Top 10 reasons to choose Colorado Springs for your Meeting:
It's Colorado Springs! Colorado is the 5th most desired state for people to visit and Colorado Springs is a top destination for leisure travelers. Your event attendees will be thrilled to find out that you've booked their event in such a beautiful and exciting meeting destination with plenty of attractions and activities which they can explore in their free time.

Complimentary Services - We will work with hotels and venues to have proposals sent directly to you. We also provide personalized site visit itineraries, promotional items, attendee items, permitting advice, contact information and transportation assistance.

Fantastic Accommodations & Flexible Meeting Space – Colorado Springs has the capacity to meet your event needs. Over 15,000 city-wide rooms ranging from familiar brands to mountain retreats and upscale boutique hotels, Colorado Springs can meet a variety of needs and price points.

Convenient Access – Whether flying or driving, your attendees will find access to Colorado Springs easy and convenient. The Colorado Springs Airport is a great option with more than 65 arrivals and departures daily. Denver International Airport is also a quick 70 miles north. The city is positioned right along the Front Range and I-25 corridor for easy driving access.

Save Time, Money and Brain Cells - When you call the Colorado Springs CVB, you have a single-source for all your event planning needs. With our professional and customer-focused assistance, you will save time and money during the meeting destination selection and planning process. Minimize your frustration and maximize your success!​

We're focused on YOU - We provide personal, hands-on service to assist you with each step of the selection and planning process. Whether you're a seasoned or first-time planner, we'll tailor our efforts to fit your needs.

Ongoing Support - Not only can we help you book your event, we're here to assist as the event date draws near. Our service manager will provide assistance for services, activities and other event details when the time is right for you.

From Here to There - Let us help provide you with transportation solutions so that your attendees are moved efficiently and safely among venues and to and from activities.

Local Experts - Each member of our sales team is intimately familiar with the lodging, venue and activity choices in the Colorado Springs area. We can quickly determine if your event is a good fit for our area and which of our members can best meet your needs.

Promotional Support - Once you've selected Colorado Springs as your meeting destination, let us help you promote your event with images, promotional copy, PR contacts, and local PR support. We can provide complimentary bags (made of recycled plastic), Official Visitor Guides and maps. Other promotional items are available in limited quantities for a small fee.
What more information? Contact our Sales Team today!