Fast Facts - Colorado Springs
There are over 300 days of sunshine to be enjoyed in Colorado Springs annually. At an altitude of 6,035 feet, the climate of Colorado Springs and the Pikes Peak region is warm in the summer and moderate in the spring, fall and winter.
---
Colorado Springs is Colorado's second-largest city
Nickname: Olympic City USA
Founded in 1871 by General William Jackson Palmer
Elevation - 6,035 ft. / 1,839 meters above sea level
Population - City: 439,886 Metro Area: 655,044
Climate: Alpine Desert
Average Yearly Precipitation: 17.4"
Average Yearly Snowfall: 37"
Average Humidity - Morning: 63%, Afternoon: 40%
Average Yearly Days of Sunshine: 300+
Parks: 156 State, County and City Parks
Major Attractions: 55+
Taxes: 8.25% sales tax, 2% lodging tax
24 Million Visitors Annually
14,500 Rooms (Pikes Peak Region)
450,000+ SF of Meeting Space
How To Get Here
Located directly off of Interstate 25, just 20 minutes from the Colorado Springs Airport or 1½ hours by car from Denver's International Airport. Shuttle service and ground transportation are available at both airports. The Colorado Springs Airport serves five airlines with non-stop flights to many major hub cities with easy connecting flights to destinations all over the world.
Climate
There are over 300 days of sunshine to be enjoyed in Colorado Springs annually. At an altitude of 6,035 feet, the climate of Colorado Springs and the Pikes Peak region is warm in the summer and moderate in the spring, fall and winter. Classified as an "alpine desert," the dry, clean air was once a destination to heal tuberculosis patients. Today, visitors enjoy the climate because it allows for year-round outdoor recreation. Summers are dry with temperatures in the 80s to mid-90s, with cool nights in the 60s. Spring and fall temperatures range from the mid-50s to the low 70s and winters here can be white, but normally the snow that does fall melts quickly and reveals a sunny sky again. Winter temperatures range from the low 30s to upper 40s.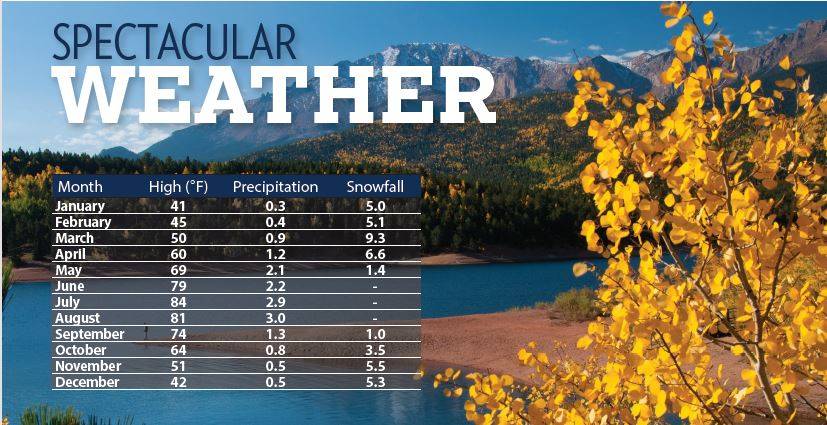 Accommodations & Meeting Space
Visitors can rest their head at locations ranging from AAA Five Star luxury to secluded retreat centers and charming B&B's. There are more than 14,500 rooms that are offered at various locations throughout the region. Popular flags like Hilton, Marriott, Embassy are easily found alongside true Colorado choices like The Cliff House at Pikes Peak, Glen Erie Castle and Cheyenne Mountain Resort.
The area specializes in small, to medium-sized meetings and conventions with 450,000+ square feet of flexible meeting space. Large events can be accommodated by The BROADMOOR World Arena, The BROADMOOR Hotel, Cheyenne Mountain Resort, DoubleTree by Hilton, Colorado Springs Marriott, The Antlers Hilton and Hotel Elegante Conference & Event Center.
Cultural Facilities
The region has a wide variety of museums, performance centers, art displays and galleries. Wander the Colorado Springs Fine Arts Center, Manitou Art Center or the galleries in Old Colorado City. Enjoy nationally traveling talent at The BROADMOOR World Arena or Pikes Peak Center. View other riveting performances at The Mezzanine, Theatreworks, Colorado Springs Philharmonic and the Millibo Art Theatre.
Attractions & Activities
Visitors can enjoy over 55 natural and man-made attractions including the U.S. Olympic & Paralympic Museum (opening spring 2020), U.S. Olympic & Paralympic Training Center, U.S. Air Force Academy, Royal Gorge Bridge & Park, Pikes Peak - America's Mountain, Garden of the Gods Park, Seven Falls, Cave of the Winds and Cheyenne Mountain Zoo. The region also offers whitewater rafting and fishing on the Arkansas River, biking, hiking and horseback riding through Garden of the Gods.
Visit Colorado Springs Facts
Visit Colorado is the premier marketing organization for Colorado Springs and the Pikes Peak region (El Paso, Teller and Fremont Counties)
As a 501 (c)6, VCOS is a non-profit organization contracted with the City of Colorado Springs to increase awareness of the region and inspire travel by marketing to families, groups and organizations
VCOS contributes to the community by supporting local events and online calendars that drive tourism, participating in co-op advertising opportunities and working with the City and County to support economic development
Services of Visit Colorado Springs include generating proposals for group meeting planners, assisting with event, wedding and reunion planning, hosting media tours and providing travel information – all services are FREE of charge to visitors, meeting & event planners and residents
Visit Colorado Springs is funded by the City's 2% lodging tax and 1% auto rental tax, partnership revenue and support from El Paso County
The Importance of Tourism - Discover the ways that tourism pays for Colorado Springs & the Pikes Peak Region.
---