Illustration by Drake "Drastik" Gann
Ses·qui·cen·ten·ni·al – hard to pronounce but not hard to celebrate thanks to all the amazing things there are to see and do in Colorado Springs. Celebrate Colorado Springs' 150th birthday with 150 things to do around town.
Happy Birthday, COS, we don't think you look a day over 100.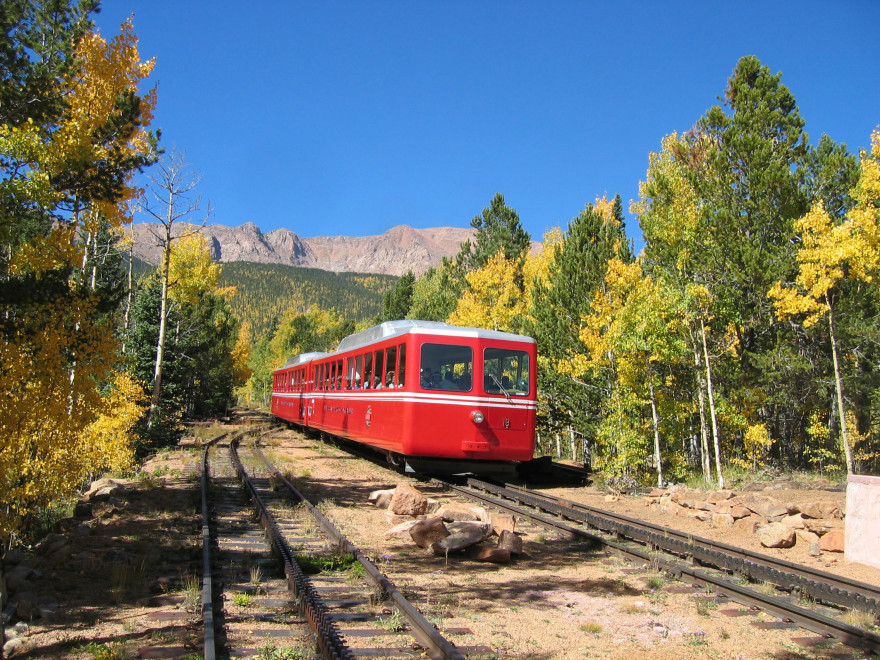 1. The Broadmoor Manitou and Pikes Peak Cog Railway
2. Pikes Peak Summit Visitor Center
3. Glen Eyrie Castle
4. Flying W Ranch
5. Royal Gorge Bridge & Park
6. Cave of the Winds
7. Royal Gorge Dinosaur Experience
8. Manitou Mineral Springs
9. Colorado Wolf & Wildlife Center
10. Royal Gorge Route Railroad
11. Pikes Peak Highway
12. Cheyenne Mountain Zoo
13. The Broadmoor Seven Falls
14. Cripple Creek & Victor Narrow Gauge Railroad
15. The North Pole – Santa's Workshop
16. Great Wolf Lodge water park
17. Garden of the Gods Trading Post
18. Pikes Peak Tour by Gray Line
19. Mollie Kathleen Gold Mine
20. Overdrive Raceway
21. US Air Force Academy
22. Summit at Interquest
23. WhirlyBall
24. Rocky Mountain Vibes
25. Weidner Field
26. Arcade Amusements
27. Concerts & events at The Broadmoor World Arena

Museums/Historic/Arts
28. U.S. Olympic & Paralympic Museum
29. Western Museum of Mining & Industry
30. ProRodeo Hall of Fame & Museum of the American Cowboy
31. Rock Ledge Ranch Historic Site
32. Manitou Cliff Dwellings
33. Penrose Heritage Museum
34. Ghost Town Museum
35. Miramont Castle Museum
36. Money Museum
37. Dinosaur Resource Center
38. Iron Springs Chateau Melodrama
39. McAllister House Museum
40. National Museum of WWII Aviation
41. Pikes Peak Trolley Museum
42. Colorado Springs Fine Arts Center
43. Colorado Springs Pioneers Museum
44. Outlaws & Lawmen Jail Museum
45. May Natural History Museum
46. Art on the Streets self-guided tour
47. Michael Garman's Magic Town Museum
48. Space Foundation Discovery Center
49. Garden of the Gods Visitor and Nature Center
50. Rocky Mountain Motorcycle Museum
51. Dr. Lester L. Williams Fire Museum
52. Painting with a Twist
53. Cripple Creek Heritage Center
54. Ziplining with one of our amazing outdoor adventure outfitters
55. Victor Lowell Thomas Museum
56. Colorado Springs Philharmonic
57. Colorado Springs Chorale

Outdoor Adventures
58. Garden of the Gods Park
59. Cheyenne Mountain State Park
60. Skyline Drive
61. Gold Belt Scenic Byway
62. Seven Bridges Trail
63. The Broadmoor Outfitters
64. Pike National Forest
65. Red Rock Canyon Open Space
66. Raft the Arkansas River
67. Academy Riding Stables
68. Pancake Rocks
69. Mt. Muscoco
70. Front Range Climbing Company
71. Florissant Fossil Beds National Monument
72. Mt. Rosa
73. The Crags
74. Manitou Incline
75. Blodgett Open Space
76. Challenge Unlimited – Pikes Peak by Bike
77. Bear Creek Nature Center
78. Eleven Mile Canyon
79. Fountain Creek Nature Center
80. Pikes Peak via Barr Trail
81. Paint Mines Interpretive Park
82. Off-road with Great Outdoors Adventures and Play Dirty ATV Tours
83. Take a Jeep tour or hot air balloon ride with Adventures Out West
84. Cast a line with Angler's Covey
85. Guided bike tour down Pikes Peak Highway
86. Cityrock Colorado Springs
87. Altitude Ninja Gym
88. Colorado Jeep Tours
89. Adventure Miniature Golf
90. Let's Roam Scavenger Hunt
91. Camping
92. Ute Pass Historical Society & Pikes Peak Museum

Food/Drink/Shopping
93. The Winery at Holy Cross Abbey
94. Bristol Brewing Company
95. Streetcar520
96. Historic Cripple Creek
97. Pub Dog Colorado
98. Pikes Peak Brewery Lager House
99. Shopping at the Outlets at Castle Rock
100. Shopping in Old Colorado City
101. Odyssey Gastropub
102. Ivywild School
103. Brooklyn's on Boulder
104. Woodland Park Farmers Market
105. Lincoln School
106. Uva Wine Bar
107. Almagre
108. Birdcall
109. Shopping at the Promenade Shops at Briargate
110. Shopping at First & Main
111. Frayla Boutique
112. 503W
113. Trails End Taproom
114. Urbane Collective
115. Distillery 291
116. The Airplane Restaurant
117. CO.A.T.I. Uprise
118. Garden of the Gods Trading Post
119. Cerberus Brewing Company

Health/Wellness
120. SunWater Spa
121. STRATA Wellness at Garden of the Gods Resort and Club
122. Yeden Hemp Spa
123. Alluvia Spa and Wellness Retreat at Cheyenne Mountain Resort
124. The Spa at The Broadmoor
125. William J Hybl Sports Medicine and Performance Center
126. MX Spa at the Mining Exchange
127. Dragonfly Paddleboard Yoga
128. Rocky Mountain Goat Yoga
129. PikeRide E-assist Bikes
130. Pickleball in Memorial Park
131. Prime IV Hydration & Wellness

Events
132. Labor Day Lift Off
133. Pikes Peak International Hill Climb
134. Territory Days
135. Pikes Peak Birding Festival
136. Bighorn Sheep Day
137. Western Street Breakfast
138. Emma Crawford Coffin Races
139. Great Fruitcake Toss
140. Artini
141. Starlight Spectacular
142. COS 150: Downtown Celebration
143. North Cheyenne Canon Hummingbird Experience
144. Pikes Peak or Bust Rodeo
145. Annual Pikes Peak Birding & Nature Festival
146. Canon City Music & Blossom Festival
147. El Paso County Fair
148. Taste of Old Colorado City
149. Royal Gorge Whitewater Festival
150. Greek Festival
No matter how you choose to celebrate, there's no denying Colorado Springs is a special place full of wonderful adventures and places to explore.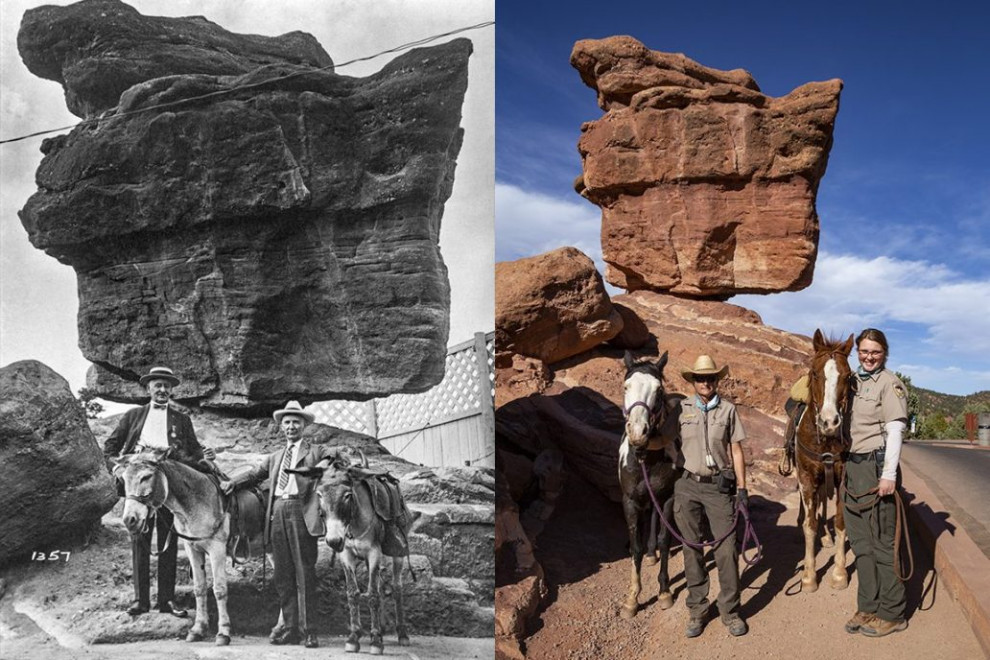 Celebrate the growth and changes over the past 150 years by visiting the "Then and Now" photo exhibit by local photographer Mike Pach. The series showcases re-creations of historic images of Colorado Springs in an exhibit that runs through the end of August at Library 21C.