Victorian High Teas
There's something special about lunching with the ladies, or a real life high tea party with your little princess.
---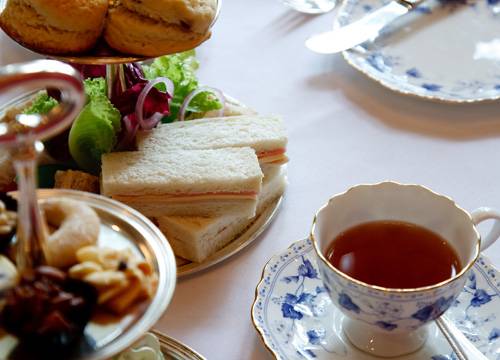 Glen Eyrie Castle was the home of town founder and Civil War here, General William Jackson Palmer. The Castle is a now a retreat center that offers lodging for guests throughout the year. It is such a spectacular location, vivid green grass, a wild herd of Bighorn Sheep that roam the area (Colorado's state mammal) and it's nestled right next to Garden of the Gods Park. Offered year-round, the high teas are held on the patio overlooking the grounds on nice days and held inside the castle during cooler weather.
Make an online reservation here.
Miramont Castle Museum was constructed in 1895 as a private home, but throughout the 1900s was used in many other capacities. Today Miramont is dedicated to preserving the heritage of Manitou Springs and the Pikes Peak region. Miramont has four floors (each of which opens onto ground level) with just over 14,000 square feet. It is constructed of now-rare hand-quarried greenstone, and features 30 rooms, nine styles of architecture, five fireplaces, and a lovely Victorian garden. Available year-round, guests can enjoy High Tea, Light Victorian Tea or lunch. Reservations are required for the teas and strongly recommended for lunch. Walk-ins are welcome if space is available. Call 719.884.4109 for reservations, hours and availability. Summer hours are daily 11 am - 3 pm with winter hours running Tue-Sun from 11 am - 3 pm.
This small English-style cottage was bult in 1873. Home of the Henry McAllister family, who was influential in the establishment of Colorado Springs, opened to the public as a museum in 1961 and now resides on the National Register of Historic Places. A tour of the museum is included with each special event Victorian High Tea. Menus are offered for Christmas, Valentine's Day and Mother's Day and can also be booked for private events. Enjoy small sandwiches, desserts, and tea, coffee or a lemonade in the Victorian manner. For prices, questions, reservations, arrangements for special teas or gift certificates, please call 719.635.7925 or email mcallister.curator@gmail.com.
Find other things to do in Colorado Springs!
---