---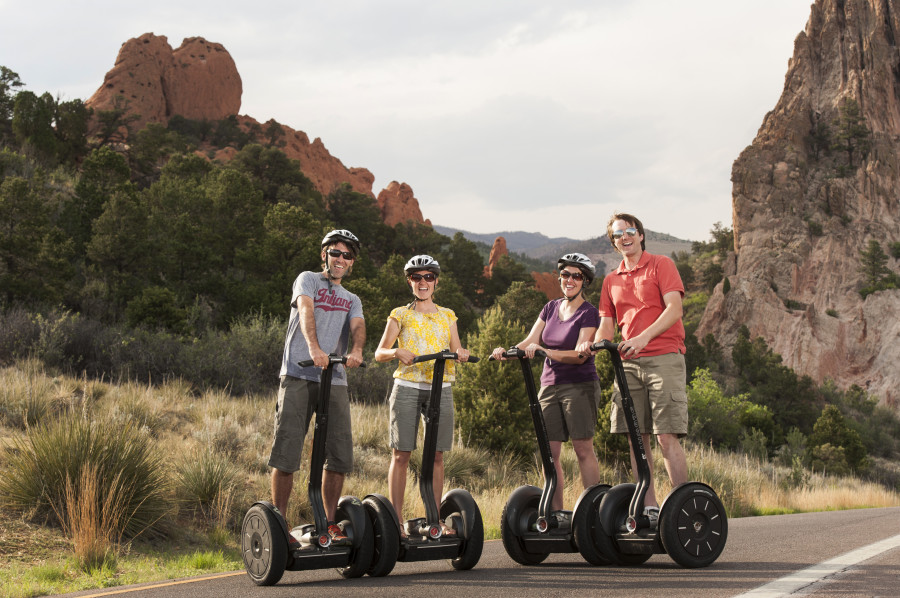 ​
1. SEGWAY TOURS:
Segway tours are great things to do for teens in Colorado Springs. Adventures Out West is the perfect place to get your feet wet with Segway's and getting a unique tour along with it. AOW's Garden of the Gods Segway tours provides just that with up to 2 hours of Segway time during a tour of one of nature's greatest wonders, Garden of the Gods. During the tour, a guide will take your through several stops to view parts of the ancient rock formation along with eagle's nests, exotic plants and wildlife.
---

2. ROCK CLIMBING:
It's unheard of to visit Colorado Springs and not try your luck at rock climbing. The area offers plenty of outdoor areas to rock climb, however indoor facilities are also available. CityRock is the premier climbing destination with the best of both worlds from a cool indoor facility to some of the best outdoor climbing available. Front Range Climbing Co. is another safe and educational rock climbing entity in the area that will provide some of the best-guided climbing services. An amazing spot to rock climb outdoors is at the Garden of the Gods. Be sure and stop by the Garden of the Gods Visitor & Nature Center, as they offer daily trips for first-timers, as well as any level of climber.
---

3. JEEP TOURS:
A fun activity that your teens are sure to enjoy along with the rest of the family is jeep tours. Colorado Jeep Tours offers the thrill of an off-road excursion in one of their customized open-air jeeps, which have been modified for comfort. Colorado Jeep Tours also provides bundled sporting packages that include a jeep tour plus zip-lining or jeep trails plus tickets to the Royal Gorge Route Railroad.
Available Tour Options:
Royal Gorge Loop
Red Canyon Half-Day Loop
The Gold Belt Full-Day Tour
Royal Gorge Express
---

4. ATV TOURS:
Get a little dirty during a Play Dirty ATV Tour! With trails for every skill set and some of the best guides in Colorado, Play Dirty ATV will be a highlight for any teen's Colorado Springs stay. Teens 16 years old & older are allowed to ride the 350cc ATV while anyone 15 and under will ride in a side by side ATV. Either way, dirt will fly and the scenic off-road views will have teens engaged and alert for every creek, hill and path in front of them. Book your family's ATV during a stay in Colorado Springs.
Tours Available:
Sgt. Nulph and The Back Valley
Ferns Leaf
Triple Overlook Tour
Up to Windy Point
All Over the Place (Lunch up on the Mtn.)
Rockhound ATV Rentals also have guided and non-guided tours available in Pike National Forest.
---

5. ROYAL GORGE ZIP LINE TOURS:
Ziplining is something everyone has to try at least once in their life, why not do it looking over the Royal Gorge? With over 20 zipline courses available from classic too extreme offering over 3 miles of adrenaline-charged adventure. The new extreme line course is one of the fastest in North America and features 11 lines spanning over a mile and a half during a 3 hour guided tour across the Royal Gorge. For an added bonus try out the world's first free fall quick jump belay! Royal Gorge Ziplining tours also offer packages that include whitewater rafting and jeep tours if you're looking for a bundle of adventure.
Zipline tips:
Participants under 18 must have a signed waiver by a parent
Closed-toed shoes are always required
All zip line skills will be taught prior to the tour in the "ground school"
---

6. WHIRLYBALL:
Whirlyball is the ultimate game combination of playing lacrosse and basketball while driving a bumper car. Yes, you read that right. Experience the thrill as you compete against family, friends and strangers to be crowned Whirlyball champion. After you've gotten your fill on the Whirlyball court, head over to the bowling alley and grab a bite to eat. Enjoy hours of fun, laughter, and bonding with your family. Your teen(s) will have so much fun, they might even thank you for it!
---

7. WHITEWATER RAFTING:
Not only will your teen love whitewater rafting, but so will the entire family! There are a variety of rivers to explore from the Arkansas River to the Royal Gorge. The Arkansas River is one of the most popular in the U.S. for whitewater rafting. There are a variety of outfitters who offer rafting trips from beginners to those pros who can handle class fives. Explore a variety area of whitewater rafting companies.
What to Bring:
A bathing suit or shorts and a shirt (Cotton clothing is not recommended as it stays cold when it gets wet)
Sunscreen
Sunglasses & eyeglass straps
Bottled water
Waterproof disposable cameras
---

8. COLORADO WOLF & WILDLIFE CENTER:
Take a one-hour walking tour of the Colorado Wolf and Wildlife Center, your teen will love it! Get up close and personal with majestic creatures ranging from wolves, coyotes and foxes. This is one of the few sanctuaries to be certified by the Association of Zoos and Aquariums (AZA) in the U.S. The educational value and overall coolness of hanging out with some of the most fascinating creatures in Colorado will create memories your teen will not forget!
---

9. PENNY ARCADE:
Old school arcade fun can be had at Penny Arcade in Manitou Springs which features games from the 1950s to the latest games of today. Loose change is a must when visiting as there are games that cost only one penny, but most of them are nickel, dime and quarter(s) with newer games running from 50 cents to a dollar. A gamer's hub for traveling through the evolution of arcade games ranging from old school Pac-Man to Skeeball machines from almost every decade and more than 25 pinball machines! Stop by and let your inner gamer run free.
---

10. OVERDRIVE RACEWAY:
No need to worry about getting a speeding ticket at Overdrive Raceway. Feel your adrenaline rush in these racing karts that go up to 40 mph and choose between two different tracks that offer twists and turns. After the race, grab a bite to eat at the onsite cafe and wind down while you wait for your race results to show up on the teleprompter.
---
11. ALTITUDE NINJA GYM
Put your skills to the test at Southern Colorado's premier indoor obstacle training facility. Altitude Ninja Gym offers open gym, summer camps, ninja competitions and ninja classes so your warrior can challenge their inner ninja. Disclaimer - not just for teens. You'll find kids and adults having the time of their life swinging from monkey bar to monkey bar. Don't miss out on this one-of-a-kind experience!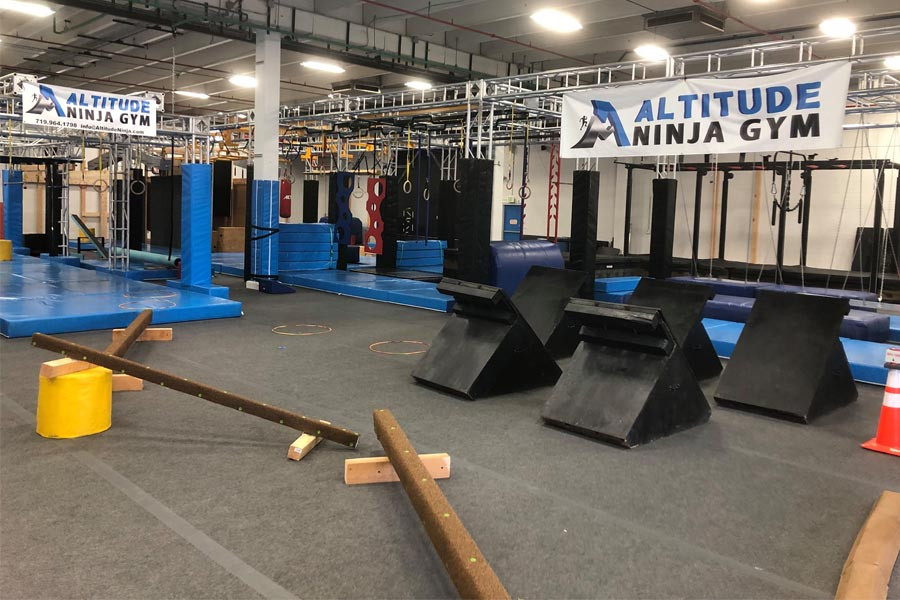 ---
There are endless possibilities for things to do for teens in the Colorado Springs area. For additional ideas for things to do for teens in Colorado Springs, check out our full list of attractions, outdoor adventures, museums and more.