Cave of the Winds in Colorado Springs
Cave of the Winds, located in Colorado Springs, is an historic natural landmark filled with amazing formations just waiting to be discovered by you. This is one of the region's original attractions and is a great year-round choice for family fun and adventure.
---
Watch the Today Show as they ride the Terror-dactyl at the Cave of the Winds!
Having trouble viewing the video? Go Here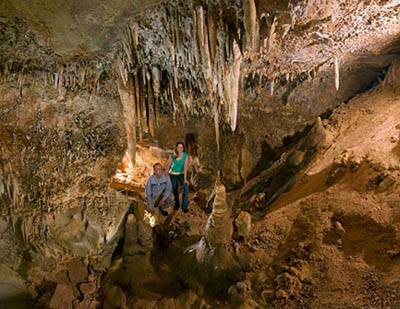 It has been open for public exploration since 1881 - more than 130 years. But the history of the cave actually goes back millions of years.
The Jicarilla Apaches, who lived in the Pikes Peak region around 1000 AD, passed on legends of a cave where the Great Spirit of the Wind resided. In 1869, a settler named Arthur B. Love noticed a cleft in the canyon's wall. When he investigated, he discovered a large limestone archway that would later become the attraction known as Cave of the Winds.
In 1880, brothers John and George Pickett scouted for new caves in Williams Canyon. They discovered a small cave near the limestone archway. They noticed that the flames on their lit candles flickered in the wind coming from somewhere within the cave. They crawled through a small opening and emerged into a large chamber that promised an amazing world of exploration.
That world was structurally opened by George Washington Snider, a stonecutter from Ohio. Soon after the cave's initial discovery, Snider excavated passages and found Canopy Hall. He continued to excavate and soon was giving guided tours. Cave of the Winds in Colorado Springs has been in continuous operation since February 1881 – it is one of Colorado's original visitor attractions!
Cave of the Winds offers two types of tours: Discovery and Lantern. The Discovery Tour is great for the entire family and lasts approximately 45 minutes. The Lantern Tour is available to guests age 6 and over, and is a more adventurous tour lasting 90 minutes.
The Wind Walker Challenge Course is located on the rim of a 600-foot drop into Williams Canyon! Thrill-seekers of all ages can navigate a challenging maze of steel beams, swinging ropes and ladders, wearing a specially designed harness. Safe & fun for the whole family!
Get ready to take to the skies on the Bat-a-Pult, an epic, 1200-foot round-trip aerial attraction high along the wild and beautiful Williams Canyon. Unlike traditional zip lines, our ride doesn't end at the bottom. Instead, our unique system pulls you back to the nest.
TERROR-dactyl is NOW OPEN!
The first of its kind anywhere in the world, the ride sits on the edge of a 200-foot cliff in the Williams Canyon in Manitou Springs. Those brave enough to ride will be launched 200 feet into the canyon at nearly 100 miles per hour! Watch the ladies from the Today Show ride the ride in the video above!
Check the website for details about reservations, pricing and the outdoor adventures that are also available.
Discovery Tour Hours & Prices
Memorial Day Weekend – Labor Day Weekend:Daily from 9 am – 9 pm. Tours leave every 15-30 minutes. Last tour leaves at 8:30 pm. Due to popularity, summer guests may experience a wait of approx. 30-45 minutes between ticket purchase and the start of an available tour.
Winter (September-May): Daily, 10 am-5 pm. Tours leave every 30 minutes. Last tour leaves at 4:30 pm.
Discovery Tour Prices
Adults: $20
Children Ages 6-11: $12
Children 5 Years & Younger are FREE
Military pricing available
Lantern Tour Hours & Prices
Memorial Day Weekend – Labor Day Weekend: Daily from 10 am – 5 pm. Tours leave on the hour. Call (719) 685-5444 for more information.
Winter Hours: Tours available Saturdays and Sundays at 11 am, 1 pm, and 3 pm.
Lantern Tour Prices
Adults: $30
Children Ages 6-11: $15
Children 5 & Under are Not Permitted
Military pricing available
Wind Walker Challenge Course and Bat-a-Pult Information
Tickets: $20 per person
Height Requirements: Must be 48″ tall to participate
More information can be found at www.caveofthewinds.com.
Looking for more attractions and activities in Colorado Springs? Check out our Things to Do page and don't forget to order your FREE Vacation Planner!
---