New in Colorado Springs
There's always something new and exciting to experience in and around Colorado Springs. Check back often to find the latest and greatest in this mountain region.
---
NEW THINGS TO DO
U.S. Olympic & Paralympic Museum and Hall of Fame – 2020
Colorado Springs, Olympic City USA, will open the doors to the U.S. Olympic & Paralympic Museum in 2020. One of the most accessible and immersive museums in the world will pay tribute to the legacies left by USA Olympian and Paralympian athletes.
See progress on the museum:
Pikes Peak Summit House
One of the most-visited mountains in the world, the complex is anticipated to open by the fall of 2020. The $50-million project will offer sweeping views and interactive displays focusing on the history, significance and geology of Pikes Peak, known as America's Mountain. Interpretive outdoor exhibits will be accessible on an elevated pathway designed to help protect the summit's fragile tundra.
Royal Gorge Bridge and Park's Via Ferrata
Celebrating its 90th Anniversary this year, the Royal Gorge Bridge and Park will open Colorado's newest adventure, a Via Ferrata on the granite walls of the Royal Gorge, the summer of 2019. This guided-only activity will be open to a wide range of ages, and courses from easy to more challenging with the average tour ranging from two to five hours.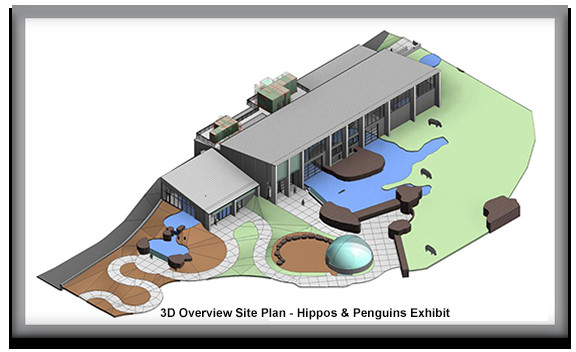 Cheyenne Mountain Zoo's Water's Edge: Africa
Opening summer of 2019, America's mountain zoo will allow guests to waddle alongside penguins, teeter over a hippo yard on a suspension bridge and view an island of lemurs. Other onsite animal interactions include feeding the largest reticulated giraffe herd in captivity, the resident elephants and even a black rhino.
Sunrise Wolf Yoga
Welcome the light of day with the wolves, foxes and coyotes of the Colorado Wolf and Wildlife Center. While those practicing won't be in any animal enclosures, namaste is followed by a thirty-minute educational tour of this animal sanctuary and a group wolf howl. Classes are offered on select weekends June through August. Reservations are required.
Bella Vista Bison
Visit this working Colorado buffalo farm surrounded by boundless beauty and rustic charm. Sign up for one of their farm adventures to enjoy close-up views of the bison herd or tour the grounds on the hay wagon. Feed and take a selfie with the bison.
Cave of the Winds Mountain Park's Frontier Zip Lines
Soar across two zip lines totaling more than a quarter mile long and 80 feet above the Williams Canyon floor. Zipping at Cave of the Winds Mountain Park is the newest addition to the site's aboveground adventures. The zip lines are part of the Via Ferrata Canyon Tour but can also be purchased separately.
Cheyenne Mountain State Park's Dixon Trail
After nearly a decade of planning, Colorado Springs' newest trail to the top of Cheyenne Mountain is open to the public. Mainly constructed by volunteers, the trek navigates 2,998 feet of elevation gain. The trail's challenging upper section is only open to hikers due to the steep terrain. Those looking for an easier option can hike, bike or ride horses on a turnaround near the two-mile point.
---
NEW LODGING AND VENUES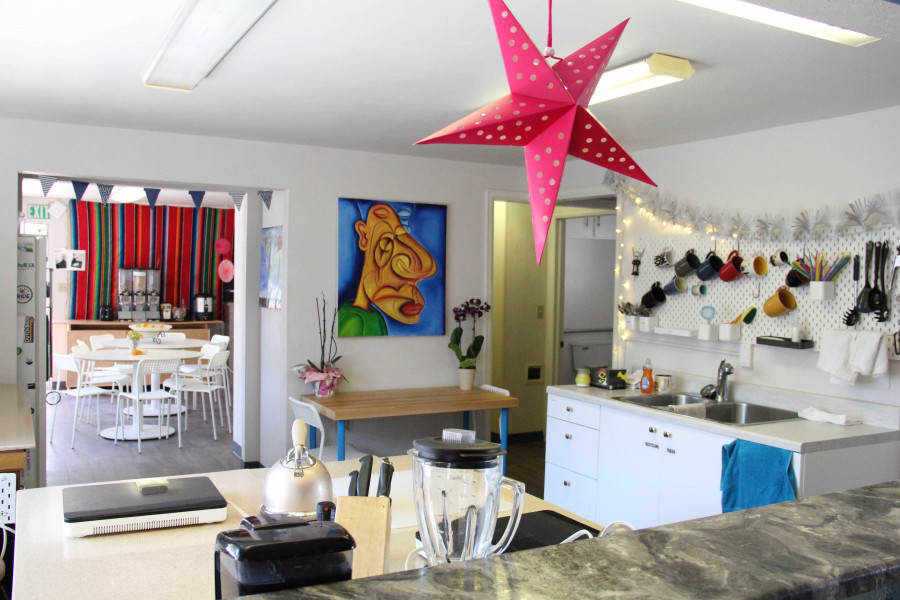 ColoRADo Adventure Hostel
Colorado Adventure Hostel is passionate about creating an impactful experience for guests and love to share all the adventure that Colorado Springs has to offer. Each room is themed after Colorado landmarks with colorful murals courtesy of local artists. Landscapes include places like The Broadmoor Seven Falls, the Great Sand Dunes and an all-female room with purple mountain backdrops. The site features 66 beds and a 420-friendly room.

Kinship Landing
Coming in 2020, a brand-new hotel concept that will offer authentic and engaging travel experiences. With thoughtful design by Echo Architecture, the hotel will feature a Discovery Platform including a community space for events and meetings, lockers equipped with charging stations, a bar, onsite restaurant and a variety of accommodations to fit the preferences and budget of every traveler.
---
NEW TO EAT & DRINK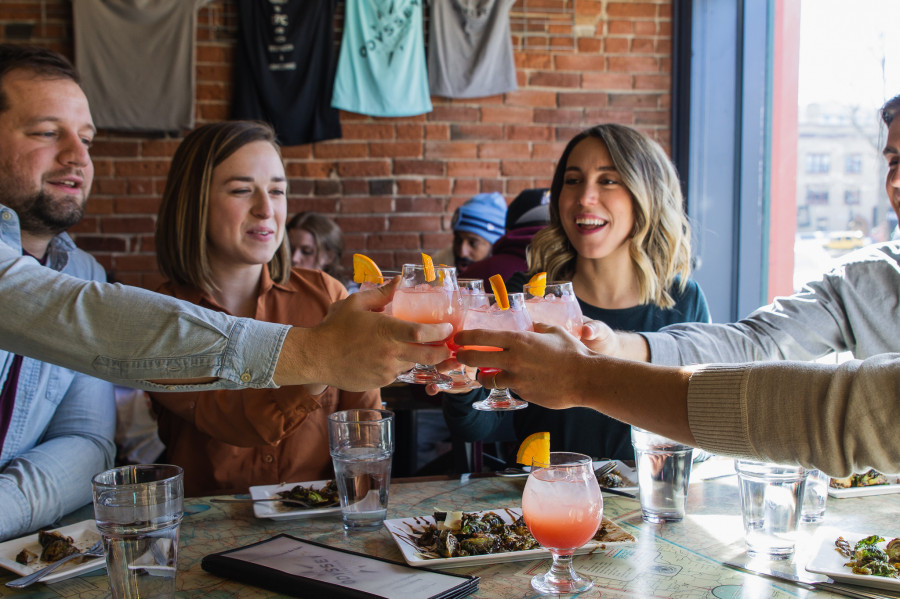 Rocky Mountain Food Tours
The Pikes Peak Progressive Dinner is an upscale night-on-the-town while the Springs Signature Cocktail Tour is a luxe happy hour that celebrates local spirits and innovative bartenders. Guests 21 years or older will be served four portioned signature cocktails paired with appetizers and be able to watch demonstrations and learn the history of the prohibition in the Wild West.
Lucky Dumpling
Celebrity Chef Brother Luck has opened his newest downtown Colorado Springs offering. This Asian American fusion concept was perfected by Luck's travels to Asia learning the traditional technique of dumpling making. Menu items include dumplings, small bites, Asian dishes, cocktails and sweets like mango pudding and mochi butter cake.
Sprig Enlightened Eats
A new kind of fast-casual restaurant, making healthy, nourishing whole foods and beverages easily accessible to everyone. The restaurant's plant-powered recipes are as close as possible to their natural state, without compromising taste or convenience (with a range of protein options, too).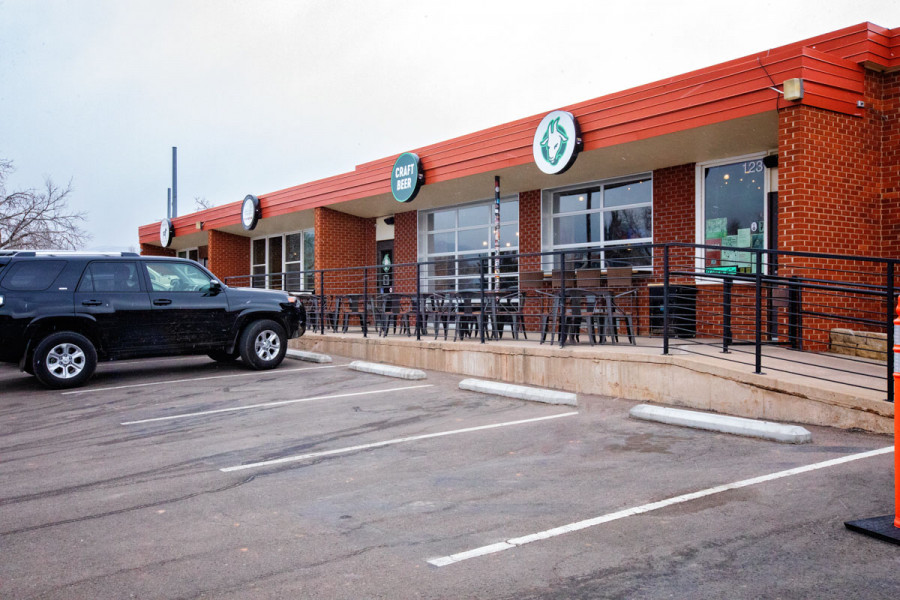 Lincoln Center
Lincoln Center is the hottest new kid on the block. This re-developed former elementary school, built in 1948, houses several tasty tenants like Goat Patch Brewing, Nightingale Bread, Building 3 Coffee Roasters, Tailgate BBQ, Smørbrød and several food trucks throughout the week. Wander the halls without feeling guilty for skipping class.
---