New in Colorado Springs
Home to more than 55 attractions and activities, there's always something new and exciting to experience in and around Colorado Springs. Check back often to find the latest and greatest in this mountain region.
---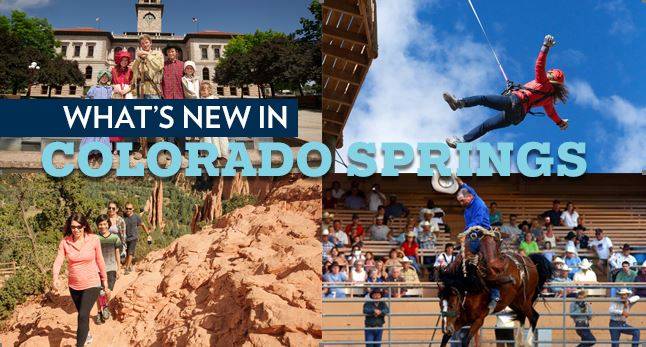 NEW THINGS TO DO
U.S. Olympic Museum and Hall of Fame – 2019
The official groundbreaking for the future site of America's only Olympic museum will take place on June 9, 2017. The 60,000-square foot museum will be located at the intersection of Vermijo Avenue and Sierra Madre Street. It will house an Olympic Hall of Fame, exhibits highlighting the history of American athletes, a state-of-the-art theater, gift shop, cafe', and broadcast studio.
Royal Gorge Dinosaur Experience
The Royal Gorge Dinosaur Experience is coming to Canon City the summer of 2016. It features science-focused interactive displays, full-scale dinosaur fossil casts, skinned animatronics, guided tours and a multi-story ropes course.
Overdrive Raceway
The nation's first two-story indoor electric go kart race track is now open in Colorado Springs. Overdrive Raceway opened its $6.5 million entertainment complex featuring feature two quarter-mile Formula One race tracks, a concession area, pro shop, arcade, party area, bar and lounge and conference rooms. The track features four hand-controlled go karts for individuals with disabilities specially designed and manufactured in Italy. Track owner Jim Mundle, a double amputee himself, said he wants to "give people experiences they couldn't otherwise have."
Garden of the Gods Collection International Health and Wellness Center
An innovative, destination healthcare and wellness center has come to Colorado. Applying evidence-based healthcare principles and practices with the latest advances in complementary medicine, the highly-skilled and compassionate physician team at the International Health & Wellness Center intuitively provides medical and wellness services with the aim of restoring clients to optimal health and functionality.
Take a unique look at what balance really feels like as we go through our days and manage our wellbeing within all that life offers us including the demands of family life, work life, technology, personal values, and self-care.
WhirlyBall
WhirlyBall opens with its first Colorado location in Colorado Springs and plans to continue expansion nationwide with WhirlyBall-owned facilities and franchise locations. WhirlyBall combines lacrosse, hockey, basketball and bumper cars in a game of skill coupled with chance. While maneuvering bumper cars, two teams of five players use hand-held scoops to pass a whiffle ball to each other to hit a scoring target.
NEW PLACES TO STAY
The Great Wolf Lodge
Thrill seekers will find all the water slide drops, loops and spin outs they crave at Colorado Springs' first indoor water park resort. Little ones will delight in the geysers, waves and spray features of the zero-depth entry pools. Experience resort activities including bowling, a kid's spa, interactive adventure games, an indoor high flyin' ropes course, nightly Story Time and more. Even bedtime is unique with oversize suites featuring wolf dens and cabins with bunk beds.
Royal Gorge Cabins
The Royal Gorge Cabins The luxury cabins are available for rent year-round. The cabins include six two-story, 800-square-foot, two-bedroom, one-and one-half-bathroom loft cabins and three 600-square-foot, one-bedroom, one-bathroom king cabins. All the cabins have expansive southwest-facing views of the Sangre de Cristo Mountains. Prices are reduced during the shoulder seasons before Memorial Day and after Labor Day. Prices are higher during the holiday weekends of Memorial Day, July 4 and Labor Day.
Lodge at Flying Horse
The Lodge at Flying Horse is one of Colorado's newest hotel resort and meetings destinations. The newly constructed hotel features a "Rocky Mountain Tuscan" style and essence, which will blend with the stunning Flying Horse Club, in Colorado Springs, facilities and all its amenities. The Lodge is an extension to the existing landscape of the community offering rich, warm, sophisticated and elegant color palettes to complement the posh, yet comfortable, furnishings and finishes.
Buffalo Lodge Bicycle Resort
This vintage bicycle-themed hotel with amenities and activities suited to the needs of cyclists provides a haven for relaxation and connection. Located on a popular designated bike route connecting Colorado Springs and Manitou Springs, the property is close to countless miles of biking trails at the base of Pikes Peak, and is less than a mile from Garden of the Gods Park. Rooms are bicycle themed and clinics will soon be offered.
NEW TO EAT & DRINK
Dog-Friendly Restaurant – Pub Dog Colorado
The only restaurant in Colorado where dog owners can legally eat indoors with their dogs. The barn-style building is near Red Rock Canyon Open Space and the City's famous Bear Creek Dog Park. The restaurant will feature a 1,300 SF patio and 3,000 SF off-leash area with artificial turf. There will be local craft brews on tap for owners and dog treats as well as dog-friendly Bowser Beer available for purchase for pup's enjoyment.
Crafts + Drafts Passport
Colorado Springs has crafted a new way to entice travelers to experience the grandeur of the Pikes Peak region. A new digital passport highlights the destination's diverse craft beverage scene. From microbreweries to moonshine, visitors can sip and savor their way through the area using a downloadable Crafts & Drafts Passport featuring 14 libation locations. Colorado continues to make its mark on the adult beverage industry with more than 284 craft breweries state-wide and an economic impact of $2.7 billion.
Axe & the Oak
Now open in Ivywild School, Axe and the Oak whiskey is handcrafted and distilled in Colorado Springs, Colorado by four friends using raw materials sourced from a family farm. This small batch whiskey represents a bridge between the storied history of the spirit and the promise of new horizons. The unique blend of corn, malted rye, and barley is filtered through pure Rocky Mountain water, creating a bold new direction in flavor.