New in Colorado Springs
Home to more than 55 attractions and activities, there's always something new and exciting to experience in and around Colorado Springs. Check back often to find the latest and greatest in this mountain region.
---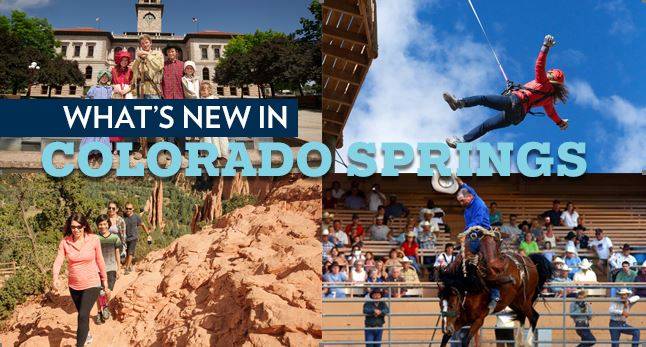 NEW THINGS TO DO
Colorado Springs Olympic Training Center Visitor Experience
The Olympic Training Center, located just a few miles east of downtown Colorado Springs, is home to hundreds of athletes who live and train at the facility on a permanent or temporary basis. Public tours are conducted year-round by USOC Ambassadors. The new amenities include a rotunda with five large video screens running highlights of past Olympians, information screens and rotating exhibits focusing on current and past athletes who trained at the OTC. The Team USA store expanded by almost 50 percent. The area will also have a working studio, available to view by the public, where the USOC communications department will run its social media efforts and produce in-studio interviews. Their work will be shown in the rotunda along with live events on an NBC network. The center will also have a theater with a video on the history of the OTC.
Royal Gorge Dinosaur Experience
The Royal Gorge Dinosaur Experience is coming to Canon City the summer of 2016. It features science-focused interactive displays, full-scale dinosaur fossil casts, skinned animatronics, guided tours and a multi-story ropes course.
Overdrive Raceway
The nation's first two-story indoor electric go kart race track is now open in Colorado Springs. Overdrive Raceway opened its $6.5 million entertainment complex featuring feature two quarter-mile Formula One race tracks, a concession area, pro shop, arcade, party area, bar and lounge and conference rooms. The track will also feature four hand-controlled go karts for amputees, paraplegics, and disabled racers. The specialty go karts are expected to arrive next month from Italy. Track owner Jim Mundle, a double amputee himself, said he wants to "give people experiences they couldn't otherwise have."
NEW PLACES TO STAY
Coming December 2016 -
The Great Wolf Lodge
Thrill seekers will find all the water slide drops, loops and spin outs they crave at colorado's first indoor water park resort. Little ones will delight in the geysers, waves and spray features of the zero-depth entry pools. Experience resort activities including bowling, a kid's spa, interactive adventure games, an indoor high flyin' ropes course, nightly Story Time and more. Even bedtime is unique with oversize suites featuring wolf dens and cabins with bunk beds.
Lodge at Flying Horse
The Lodge at Flying Horse is one of Colorado's newest hotel resort and meetings destinations. The newly constructed hotel will features a "Rocky Mountain Tuscan" style and essence, which will blend with the stunning Flying Horse Club, in Colorado Springs, facilities and all of its amenities. The Lodge is an extension to the existing landscape of the community offering rich, warm, sophisticated and elegant color palettes to complement the posh, yet comfortable, furnishings and finishes.
NEW TO EAT & DRINK
Lee Spirits Co. Gin Distillery
Restaurant and retail distribution of Lee Spirits Dry Gin to launch imminently (late spring early summer), with a downtown tasting room location also soon to be announced. Look for a speakeasy-style front room leading to a (not-so) secret passage to a back bar, with a view over the distillery operation. A focus on pre-Prohibition-style and modern cocktails, all designed around Lee gin.
The Goat Cheese Lady Creamery
Coming fall of 2016, travelers can experience a true creamery right in the heart of Penrose, Colorado. The Goat Cheese Lady offers hands-on experiences as well as sells exquisite farmstead cheeses from the milk of their 15 pasture raised goats, including Feta, Chevre, Camembert, Billy Goat, Ricotta and Mamerto's Cuban. New farm to tables happen onsite through October.
Information on City for Champions can be found here: www.cityforchampions.com