---
Colorado Springs has been consistently ranked as one of the most pet-friendly destinations in the country. With fantastic dog parks, welcoming hotels and several attractions that welcome pets, Colorado Springs pet-friendly travel is second to none. Take some time to review the pet-friendly hotels Colorado Springs offers and to find the perfect place for your pet to rest its head.
---
LODGING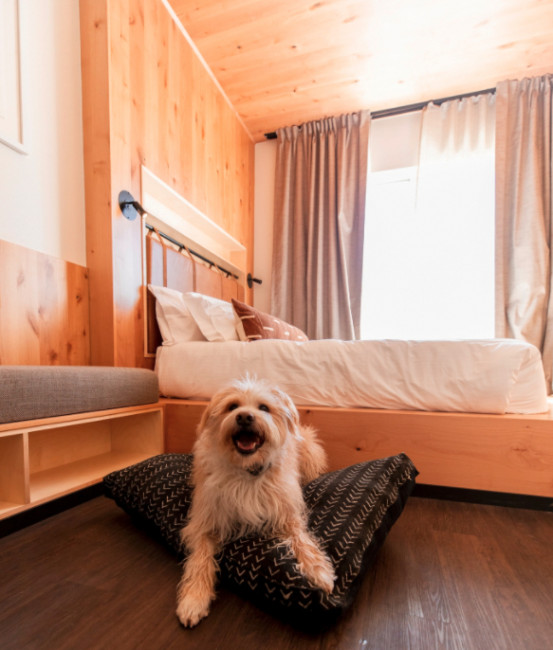 Kinship Landing
Bring your pup and post up in a Jr. Queen Suite. Kinship provides doggy pegs and have a potty station east of their building.
The Broadmoor
The Broadmoor is a pet-friendly resort. For your pet's comfort and your convenience, the staff will place special Broadmoor bedding and food bowls for use while in residence. A complimentary pet treat also will be provided. (Please note there is a pet fee of $50 per day with a maximum of two pets per room.)
Cheyenne Mountain Resort
In celebration of Cheyenne's adoption of the cutest St. Bernard in 2013, Cheyenne Mountain Resort has created Cheyenne's Bed & Biscuit Club. Owners will receive information highlighting area pet services, including veterinarians, pet shops and groomers, as well as insider tips for dog walking routes, dog parks, dog-friendly cafes and much more when they check in with their favorite pooch. A one-time fee of $35 per canine friend (limit of two per room, each weighing no more than 80 pounds) will be charged to accommodate this extra special dog-friendly experience and doggy welcome gift bag.
SCP Hotel - Our four-legged, furry friends are more than just pets - they are family! Pets are welcome without any fees at SCP Hotel Colorado Springs, one of Colorado's trendiest, eco-friendly and holistic boutique hotels.
Hotel Elegante Conference & Event Center
Bring your 4-legged best friend with you and they'll receive the same outstanding service the hotel gives to ALL of their guests! Hotel Elegante allows for two pets up to 50 pounds for an additional fee of $50 per pet. Enjoy the dog run on the property and ask about their "Pet-io."
Spacious Overnight Accommodations
Pooch Kit at check-in with a dog tag, biscuits
Lots of safe outdoor grass play areas for your special pet
DoubleTree by Hilton
We know that a dog is a man's best friend - that's why when you stay at the DoubleTree by Hilton Colorado Springs, you will be treated like family, even Fido! For an additional room deposit of $75.00 this pet-friendly hotel property includes a beautiful outdoor courtyard with walking paths, so your furry companion will have plenty of space to romp and play. And, with plenty of hiking trails and fishing ponds nearby, there's no end to the fun you can have with Fido by your side. Learn more about our pet policy as we warmly invite you and your pet (50 lbs or less) to stay with us when you visit scenic Colorado Springs.
Eagle Fire Lodge
Offers all of their units except our 2 bedroom Suites as dog-friendly. Please call ahead before bringing pets. They are surrounded by a million acres of national forest so guests can take their dogs our hiking, fishing, exploring, etc.
Embassy Suites
Embassy Suites is a dog-friendly hotel. Up to two small dogs (up to 25 pounds) are welcome to stay at Embassy Suites Colorado Springs for an additional fee of $75 per pet.
Fairfield Inn & Suites Colorado Springs North/Air Force Academy
Pets are welcome! Maximum of 2 pets per room with a non-refundable fee of $75.
Golden Eagle Campground
Many of their campers bring their pets with them. They have large sites and lots of hiking trails. Pets must be leashed and not left alone outside at the campsite.
Radisson Hotel Colorado Springs
Radisson Hotel Colorado Springs Airport welcomes two pets up to 50 lbs for an additional fee of $50 per pet, per stay plus a $100 refundable deposit. Aggressive breeds are not permitted. Guests traveling with pets are limited to rooms with two double beds and must call 877-411-3436 prior to booking to verify availability of a pet-friendly room or risk not being able to check-in with a pet and/or incurring any associated cancellation penalties.
Rodeway Inn & Suites
This pet-friendly hotel has a nearby pet walking park, a free map is available and dog treats are provided at check-in. Please note each pet will be an additional charged amount.
Mining Exchange, a Wyndham Grand Hotel
At the Mining Exchange, you and your cherished pooch will stay in 4-diamond luxury. Their boutique hotel offers luxurious rooms, complimentary internet access, dual-headed showers, 24-hour room service and a fitness center. Located in Downtown Colorado Springs, you will be able to explore, then enjoy a meal in their Courtyard with your pet by your side. They welcome two dogs per room up to 50 lbs. per guest room. A charge of $50.00 per stay will be incurred, ADA-defined service animals are also welcome.
Hyatt House
This pet-friendly hotel is a great lodging choice for you and your furry companion. At check-in, they give a special welcome to guests with pets by offering them both treat bags and doggie waste bags. They also have special "do not disturb, pet in room" signs, making everyone on staff aware that you have a pet in your suite. A maximum of 2 dogs per room is permitted. All pets must be housebroken. Only dogs weighing 50 lbs and under are permitted; two dogs may be allowed in a guestroom provided the combined weight of both dogs does not exceed 75 pounds. For 1-6 nights, a $75 non-refundable pet fee will be administered. For guests staying 7-30 nights, a $75 non-refundable pet fee plus an additional $100 cleaning fee will be administered. 30 + nights, please contact the hotel.
The Antlers Hotel
The Antlers Hotel is a pet-friendly hotel. There is a non-fundable pet fee of $50.00 and the maximum weight is 50 lbs.
Fairfield Inn & Suites Colorado Springs - North/Air Force Academy
The Fairfield Inn & Suites Colorado Springs - North/Air Force Academy is a pet-friendly hotel. They offer a maximum of 2 pets (no more than 60 pounds each) for a nonrefundable fee of $75.00.
Woodland Country Lodge
This fido-friendly hotel has a limited number of rooms available for pets so call ahead to check availability. There is a $15 fee per pet.
---
ATTRACTIONS

Cripple Creek District Museum
They welcome well-behaved pets in any of the buildings in our facility. They encourage pet owners to bring their pets in with them versus leaving them in their cars, especially during the summer. Pets should be on a leash or carried. The only thing asked is that, if there are more than two animals in the building they are kept separated by their owners. The facility includes outside grounds where people can walk their pets. All they ask is that the owners clean up after them.
Wilderness Aware Colorado Whitewater Rafting
The facility has two lockable and shaded dog kennels that are free to use while our guests go whitewater rafting with us.
Garden of the Gods Trading Post
They welcome pets in the store, and patio restaurant (on leash).
Historic Manitou Springs
Wide sidewalks, parks and creeks available for pets on leashes.
Manitou Cliff Dwellings
Open to pets that are on a leash or under the control of the owner. Water is available for your pets.
Miramont Castle Museum
Small dogs permitted as long as they are carried throughout the tour.
Pikes Peak - America's Mountain
Pets welcome on a leash, as there is much wildlife around. Water faucets available, please pick up after your pet's visit. Please note from May - September 2019 visitors will be required to take a shuttle to the summit. Shuttles to the top of Pikes Peak do not allow pets.
The Broadmoor Seven Falls
Pets welcome on leash, allowed in shops and trails but not the restaurant. Watering and baggie stations on-premises.
Garden of the Gods Visitor & Nature Center
Pets are allowed in the park on a leash. Baggie stations are available. (Across the street at Rock Ledge Ranch, there is a free run dog park area available)
Western Museum of Mining & Industry
The Mining Museum is pet-friendly on our grounds. They do not allow pets inside but have 27 acres for walking and relaxing, and pets are welcome everywhere except close to the Burro pens.
Peterson Air and Space Museum
Their spokesdog, Matilda, wants you to know that the Peterson Air and Space Museum is a pet-friendly place. They welcome well-behaved pets and encourage pet owners to bring their pets in with them versus leaving them in their cars, especially during the summer. Pets should be on a leash. Please clean up after your pets.
Great Outdoors Adventures
Take Fido on an adventure of a lifetime in Pike National Forest! The crew at Great Outdoors Adventures includes spokes-dog, Fisher, who loves riding along in the front seat of the off-roading vehicles.
---
DINING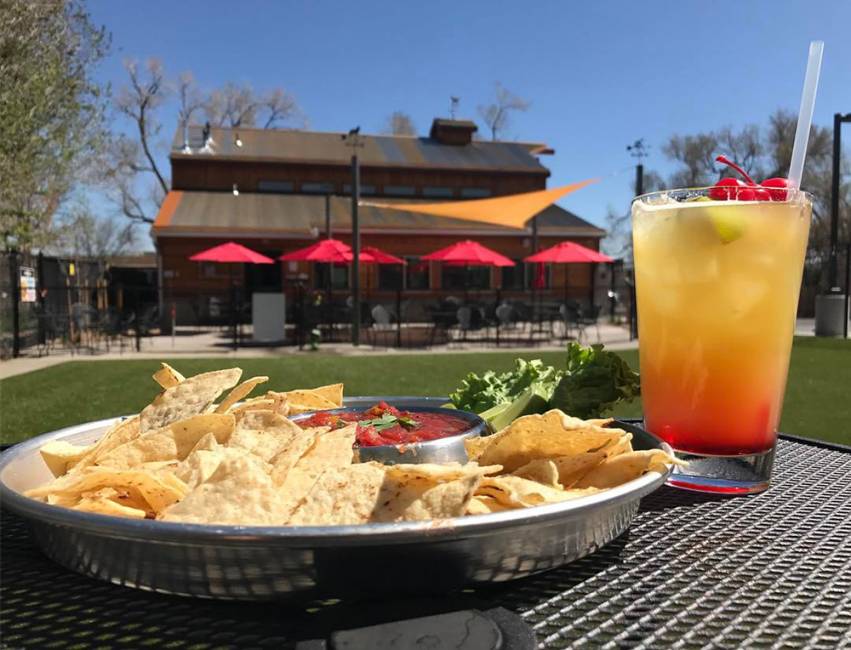 There are various restaurants in Downtown Colorado Springs, Old Colorado City and Manitou Springs with patio dining so pets can enjoy their owner's company.
---
SHOPPING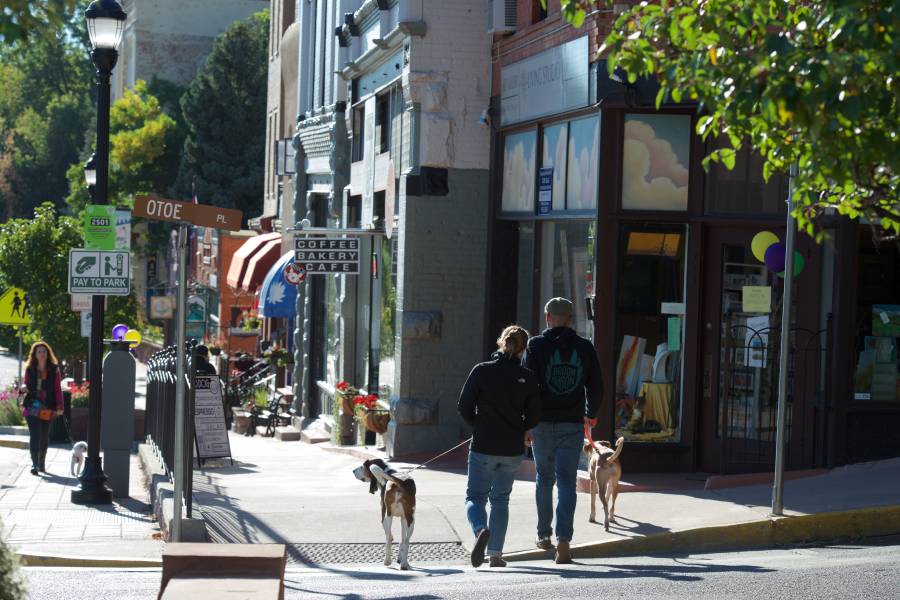 Shop at your favorite stores with your favorite pet!
Outlets at Castle Rock
Our shoppers are welcome to bring their pet and shop our more than 100 brand name stores. Most of our stores are pet-friendly, and this is indicated by a sticker displayed on the storefront. Just look for the image above displayed in the merchant's window, and pets are welcome! Bring your fur-babies in August for their annual "Barks & Brews."
Promenade Shops at Briargate
The Promenade Shops at Briargate caters to the community's unique needs by offering the only pet-friendly shopping environment in this "Fido-friendly" city. Voted "Best Place to Shop with Your Pet" by the Gazette, the Center provides window "Pets Welcome" stickers to indicate which shops and restaurants are pet-friendly as well as water bowls and pet waste stations throughout the property. August brings "Bark at Briargate", Colorado Springs's only outdoor pet expo where dog lovers can socialize together and mingle with over 40 pet-related vendors.