---
Dog Parks in the Area // Dog-Friendly Weekend Itinerary
LODGING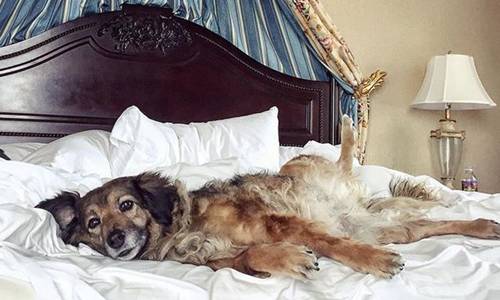 ---
The Broadmoor is a pet-friendly resort. For your pet's comfort and your convenience, the staff will place special Broadmoor bedding and food bowls for use while in residence. A complimentary pet treat also will be provided. (Please note there is a pet fee of $50 per day with a maximum of two pets per room.)
Cheyenne's Bed & Biscuit Club, which offers a drool-worthy selection of welcome pet amenities, including food/water bowl, a washable dog blanket, an eco-friendly dog toy, dog treats, courtesy clean-up bags, plus a stylish logoed dog tag; all yours to take home. Owners will receive information highlighting area pet services, including veterinarians, pet shops and groomers, dog walking routes, dog parks, dog-friendly cafes and much more. A one-time fee of $35 per canine friend (limit of two per room, each weighing no more than 80 pounds) will be charged to accommodate this extra special dog-friendly experience and doggy welcome gift bag.
Bring your 4-legged best friend with you and they'll receive the same outstanding service the hotel gives to ALL of their guests! Enjoy the dog run on the property and ask about their "Pet-io.
Spacious Overnight Accommodations
Pooch Kit at check-in with dog tag, biscuits
Choice of $20 certificate to PetsMart or $20 donation to ASPCA
Lots of safe outdoor grass play areas for your special pet
We know that a dog is a man's best friend - that's why when you stay at the DoubleTree by Hilton Colorado Springs, we treat everyone like family, even Fido! Our pet-friendly hotel property includes a beautiful outdoor courtyard with walking paths, so your furry companion will have plenty of space to romp and play. And, with plenty of hiking trails and fishing ponds nearby, there's no end to the fun you can have with Fido by your side. Learn more about our pet policy as we warmly invite you and your pet (40 lbs or less) to stay with us when you visit scenic Colorado Springs.
Offers all of their units except our 2 bedroom Suites as dog-friendly. They are surrounded by a million acres of national forest so guests can take their dogs our hiking, fishing, exploring, etc.
Embassy Suites is a dog-friendly hotel. Small dogs are welcome to stay at Embassy Suites Colorado Springs.
Many of their campers bring their pets with them. They have large sites and lots of hiking trails. Pets must be leashed and not left alone outside at the campsite.
Let Radisson treat your dog like royalty. Your furry friend will receive a welcome gift that includes: bottled water, doggie treats, food/water bowls, information sheet of local, pet-friendly parks. they will also waive the $25.00 pet fee for your best friend.
For the dog lover, your package will include a beautiful, oversized sleeping room featuring: hair dryer, in-room coffee/tea service, iron/ironing board, microwave, refrigerator, seating area, work area with complimentary high-speed internet access. Start your day off on the right "paw" and enjoy a complimentary full American breakfast buffet. After a long day at the dog park, have a complimentary beverage on us and relax in our indoor heated swimming pool, hot tub and exercise facility.
Open your door and you step outside. (Dogs like that). There is a pet walking park, a free map is available and dog treats are provided at check-in.
At the Mining Exchange, you and your cherished pooch will stay in 4-diamond luxury. Their boutique hotel offers luxurious rooms, complimentary internet access, dual-headed showers, 24-hour room service and a fitness center. Located in Downtown Colorado Springs, you will be able to explore, then enjoy a meal in their Courtyard with your pet by your side. They welcome one dog up to 50 lbs. per guest room. A charge of $50.00 per stay will be incurred, ADA defined service animals are also welcome.
Trying to find a pet sitter or a kennel? At the El Colorado Lodge, you can bring your pet with you on vacation without worrying about a stranger caring for your four-legged furry family member. Enjoy walking your pet throughout our 3.70 acres of spacious grounds. Enjoy the excellent view of Pikes Peak with many spruce trees throughout the property. They invite you to make your vacation a "true" family vacation by bringing your beloved pets with you, without worry of their care.
The Antlers Hotel is a pet-friendly hotel. There is a deposit of $50.00 and the maximum weight is 75 lbs. There is no deposit required for ADA Certified Service Animals.
The Fairfield Inn & Suites Colorado Springs - North/Air Force Academy is a pet-friendly hotel.
ATTRACTIONS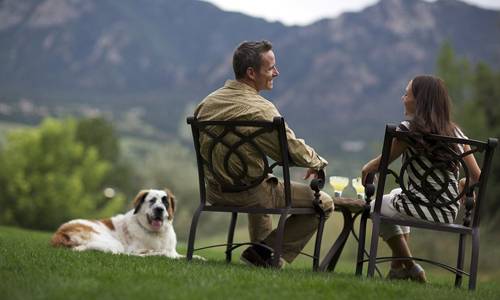 ---
They welcome well-behaved pets in any of the buildings in our facility. They encourage pet owners to bring their pets in with them versus leaving them in their cars, especially during the summer. Pets should be on a leash or carried. The only thing asked is that, if there are more than two animals in the building they are kept separated by their owners. The facility includes outside grounds where people can walk their pets. All they ask is that the owners clean up after them.
The facility has two lockable and shaded dog kennels that are free to use while our guests go whitewater rafting with us.
We welcome pets in the store, and patio restaurant (on leash).
Wide sidewalks, parks and creeks available for pets on leashes.
Open to pets that are on a leash or under control of the owner. Water is available for your pets.
Small dogs permitted as long as they are carried throughout the tour.
Pets welcome, on leash please, as there are many wildlife around. Water faucets available, please pick up after your pet's visit.
Pets welcome on leash, allowed in shops and trails but not the restaurant. Watering and baggie stations on premises.
Pets are allowed in the park on a leash. Baggie stations available. (Across the street at Rock Ledge Ranch, there is a free run dog park area available)
The Mining Museum is pet-friendly on our grounds. They do not allow pets inside but have 27 acres for walking and relaxing, and pets are welcome everywhere except close to the Burro pens.
Their Spokes-dog, Matilda, wants you to know that the Peterson Air and Space Museum is a pet-friendly place. They welcome well-behaved pets and encourage pet owners to bring their pets in with them versus leaving them in their cars, especially during the summer. Pets should be on a leash. Please clean up after your pets.
DINING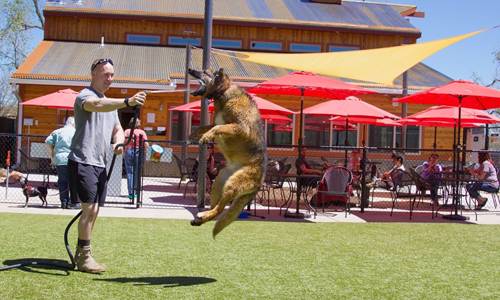 ---
There are various restaurants in Downtown Colorado Springs, Old Colorado City and Manitou Springs with patio dining so pets can enjoy their owner's company.
Edelweiss - Well-behaved pups can dine with their humans on the Biergarten patio.
Pizzeria Rustica - Pizzeria Rustica offers pet-friendly patio dining including water bowls and pet treats.
TAPAteria - Pets can enjoy their own patio dining with pet treats and water bowls provided.
Salsa Brava - They offer patio seating for our guests bringing dogs, as well as providing dog bowls for water and dog biscuits.
Sonterra Grill - For guests bringing their perfect pooches with them, Sonterra Grill has biscuits and bowls for water available.
Over Easy - Over Easy provides biscuits and water for our four-legged companions accompanying their owners.
Other Pet-Friendly Restaurants include:
SHOPPING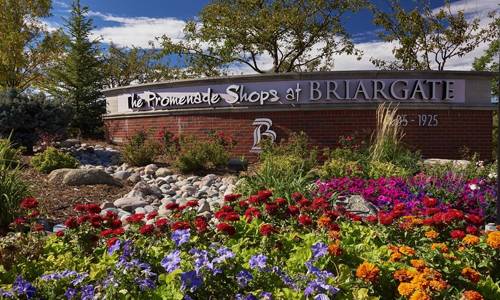 Shop at your favorite stores with your favorite pet!
---
Our shoppers are welcome to bring their pet and shop our more than 100 brand name stores. Most of our stores are pet-friendly, and this is indicated by a sticker displayed on the storefront. Just look for the image above displayed in the merchant's window, and pets are welcome!
The Promenade Shops at Briargate caters to the community's unique needs by offering the only pet-friendly shopping environment in this "fido-friendly" city. Voted "Best Place to Shop with Your Pet" by the Gazette, the Center provides window stickers to indicate which shops and restaurants are pet-friendly as well as water bowls and pet waste stations throughout the property. August brings "Bark at Briargate", Colorado Springs only outdoor pet expo where dog lovers can socialize together and mingle with over 40 pet-related vendors.
PET CARE
Travel with your 4-legged family and know they are enjoying a luxury vacation too!
---
Traveling to dog-friendly Colorado Springs with your 4-legged family? Some places, like the Cheyenne Mountain Zoo, might not be a great fit. Let BamPaws Stay and Play give your 4-legged family the attention they deserve while you relax and enjoy the day!
There is a problem with the data. Please try again later.
Need a great place for Fido or Fluffy to stay while you enjoy Colorado Springs? Let your 4-legged family travel with you and they can vacation in luxury at BamPaws Pet Daycare, Boarding and Grooming! Free pick up and drop off service available!