The Broadmoor
The Broadmoor has an extensive history that sets it apart in sophistication and western style.
---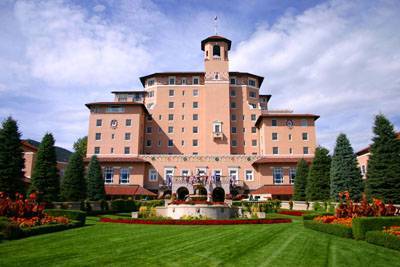 Originally started as a dairy farm, the land was bought and developed into The Broadmoor Casino, which opened in 1891 by a Prussian Count. Eventually, forced into receivership, the property was bought by Philadelphia entrepreneur, Spencer Penrose in 1916. Penrose, who made his fortune in mining in nearby Cripple Creek, Colorado, had a vision to turn the Pikes Peak region into the most fascinating, versatile resort area that his imagination could conceive, and he had the money to do it.
When Spencer and Julie Penrose opened The Broadmoor in Colorado Springs, the master plan was to create a place where European elegance met Western hospitality in the perfect blend of style and service excellence. More than nine decades later, their vision is intact and their dream is still alive. Since The Broadmoor opening, it has been the destination of a long list of presidents, statesmen, foreign dignitaries and celebrities.

The Broadmoor was purchased from the El Pomar Foundation, a Penrose legacy, by the Gaylord Family in 1988. In 2011, The Broadmoor was most recently purchased by the Anschutz Corporation of Denver, ensuring the lasting splendor of the Grande Dame of the Rockies. Today the Broadmoor continues to add new and exciting additions including The Ranch at Emerald Valley, offering a true luxurious Colorado experience

The Broadmoor in Colorado Springs features 779 rooms, three championship golf courses, a 5-Star spa, eighteen restaurants (including the 5-Diamond Penrose Room), 25 unique retail shops and 185,000 square feet of meeting space. It is the longest consecutively running Five Star, Five Diamond property in the United States.

If you would like to stay at The Broadmoor, please visit The Broadmoor website for more information about rates, amenities, activities and reservations. Find other places to stay during your visit to Colorado Springs.
---