New Live Webcam Displays Breathtaking Geological Landmarks of Colorado Springs
The view has inspired the words to America the Beautiful, the highest Cog Railway in the world and a paved highway to the summit that hosts the second oldest motorsports event, "Race to the Clouds".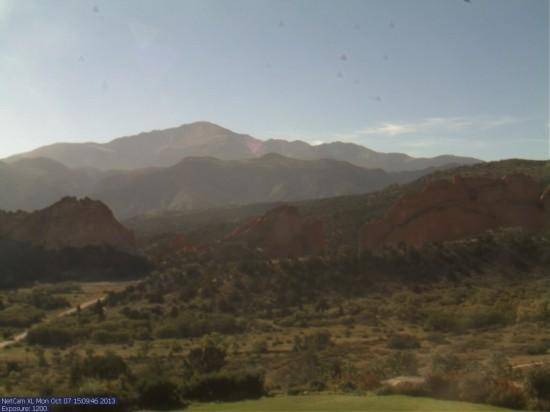 Pikes Peak, also known as America's Mountain, offers spectacular beauty to those who have gazed upon its glory over the centuries. Sitting at 14,115 feet, it is the 30TH highest "fourteener" (mountains with an elevation exceeding fourteen thousand feet) in Colorado. This iconic landmark is the second most-visited mountain next to Mt. Fuji in Japan.
Now, through the power of the web, people can see the splendor of the mountain from their desktop, laptop, Smartphone or tablet anytime they please. Of course nothing beats the real thing, but those needing a fix of the gorgeous Colorado Rocky Mountains can click-on our webcam anytime the mood strikes.
The Lodge at the Garden of the Gods Club, in conjunction with the Garden of the Gods Visitor & Nature Center, graciously hosts the camera that gazes upon the peak framed by the vibrant red hues of Garden of the Gods Park. "We are excited to partner with Garden of the Gods Visitor & Nature Center and the Colorado Springs Convention & Visitors Bureau to showcase the breathtaking beauty of the Garden of the Gods landmark on the new live webcam featured on VisitCOS.com. We can now share with web users across the world the incredible natural setting that we enjoy every day," says Lodge General Manager Billy Peterson.
Combined, Pikes Peak, the Garden of the Gods Visitor & Nature Center and Garden of the Gods Park see upwards of 2.8 million visitors annually. "Whether people are reminiscing about past visits, or dreaming of those to come, this is our postcard to the world," articulates Colorado Springs Visitors Bureau CEO and President Doug Price.
Other area live cams include the giraffe herd and meerkats at Cheyenne Mountain Zoo and the summit camera courtesy of the Pikes Peak Cog Railway.