When visitors ask about where the springs are in Colorado Springs, the answer is Manitou Springs. Currently, there are 8 springs open to the public, each with its own distinctive flavor and effervescence. Centuries ago, the great tribes of the plains and the Mountain Utes paid homage to the healing and spiritual powers of the mineral springs and believed the medicinal waters were a gift from the Great Spirit Manitou.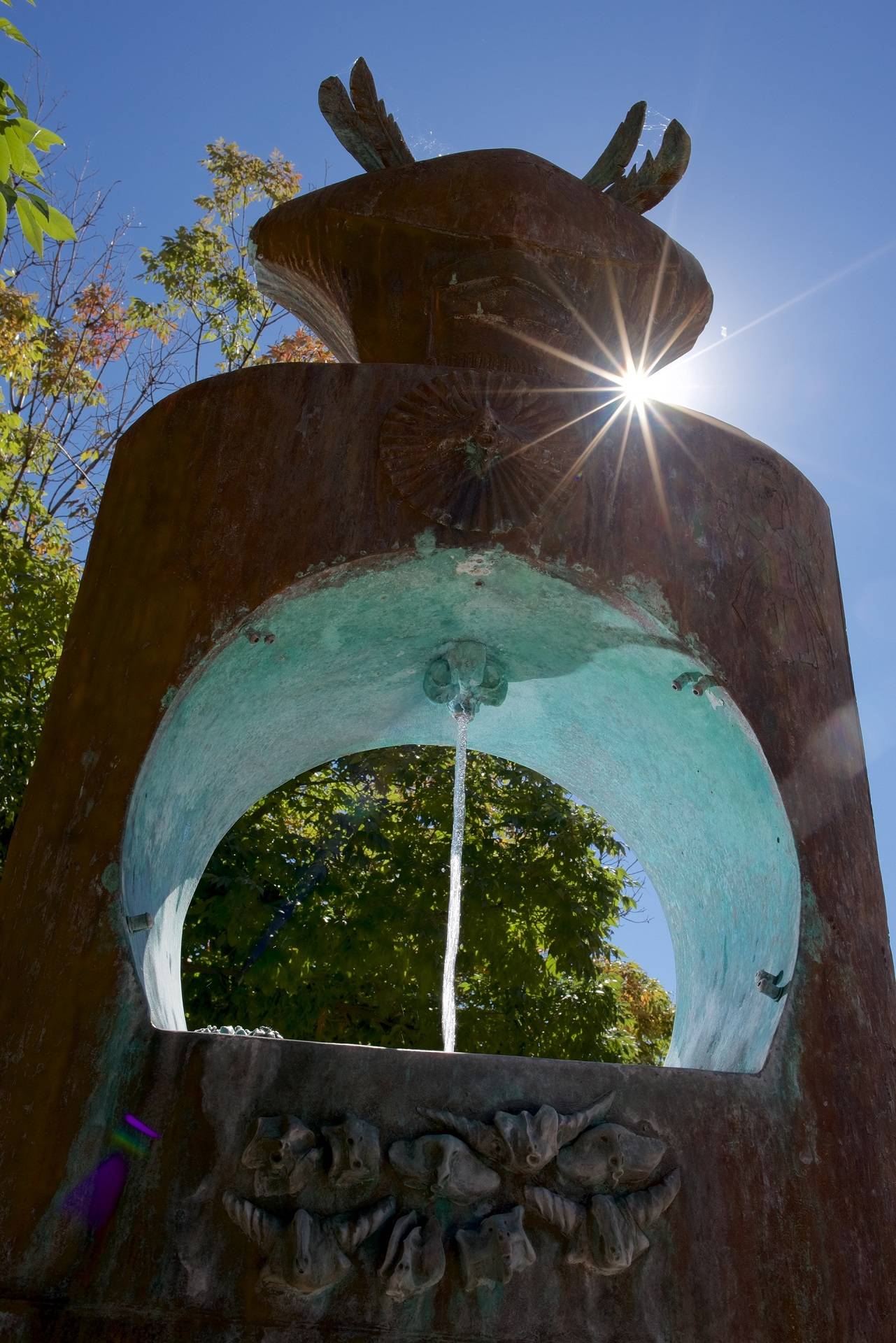 Rainwater and snow melt from Pikes Peak and surrounding mountains soak into rock fractures. As the water penetrates to great depth, it becomes heated and mineralized. The warm water naturally flows up into cavernous limestone where it becomes carbonated, then issues from the numerous natural and drilled springs throughout Manitou. Because the water takes thousands of years to complete its journey from mountain sources, it is totally free of industrial and atmospheric contamination.
Beginning in 1871, developers created the resort of Manitou Springs to provide the popular water therapies. Cultural and medical traditions brought prosperity, but, as health practices improved across the country, Manitou's famous springs slowly became forgotten and neglected. Fortunately, most of them have now been restored by the Mineral Springs Foundation, an all-volunteer 501(c) (3) non-profit organization. An endowment fund is in place to help assure that the springs will be available for the enjoyment of future generations.
The Mineral Springs Foundation currently offers walking tours of the mineral springs every Saturday from Memorial Day through Labor Day. They begin in downtown Manitou Springs. Groups can arrange tours by appointment by calling 719-685-5089. Please wear comfortable walking shoes and bring a cup to sample the springs.
Information about the Mineral Springs
Make sure to stop at the Manitou Springs Visitor Center to pick up your free Mineral Springs brochure/map, detailed content chart and sampling cup. Here is the mineral springs walking map provided by www.manitoumineralsprings.org.
Manitou Springs Visitor Center
354 Manitou Ave. Manitou Springs, CO 80829
7 Minute Spring
Seven Minute Spring was drilled to enhance the park of a large hotel at the site in 1909. Carbonation caused it to erupt at 7 minute intervals. It was redrilled in the 1990s and the surrounding park was developed.
Cheyenne Spring
Cheyenne Spring is a natural, sweet soda spring, from limestone aquifers a mile deep and belived to be 20,000 years old.
Iron Spring Geyser
Iron Spring Geyser is a drilled spring prescribed by early physicians for iron deficiencies. It was on the daily walk for 1800s health-seekers.
Navajo Spring
Navajo Spring is located beneath the present popcorn and candy store. Navajo Spring, a natural soda spring, attracted the Indians and settlers, which led to the establishment of Manitou Springs. Its water supplied a large bath house (spa) and a bottling plant. This Manitou Water was famous across the nation.
Shoshone Spring
Shoshone Spring, a natural spring with some sulphur, was highly recommended by physicians for its curative uses, before modern medicines.
Stratton Spring
Stratton Spring was drilled by the Stratton Foundation as a service to the town, where popular pedestrian and traffic routes follow earlier Native American trails.
Twin Spring
Twin Spring, originally two drilled springs now merged into one flow, is sought for its sweet taste, calcium and potassium content.
Wheeler Spring
Wheeler Spring, a drilled soda spring, was donated to the city by the family of Jerome Wheeler, of the New York Macy's, residing in Manitou Springs and involved in banking, mining and railroads locally and in Aspen. His home, Windemere, was located at the site of the present day post office.
Source: www.manitousprings.org