Fourth of July
Independence Day is full of events and beautiful fireworks displays
---
2017 dates and locations will be posted soon. Take a look at the 2016 events and specials below to get a taste of what's in store for this year.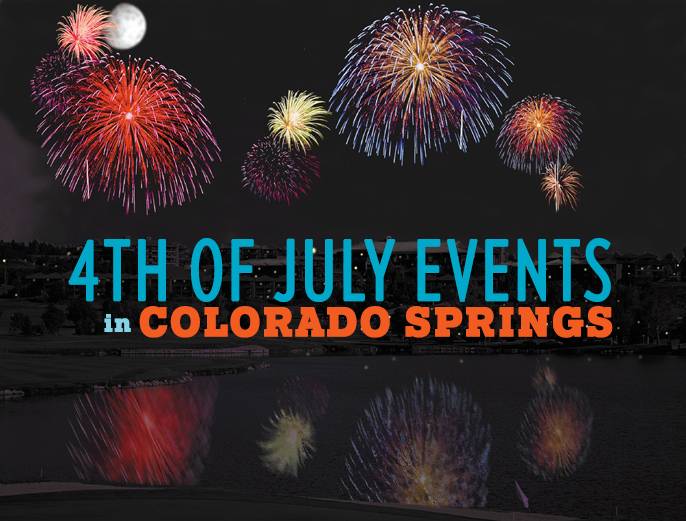 Celebrate our great country's independence with a number of spectacular 4th of July events around Colorado Springs. Our main event in Colorado Springs on July 4 is the Fourth of July celebration at Memorial Park featuring the Colorado Springs Philharmonic orchestra performance. There are a variety of other Colorado Springs, CO 4TH of July celebrations happening.
2016 4th of July Celebrations
This year Cripple Creek Fourth of July Celebration will feature live entertainment in the Brass Ass parking lot located on the corner of Bennett Avenue and 3rd Street. Food vendors and a beer garden will be available. While you're here, be sure to check out special 4th of July promotions in Cripple Creek's casinos, and visit Cripple Creek's fun attractions that showcase our area's rich history.
When: July 4, 2016
Cost: FREE
Take a walk through history this July 4th at the Rock Ledge Ranch Family Fourth. Visitors have an opportunity to walk through the reenactment of revolutionary war camp, hear General William Jackson Palmer read the Declaration of Indepence, listen to President Abraham Lincoln give the Gettysburg address, catch Patrick Henry's daughter will recite her father's "Give Me Liberty or Give Me Death" speech, play carnival games and more. Tickets are available for carnival games for a nominal fee. Events will be held throughout the day.
When: July 4, 2016; 10am-5pm
Cost: Regular admission prices; Military discount
The Dinosaur Resource Center is celebrating our military personnel this July 4th. As our small way of saying thank you, active and retired military personnel will receive one half off regular admission on our nation's birthday with active or retired military ID.
When: July 4, 2016; 9am-6pm
Cost: Please see website for admission rates
It's time to fly with Adventures Out West's 5th Annual 4th of July Flag Flying Festival! Start your 4th of July with a little adventure and a lot of patriotism. Show your American pride by flying the Red, White, and Blue. Must supply your own flag (max size 5'x7'). Souvenier T-Shirt. Zips start at 8:30am and 10:30am - course is open 2 hours per session.
When: July 4, 2016; 8:30am-12:30pm
Cost: $45 per person
Extend your July 4th celebrations a couple of days, and join the newest rodeo in town - the C O S Rodeo. On July 6th, as well as several following Wednesdays during the summer, the Colorado Springs Summer Rodeo Series brings a new take on our western heritage.
Highlights include Mutton Bustin', Team Sortin', Calf Scramble, Steer Ridin' and the main event - Bull Riding. But it doesn't stop there. The arena is filled with activity including bounce houses, Segway Barrel Racing, and Tee Pee's.
Guests can participate in select events like the Grand Parade, National Salute, Mutton Bustin', Calf Scramble, Steer Ridin' and Team Sortin'.
Cost includes a delicious yet simple western fare meal. Choose from pulled pork or chicken, corn bread, baked beans, country style potato salad and kids can roast hot dogs on a stick over the campfire. Top it off with a traditional western dessert - S'mores over the campfire. Reservations are required.
After the rodeo events are completed, stick around to hear the great sounds of The Jeffrey Alan Band.
For more information, please visit COSRodeo.com.
When: July 6, 2016; Gates open at 4:30. See website for complete schedule
Cost: $34 adults; $25 children 17 and under; $99 Family rate to include 2 adults and 2 children; Participatory events have additional cost.
Enjoy the 12th annual Pikes Peak Art & Music Festival in America the Beautiful Park in downtown Colorado Springs. 100 juried national, regional and local artists. The Live Music stage features Celtic Bleugrass, Classic R&B and other favorite performers. Family friendly with Creative Station for All Ages, Aerial Performer, face painting and Butterflies Alive display. Delicious foods, craft beer and wine.
When: July 2-4, 2016 beginning at 10am each day
Cost: 3-day admission wristband: $5 per person, children under 16 are admitted for free; Military personnel with ID are free on July 4th
The Tri-Lakes 4th of July is a full day celebration. Partake in the pancake breakfast, annual fun run, children's parade and main parade. The street fair features delicous food, arts & crafts vendors, a street dance and multiple concerts.
When: July 4, 2016 until 3 pm; Concerts run from noon-9pm
Cost: Free
Listen to the amazing Colorado Springs Philharmonic in the 36th Annual Symphony Above the Clouds in Woodland Park, CO. Presented by the Ute Pass Symphony Guild, the concert features patriotic music and tunes from the American songbook.
When: July 5, 2016; Doors open 5pm, Concert at 5:30pm
Cost: Free
The Sky Sox Independence Day Celebration is right around the corner. Join us for America's favorites: Hot Dogs, Baseball and Fireworks! Seating options are limited. Please see our website for available tickets and pricing. Playing the New Orleans Zephyrs
When: July 3, 2016; Game time 7:05pm
Cost: Various
Celebrate Independence Day weekend with a trip to the Royal Gorge Bridge and Park. Marvel at the majestic scenery, take a ride on the aerial tram, get your adrenaline pumping on the Sky Coaster, and enjoy the lively sounds of the in-park entertainment. On both July 2 and 3, The Geezers, playing rock n' roll and Oldies will be on the Entertainment Stage from 10:30am-2pm and the Northern Wind Dancers, a performing Native American dance troup will hold performance from 3:30-7pm. Zany Face Painting for children will be available from 12:30-4:30pm and in the Elk Park and Tommy Knocker Land Area, the kids can meet Toy Story characters Woody and Jesse, and see the world's largest bubbles.
July 4, The Geezers will again be playing from 12:30-4:30pm.
When: July 2-4, 2016
Cost: Admission costs vary. Please see website for details.
The Manitou Springs Volunteer Fire Department is proud to display the Fourth of July Fireworks again this year. Get one of the best seats in the house in Downtown Manitou Springs, and enjoy the magnificent views. Fireworks will be shot off from Higginbotham Flats.
When: July 4, 2016; 9-9:30
Cost: FREE
Head down to Fort Carson's Iron Horse Park starting at 4pm to enjoy a fun-filled evening before the grand fireworks display. Listen to live music including a concert by the 4ID Band, participate in family activities including rock wall, bounce houses, a corn maze and more. Forget your picnic or need something more? Visit the food and beverage vendors, then sit back and watch as the fireworks begin to boom at appromixately 9:15-9:30pm.
When: July 3, 2016; 4-10pm
Cost: FREE
The Ute Pass Historical Society will hold its annual Cemetery Crawl July 4th from 1-3pm at the Woodland Park Cemetery. Guided tours will depart every 15 minutes, with local volunteers portraying some of the area pioneers who are laid to rest in the cemetery.Tours will also be available of Ute Pass History Park at 11am. This one-hour tour looks at the parks five historic buildings, documents and artifacts related to the development of the Ute Pass area.
When: July 4, 2016
Cost: $5 per person
Cool down with a refreshing art experience at the Fine Arts Center. Our 99 Days to be Amazed summer 2016 art exhibitions are the perfect fix to get you out of the heat and expanding your mind.
We will be open normal business hours on July 4th from 10 am - 5:30 pm, and with our Blue Start Museum program, free admission is offered to all active duty, National Guard, and Reserve military personnel and their families from Memorial Day through Labor Day.
When: July 4, 2016; 10 am - 5:30 pm
Cost: FREE to active duty, National Guard and Reserve military personnel and their families
The biggest show in town will be the Colorado Springs Philharmonic Fabulous Fourth summer concert at Memorial Park. This free event is fun for the entire family. A variety of food will be available for sale, and picnics are welcome. Arrive early to grab your spot and listen to the U.S. Air Force Academy Band's Blue Steel ensemble perform before the Colorado Springs Philharmonic. One of the best fireworks displays in town. If you would like to help offset the thousand-dollar-a-minute show, please consider donating $4.30 and we'll add your name to our sponsor roster. Also find out ways you can volunteer alongside U.S. Air Force Academy cadets by visiting our website.
When: July 4, 2016
Cost: Free to attend; Food vendors available for various costs.
Make the 4th of July truly wonderful with a train ride on the Cumbres & Toltec Scenic Railroad, followed by a delicous dinner and finished with a fireworks display. Seating is limited so early reservations are highly recommended.
When: July 4, 2016; 5-10pm
Cost: Varies on seating option
Celebrate the anniversary of our nation's most important date a day early by joining Cheyenne Mountain State Park and Colorado Parks and Wildlife mascot, Talon, for an evening of fun games and activities, followed by a spectacular Fort Carson fireworks display.
Come hike, play games, do crafts with the kids, dress like a rancher and practice your roping, and enjoy some great local food. The fireworks show, which is unrelated but complementary to this event, will begin around 9 pm.
For more information, contact the park visitor center at 719.576.2016.
When: July 3, 2016; 5-8 pm
Cost: $7 daily or $70 annual vehicle parks pass; Food trucks additional cost
Colorado Springs 4th of July Lodging Deals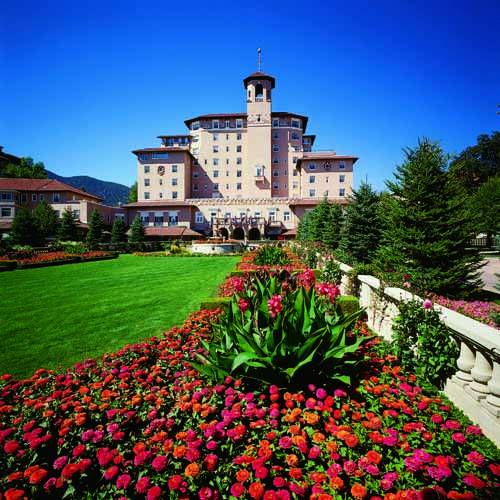 American Family 4th of July Celebration
Four- and three-night packages available, starting at $915 per person based on double occupancy. Package Includes: Classic guest room, dining credit, tickets to Seven Falls; One (1 hour) horseback trail ride or Garden of the Gods Jeep tour, discount on the adult price at Cheyenne Mountain Zoo, discount on published suite rates and more.
Please visit Broadmoor.com for more information or to book online.
Resort guests and members of Garden of the Gods Club and Resort always enjoy our amazing lineup of 4th of July festivities! We hope you and your family can attend this year. From tennis, to pool parties, to an unforgettable complimentary fireworks show, we have it all for the 4th of July! In the morning, participate in the family & friends tennis doubles mixer and then head over to the complimentary pool party. Take a break at the pool for some BBQ ribs and chicken, potato salad and watermelon. After relaxing in the afternoon, join us for a lovely dinner at The Grille, featuring a special holiday menu. The sit back while listening to live music on the green and enjoy the piece de resistance fireworks spectacular at approximately 9pm.
For more information, please visit us online or call our resort concierge at 719.329.6900. Please note that this event is exclusive to resort guests and members, so book a room with us and enjoy this very special occasion.
When: July 4, 2016
Cost: Varies with activity
More Events:
PeakRadar.com July 4th Events (search by date)