Check back next year for 2018 dates!
The Broadmoor Pikes Peak International Hill Climb is America's second oldest motorsport event.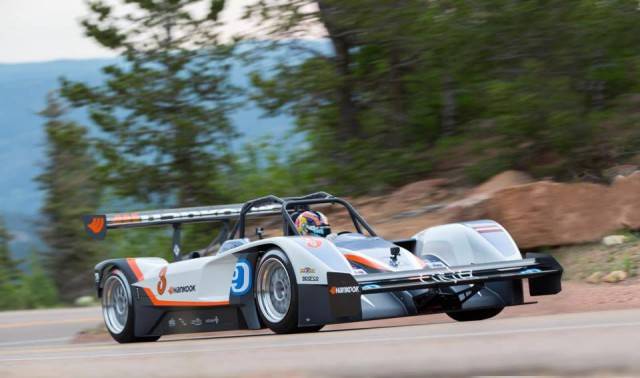 3 AM – Toll Gate opens to the public. Spectators must enter through any of the three gates and use the uphill lane.
3 AM - 10 AM – Ticket Sales and Will Call ticket pickup
7 AM - No spectator cars will be allowed above the Start Line past this time.
8 AM – Race Begins

Ticket Information
For additional information, visit www.ppihc.com.
THE BROADMOOR PIKES PEAK INTERNATIONAL HILL CLIMB OVERVIEW
The Broadmoor Pikes Peak International Hill Climb "Race to the Clouds" is the second oldest motorsports race in America has been a long-standing tradition in Colorado Springs and the Pikes Peak Region.
The Broadmoor Pikes Peak International Hill Climb encompasses a 12.42-mile trek up Pikes Peak Highway with 156 turns that begins at 9,390 feet and finishes at the 14,115-foot summit. It is truly like no other race. What takes an average person around 1-3 hours to drive, takes these professional daredevils around ten minutes. The current record is an astonishing 08:13.878 and was set by Sebastien Loeb in 2013.
This year's race will have 16 classes and features a variety of automotive, exhibition, open wheel, super stock car and motorcycles.
Visitors can cheer on the drivers from designated areas along the course for the practice days and for the Broadmoor Pikes Peak International Hill Climb race day. To purchase tickets to see this amazing event, click here.
Pikes Peak Speedweek is an entire week of awesome events gearing up for the Hill Climb.
Pikes Peak Airstrip Attack
Watch more than 200 of the fastest street cars in the nation race down the Colorado Springs Airport runway.
When: June 2018 - exact dates TBD
Cost: Online-$20/day or $30 for both days; Gate-$25/day or $35 for both days
Hill Climb Practice/Qualifying Days
All spectators must watch the practice from designated areas along the course and will not be allowed to move up or down the course on Pikes Peak Highway once practice has started. Gates open 4:00 - 4:45 am.
When: June 22 - 24, 2018
Cost: $25/day