Ingredients:
1 dozen Croissants
1 dozen eggs
1 ham steak (approx. 1 lb.), diced, sautéed in maple syrup
1 cup half and half cream
½ cup milk
½ onion, diced, sautéed to caramelized
2 tablespoons Dijon mustard
½ teaspoon salt
1 lb. 4 cheese blend
Glaze
½ cup butter
2 tablespoons Dijon mustard
1⁄3 cup brown sugar
2 tablespoons Worcestershire
1 tablespoon poppy seeds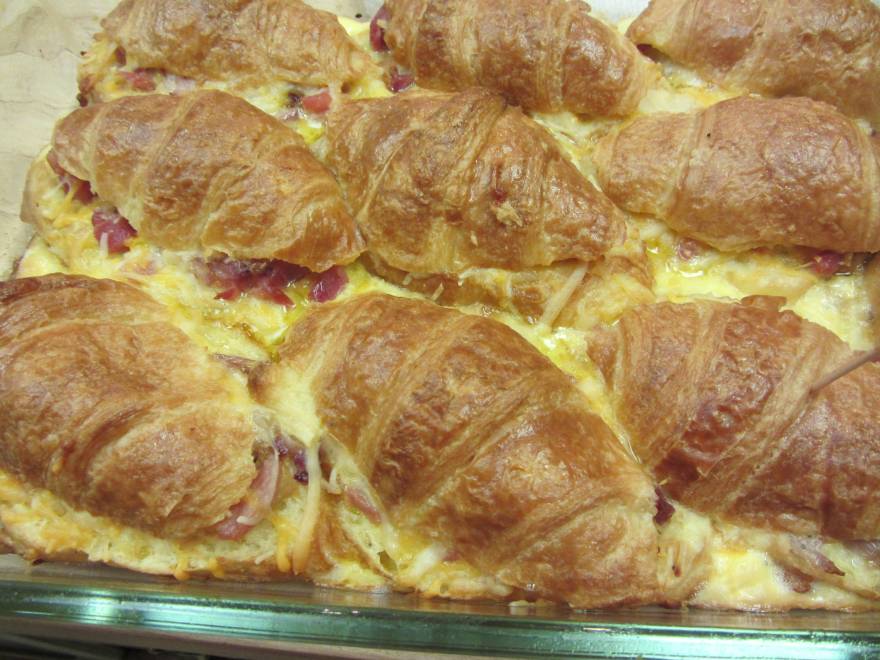 Instructions:
Dice ham steak and pan fry in maple syrup to glaze the ham. When all the moisture has cooked off remove from heat; set aside.
Dice onion and sauté for about 7 minutes to caramelize; remove from heat and set aside.
Spray a 13 x 9 baking dish with non-cook spray. Preheat oven to 350 degrees.
Cut croissants in half.
In a large bowl whisk eggs and half and half, milk, 1 tablespoon of mustard and salt. Submerge and soak the bottom of each croissant in the egg mixture until soft, place in baking dish. Continue until all croissants are in the baking dish.
Spread the remaining mustard on the bottoms of the croissants, layer with ham, onion and cheese. Submerge and soak the tops of the croissants in the egg mixture until soft and place a top on each bottom.
Bake for 20 - 30 minutes.
In a saucepan, mix butter, brown sugar, Worcestershire sauce, Dijon mustard and poppy seeds. Bring to a boil and simmer for 2 - 3 minutes.
Drizzle over croissants when serving.