Hmmm. Here are some masterfully created cocktail concoctions that include a true, New Year's party staple - champagne! Take a cue from these local Colorado Springs mixologists to kick-off January.
Pomegranate Bling - The Famous, Colorado Springs, CO
1 ¼ oz Van Gogh Pomegranate Vodka
SPLASH Ocean Spray Cranberry Juice
TOP Zardetto Spumante
Garnish with Grand Marnier-macerated fresh berries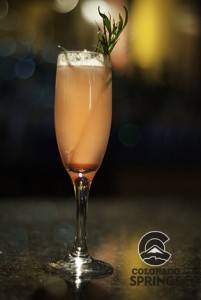 Russian 75 - created by Nate Windham of The Blue Star
1 oz. gin
1/2 oz. homemade grenadine
3/4 oz. lemon juice
1 sprig fresh tarragon
top with Champagne
Shake 1-4 with ice and strain into a chilled flute.
Fill with Champagne. Garnish with a sprig of tarragon. Homemade grenadine - equal parts POM juice and sugar.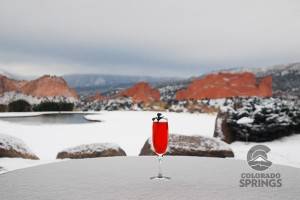 The Poinsettia - Garden of the Gods Club & Resort
3 oz Champagne
3 oz Cranberry juice
Garnished with a sprig of fresh chocolate mint (grown in-house)
​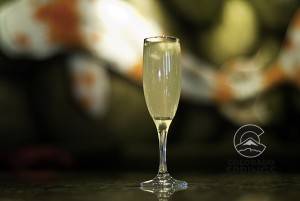 Redheads are Better - created by Frank Frey of Nosh
1 oz spring 44 honey vodka
3/4 oz lemon juice
3/4 oz ginger simple syrup
Shake and strain into champagne flute
Top with champagne
Garnish with lemon twist
Ginger simple: I cup sugar I cup water 2 tbsp chopped ginger Bring to boil and simmer for five minutes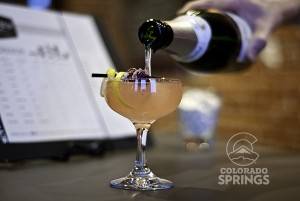 Pink on the Inside - created by Eric Harry Nicol of The Principal's Office
1 oz Smith and Cross Rum
.25 oz fresh lemon juice
.25 oz cranberry syrup
2 dashes of peychauds bitters
top with champagne
Shake w/ ice, ingredients 1-4.
Strain into a chilled champagne coupe. Top with your favorite champagne.
Garnish with lemon twist and candied cranberries.
Syrup and Candied Cranberries
6oz white sugar
6oz water
1oz brandy
10 grams orange peel
1 vanilla bean
5 grams cardamom
Bring all ingredients to a boil. Add 20 fresh cranberries, put a plate over the cranberries to submerge them. Put in the fridge for 48 hours. Separate cranberries. Strain syrup w/ fine strainer. (syrup is done) Roll wet cranberries in equal parts white sugar and superfine sugar. Let dry for 12 hours. (cranberries done)