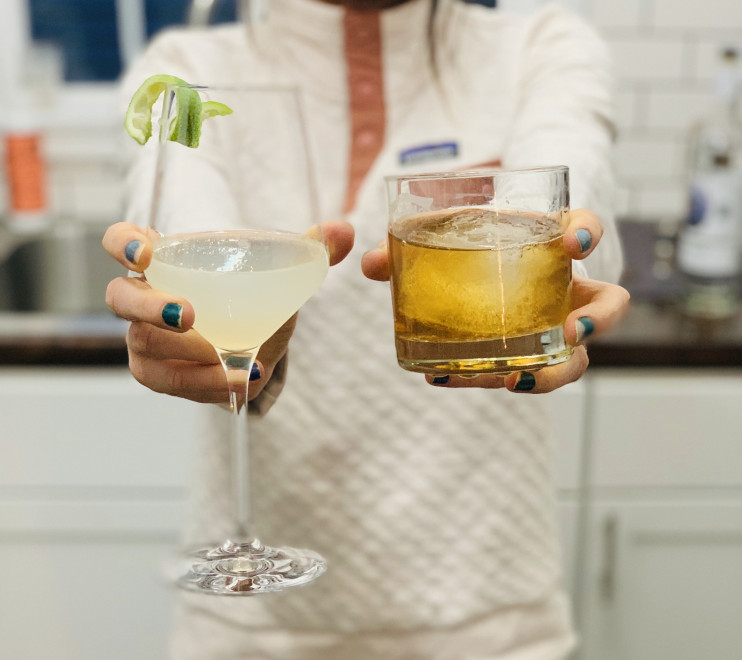 March 24 is National Cocktail Day - what better way to celebrate than learning how to make your favorite margarita, Bloody Mary or old fashioned from home! Thanks to our talented mixologists, breweries, bars and distilleries, you can now take your favorite cocktail to go or learn how to make them, while also social distancing. Cheers!
Cocktail Kits and Cocktails To-Go:
The Bench - Cocktail kits & build-your-own six-packs for takeout or delivery.
The Archives - Offering a variety of cocktail greatness for purchase, from advice on creating cocktails with what you have on-hand ($5) to classic cocktail history lessons via video ($10) and how-to technique instructions via video ($12). Visit the Facebook and Instagram pages to learn more.
Shuga's - Traveling cocktails now available for pickup or delivery through shugas.com. Comes in a Shuga's Nalgene bottle.
Black Hat Distillery - Offering a 30-day "be the bartender" challenge with a different cocktail recipe per day. Check out the Facebook and Instagram pages to see all the creative drinks.
Mackenzie's Chop House - For $25, select your bottle and mixer of choice.
Jack Quinn's - Now selling alcohol with takeout food orders - bring the full pub experience home.
Principal's Office - Working on batch cocktails to go. Stay tuned via the Instagram page.
Streetcar 520 - Cocktail making on the patio on Tuesday, 3/24. Stop by if you're in the neighborhood.
The Burrowing Owl - Build your own six-pack or take a signature cocktail home.
1350 Distilling - Get all the ingredients for a Bubblegummer or Rambo cocktail at 1350 Distilling! Enough fixings to make 12 drinks. Bubblegummer - Rum, Pikes Peak Lemonade Company - Cranberry Mix, Fever Tree Ginger Beer. Rambo - Minuteman Vodka, Pikes Peak Lemonade Co - Cranberry Mix, Soda Water.
Distillery 291 - Offering virtual cocktail recipes through Instagram and Facebook Live.
Dos Santos - $15 (makes 3 cocktails) or $35 (makes 8 cocktails) for house margaritas, palomas, spice margaritas, dos mule or basil limeade.
The Mason Jar - Offering blackberry margaritas to go.
Need some inspiration?
Bee's knees, Brooklyns on Boulder
1 & 1/2 oz. Lee's Lavender Gin
1 oz. honey syrup
3/4 oz. lemon juice
Shake all ingredients and straing into a chilled coupe
Old fashioned, Axe and The Oak Distillery and Whiskey House
2 oz. Axe and The Oak Whiskey
0.5 oz. simple syrup
1 dash orange bitters
3 dashes Angostura bitters
Stir and strain over ice. Garnish with an orange twist and cherry.
Great Basin, Bar at ALMAGRE
1.5 oz Gin
0.5 oz. Amaro CioCiaro
1 oz. lemon
0.75 oz. honey
4 raspberries
1 egg white
Dry shake / wet shake and then double strain into a coupe (long-stemmed glass with a shallow bowl).
The Bubblegummer, 1350 Distilling
1.75 oz. Pineapple infused 1350 Blue Jacket Rum
1.5 oz. Pikes Peak Lemonade Cranberry Bliss
Fill remainder with Fever Tree Ginger Beer. Top with a luxardo cherry.
Gold Rush, Distillery 291
2 oz. 291 Colorado Small Batch bourbon
1 oz. honey simple
1 oz. lemon juice
2 dashes angostura bitters