The 2019 Colorado whitewater rafting season is going to be one to remember thanks to an above average snowpack that will bring higher waters and bigger splashes on the state's rivers.
High water years are a blast, but there are some things to consider to make sure you have an amazing river adventure. Below are nine pro tips for whitewater rafting near Colorado Springs this summer.
1. Choose a rafting destination
The Arkansas River is the obvious choice if you are looking for a whitewater rafting trip near Colorado Springs. It has more than 100 miles of world-class whitewater with popular rafting destinations, like the Royal Gorge, as close as one hour from the Colorado Springs metro area.
2. Hire a whitewater guide company
Unless you're an expert guide with all of the training and equipment needed for whitewater rafting, you will need to hire a whitewater guide company. River Runners operates from four locations on the Arkansas River with outposts in and around the rafting towns of Buena Vista, Salida, and Cañon City, Colorado – all just one to two hours from Colorado Springs.
3. Choose the right rafting tour for your group
The key to a successful whitewater rafting trip is to choose the right tour for everyone in your group. Be aware of age restrictions and water levels for the various tour options during the time you want to raft. Outfitters can help you with this, so be sure to ask lots of questions for an optimal experience.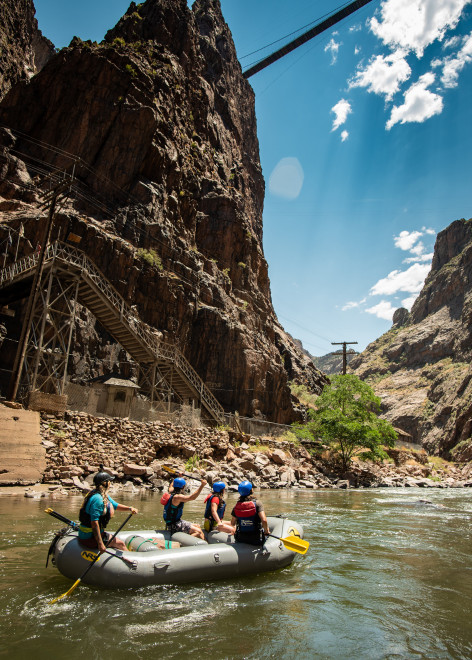 PRO TIP:
Consider rafting the Royal Gorge if you are looking for advanced whitewater, or raft Bighorn Sheep Canyon if you want a milder rafting trip – both are a short one-hour drive from Colorado Springs.
4. Be aware of the changing water levels
You can raft near Colorado Springs April through September with peak season mid-May through mid-August. The Arkansas River starts to rise from snowmelt in mid-May with peak runoff occurring around mid-June. If you're looking for the thrill of high water, come in June, or if you have young kids or first-time rafters, think about a beginner trip in May, July, August or September. The entire summer is a great time to raft but be aware of water levels as they may alter trip routes and raise age restrictions.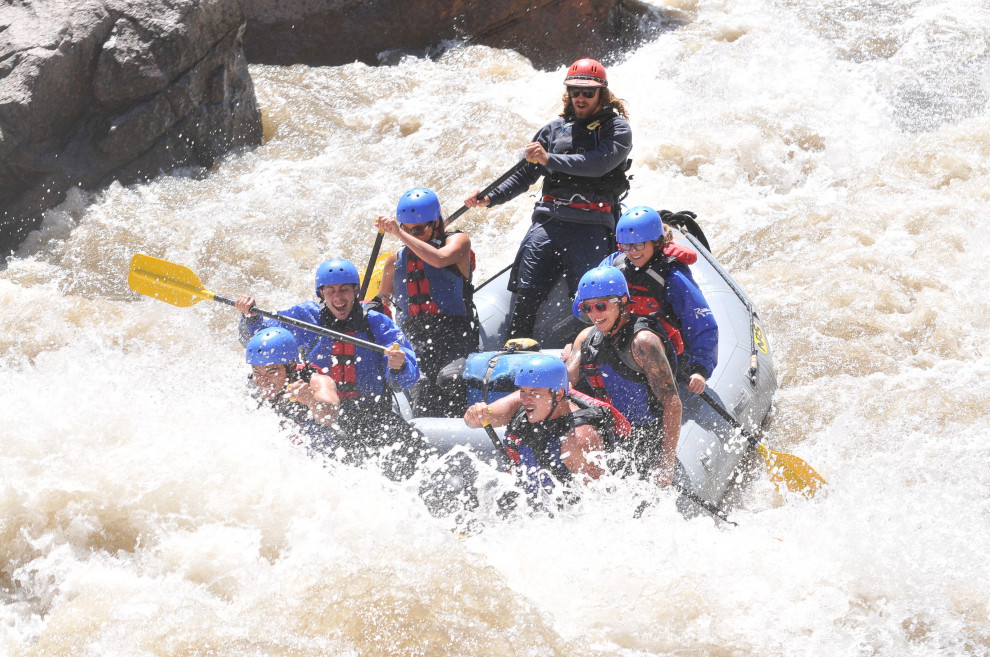 5. Dress for success
Wetsuits, splash jackets and neoprene boots will be required during high water and are always available to borrow or rent from river outfitters. Some companies, like River Runners, will include these layers for no extra cost. On cooler days polypro or fleece are good to wear under the wetsuit. Wool socks are also recommended to wear under your river boots. Being warm will make your trip more enjoyable. On the flip side, on a hot day in July and August, you may not need more than a good pair of swim trunks, light top, river shoes, and sun protection. You don't want to overheat during the safety talk. No matter what – no cotton.
6. Listen to your guide
Your guides are rigorously trained and know the river well. They know where the raft needs to be, but it's up to you to assist in getting there. Trust us, you want the guide to be where they want to be! Request an oar boat if you want to relax, hang on and enjoy the ride.
7. Ask your guide questions
Raft guides are doing what they do because they love it. They know local history, flora and fauna, plus they can recommend other must-do activities in the area, including where you can get the best food after your trip.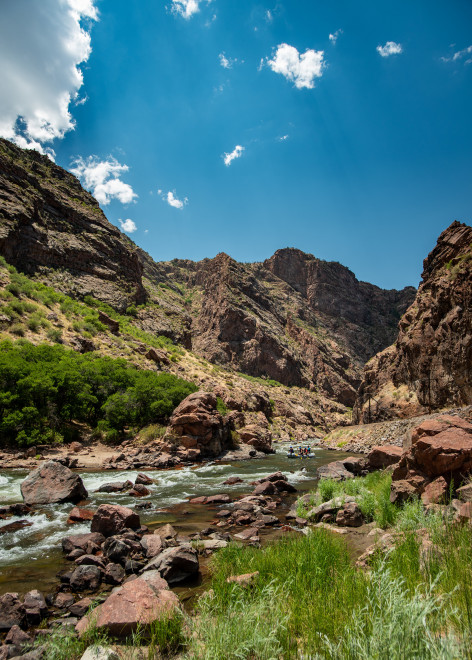 8. Enjoy the scenery
During the calmer spots, be sure to look around and soak up the beauty of the Arkansas River. Whether you are in the high alpine environment, paddling the high chaparral in Bighorn Sheep Canyon, or floating below the towering walls of the Royal Gorge – the scenery is a big part of the experience.
9. Have fun
Whether you're on vacation or just have an afternoon off, enjoy it. There is something special about floating down the river away from the hustle and bustle of everyday life, so be sure to live in the moment and have fun.