Pikes Peak Highway
The Pikes Peak Highway is a 19-mile paved toll road that takes you to the summit of Pikes Peak - America's Mountain. Built in 1915, this winding road is perfect for scenic drives, offering visitors views of lakes, mountains, wildlife and the surrounding area.
---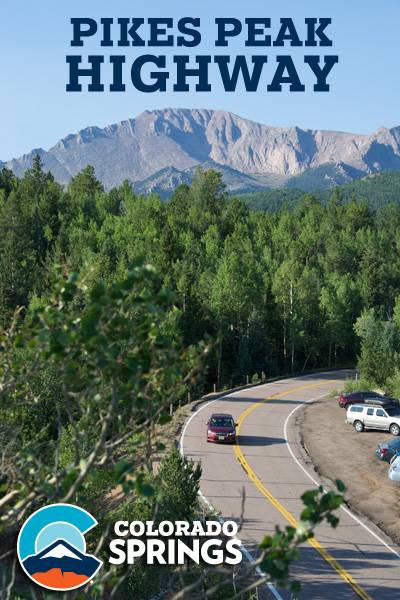 The Pikes Peak Highway is a peaceful, breathtaking and unforgettable ride. After this drive, try one of our other scenic drives near Colorado Springs.
Quick Facts
Location: The Pikes Peak Highwya Tollgate is located in Cascade, Colorado, just west of Colorado Springs. To get there from Colorado Springs, go west on Highway US-24 and turn left onto Fountain Ave. You will see signs for the Pikes Peak Highway.
Time: The round-trip journey takes about 2-3 hours, not including stops for photos and other activities.
Fuel: There are no gas stations along the highway. Be sure that you have at least 1/2 tank of gas before you start your scenic drive.
Elevation gain: The highway's entrance begins at 7,400 feet and climbs all the way up to 14,115 feet to the summit of the mountain.
2017 Hours of Operation:
| | | | | |
| --- | --- | --- | --- | --- |
| | Uphill Gate Open | Uphill Gate Close | Pikes Peak Top Close | Down hill Gate Close |
| Oct. 1 - May 25 | 9:00 AM | 3:00 PM | 4:00 PM | 5:00 PM |
| May 26 - Sept. 4 | 7:30 AM | 6:00 PM | 7:00 PM | 8:00 PM |
| Sept. 5 - Sept. 30 | 7:30 AM | 5:00 PM | 6:00 PM | 7:00 PM |
*Closed Thanksgiving and Christmas
2017 Rates:
| | | |
| --- | --- | --- |
| | May 1 - Nov. 30 | Dec. 1 - April 30 |
| Adults (16 & Over) | $15/ preson | $10/ person |
| Children (6-15) | $5/ person | $5/ person |
| Carload Discount Rate (Up to 5 passengers) | $50/ car | $35/ car |
| Carload Additional Adults | $10/ person | $7/ person |
| Carload Additional Children | $2/ person | $2/ person |
Accepted forms of payment are Visa, Mastercard, Discover and cash.
Find a coupon for $2 off in the back of the Official Visitor Guide.
Weather: Be sure to check the weather before you go. Part of the highway could be closed due to snow. Always bring a jacket, even in the summer months. The temperature is, on average, close to 30 degrees cooler at the top. Find the Pikes Peak Summit forecast here: National Weather Service.
Picnic Areas: Picnic areas can be found along the highway. Look for the pull-offs with the picnic signs on the side of the road and on the map that you will receive at the tollgate.
Recreation:
Fishing - there are three lakes available for fishing. Crystal Reservoir and North and South Catamount Reservoirs, all located in what is called the North Slope Recreation Area. For more information about fishing, go here: ColoradoSprings.gov
Hiking - trails can be found off the highway or you can choose to hike up Pikes Peak via Barr Trail rather than drive. Hiking on the highway is not permitted.
Biking - you are able to bike both up and down Pikes Peak Highway. Learn more.
Boating - non-motorized boats may be rented at the Crystal Reservoir Visitor Center during the summer months.
Food & Gift Shops: Food can be purchased at the Crystal Reservoir Visitor Center, Glen Cove Inn and the Pikes Peak Summit House. Each of these location also include Gift shops.
The Crystal Reservoir Visitor Center is found just after mile marker 6. It's a good place to stop and grab a snack or purchase bait to go fishing. Ranger-led classes and paddle boat rentals are available in the summer months.
Glen Cove Inn is found at mile marker 13, about half way up the mountain. Here you can find restrooms and a nice sit down area with food for purchase.
The Pikes Peak Summit House sits at the top of Pikes Peak at 14,115 feet above sea level. Here you can browse the extensive gift shop, use the restroom and grab some food. Options include salads, sandwiches and sides. Be sure to try the world-famous donuts, the only donuts made at an altitude over 14,000 feet. These donuts have special, high altitude ingredients. So, make sure to eat these at the top of the mountain, as the change in altitude will change the texture of the donut.
Photo Opportunities & Stops:
Definitely stop at Crystal Reservoir on your scenic drive up Pikes Peak Highway. The water and peak create a perfect picturesque moment.
Devil's Playground also makes for a great stop to get out, walk around and take some beautiful photos.
At the Summit House, you'll want to take photos by the elevation sign and also near the edge where you can see for miles upon miles.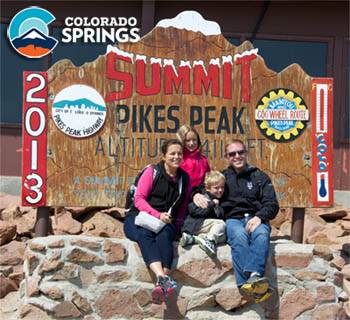 Safety: For safety information visit the City's website here