Mumbo Jumbo Gumbo Cook-Off & Carnivale Parade
Mumbo Jumbo Gumbo Cook-off 2017!
---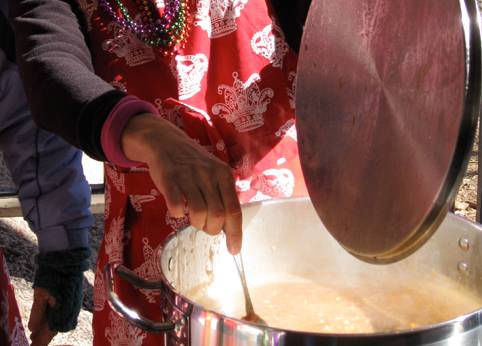 Looking for a unique and delicious way to jumpstart your Valentine's Day? Fill your bellies, warm your bones and cheer on competitors at this year's annual Mumbo Jumbo Gumbo Cook-Off in Manitou Springs! Competitors ranging from amateur cook to professional chef will face-off in Soda Springs Park to see who will become the reigning Gumbo Champion. Each division competes for 1st, 2nd and 3rd place, as well as "Best Showmanship" and "People's Choice" Award. All winners are determined by the public.
The competition begins at 11 AM. Cost is only $1.00 for two samples of gumbo. Awards and the announcement of the new gumbo champion will start at noon. Be sure to stick around until 1:00 PM for the Carnivale Parade in downtown Manitou Springs. Free beads are guaranteed to liven the Carnivale spirit.
Have what it takes to become the Gumbo Champion? There's still time to get in on all the delicious action! Register here start preparing your very best recipe for the gumbo cook-off in Manitou Springs.
Details:
When: February 25, 2017; 10:30 am -1:00 pm
Where: Soda Springs Park, Manitou Springs
Cost: $1.00 for two samples
Want to stay up-to-date with great events in the area? Head over to our events calendar.
Don't forget to get your FREE Visitor Guide and start planning that perfect Colorado Springs Vacation!