Donkey Derby Days
Come watch this gold rush town's resident donkey herd race in this 84 year old festival.
---
*Be sure to check back in March 2017 for Donkey Derby Days 2017 dates!*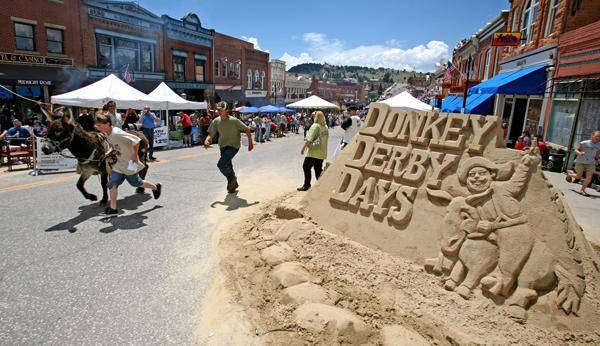 Donkey Derby Days in Cripple Creek, Colorado tops the list of favorite Cripple Creek events.The race is a series of obstacles that the donkeys are lead through down the main street in Cripple Creek. Other activities include live entertainment, a dog show, plenty of tasty food vendors and children's activities. Enjoy the Steak Dinner on Saturday at 6:30 PM in the Wildwood Casino's parking lot, then head over for the Street Dance on 2nd Street and Bennett Avenue.
The beginning of Donkey Derby Days dates back to the 1930s, when local businessman Charley Lehew thought a festival would attract people to Cripple Creek. He and some business partners decided that donkey racing would be the main event. They built a donkey race track, found sponsors, food and entertainment vendors and the result was the first Donkey Derby Days festival.
Event Dates: 2017 dates TBD
Location: Downtown Cripple Creek, Colorado
Cost: FREE
Looking for more events and festivals? Then look no further and find additional Colorado Springs area annual events here. Don't forget to order out FREE Visitor Guide!